Blazing the Oregon Trail : Off-Road in the 2019 Chevrolet Blazer RS
Plenty of words have been written about Chevrolet bringing back the Blazer, but how many of those journalists have dared to take the 2019 Chevy Blazer off-road? The styling has more in common with a modern Camaro than a classic Blazer, and those commercials aren't lying when they say it really turns heads. By bringing back an old nameplate, we assume Chevy is trying to tap into some nostalgia, so we went with that theme when we planned a trail ride in Oregon with the 2019 Chevrolet Blazer RS.
Growing up in the 80s, we knew two things about Portland, Oregon: it was the home to Clyde Drexler's Portland Trailblazers, and it was the final destination in the Oregon Trail video game that we played for hours as children.
If you recall in the game, when you reach The Dalles, you are given two choices: Float down the Columbia River on a raft, or take the treacherous Barlow Toll Road. Both routes had their challenges, but we assumed Chevy didn't want us attempting to float their gorgeous new mid-size crossover down the Columbia River. Instead we opted to take the high road over Mt. Hood, the original Barlow Road. Yes, we took a brand-new 2019 Chevy Blazer RS off-roading on the Oregon Trail. No, we didn't break a wagon wheel or lose any members of our party to dysentery.
The Barlow Road (originally Mount Hood Road) was blazed by Sam Barlow in 1846, and served as the last overland segment of the historic Oregon Trail. That's right folks, the video game is based on real-life in case you weren't aware, and you were actually learning things while playing. Its construction allowed covered wagons to cross the Cascade Range and reach the Willamette Valley. It was considered by far the most harrowing 100 miles of the nearly 2,000 mile Oregon Trail. Despite more modern roads existing today, parts of the original Barlow Road are intact as a dirt road now known as Barlow Trail, and our goal was to see how far we could blaze that trail with the modern Blazer.
We know what you're thinking, the new Chevy Blazer RS is more of a show wagon, and not up to the challenge of serious off-roading. Indeed you are correct, the Blazer RS is a sporty version of the vehicle, so we selected our trail to match its capabilities. According to TrailsOffRoad.com, the 22 miles length of Barlow Trail that we traveled is rated as a 2-3 difficulty (Easy-Moderate).
We would definitely love to see a ZR2 package offered with more ground clearance, all-terrain rubber on those wagon wheels, and a few skid plates, but that doesn't exist yet. So while this version of the Blazer is more at home on the pavement, we wanted to prove to potential buyers that it has what it takes to support their adventurous lifestyles and can transport them safely to the Willamette Valley. Which means we clearly wouldn't recommend it for rock crawling or muddy trails, but it's plenty capable of tackling the dirt roads that lead to your favorite campsite, hiking trail, kayak drop, or hunting ground.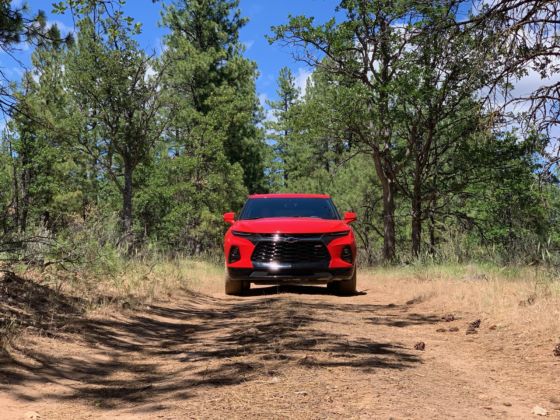 The 2019 Chevrolet Blazer RS comes standard with advanced dual-clutch all-wheel drive (AWD). It's a fairly sophisticated system that allows the rear differential to operate in a torque-vectoring mode, so it can send more power to the outside rear wheel during a turn. However it can also shift power between the front and rear depending on your traction needs. We discovered it also features several driving modes, so we promptly shifted into "Off-Road" mode and hit the trail. Ride with us in our video below, as we blaze the Oregon Trail in the Chevrolet Blazer.