How to Get Swaggerized Hair with Old Spice's Swagger Gel
Content Sponsored by Old Spice
Hair is a tricky thing for men. Having a nice looking head of hair is key to portraying confidence and helping men succeed. Your hair (and hygene for that matter) is a contributing factor to how you are perceived both personally and professionally, so you want to do it right. However you don't want it to look like you take your hair too seriously, or like it's full of product. It's difficult to be taken seriously with a head full of grease or with your bleached hair spiked up like Guy Fieri. So what is a guy to do?
Benjamin Thigpen is a Celebrity Groomer and his clients include Marc Jacobs, Bruce Willis, Nate Berkus, Francisco Costa, Nick Swisher, Josh Duhamel, Tony Hale, Jimmi Simpson, Boyd Holbrook, and many more. Today his celebrity client is you, and he asked us to share how and why he uses Old Spice Swagger Gel.
"As a grooming expert, I'm so excited to team up with Old Spice to help introduce new Swagger Gel that's designed for guys looking for high hold and a moderate shine. Let's face it, guys want hair that looks like it's not trying too hard, and Old Spice Swagger Gel does just that! Simply rub a nickel size amount on your fingertips and work into your hair for that ultimate rockstar look."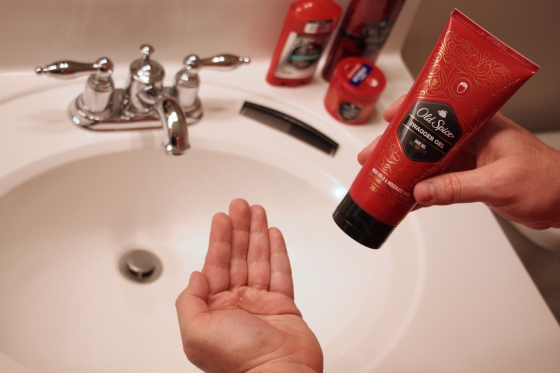 We recently were invited to #smelllegendary with Swaggerized hair thanks to a sample bottle of Old Spice Swagger Gel. Just like Benjamin suggested, we worked a small amount of Swagger Gel into our (damp or dry) hair and we were quite happy with the results. Not only did it give our hair more character, it smells good too.
Old Spice is the quintessential men's grooming brand, with nearly 80 years as an American icon. The Old Spice Hair lineup – including new Swagger Gel – features shampoos, conditioners and styling products designed to give guys the hair and confidence they need to succeed. Find Old Spice Hair products nationwide in retailer hair care aisles (SRP: $6.99-$7.99) or at OldSpice.com.