The Endless World of Oreo
America loves its Oreo. In fact, it's the number one best-selling cookie brand over all beating out the likes of chocolate chip, Nutter Butters, and oatmeal raisin (just kidding, no one actually likes oatmeal raisin because raisins are gross and only belong in cereal and the garbage). The point is: Raisins suck… no, we mean Oreos are amazing. Made by the Nabisco company since 1974, Oreo continues to get its awesomeness stuck in America's collective teeth. In fact, today happens to be National Eat an Oreo Day!
That being said, Oreos are no longer just as simple and innocuous as a chocolate and white creme sandwich cookie. Oh hell no, son! Oreo seriously knows how to diversify and has, of late, kicked open the doors into entirely new realms of flavors and combinations. Let's take a Willy Wonka-like trip down the path of this diverse and delicious dessert, shall we? Oh, and many of these were available for a limited time at specific stores and this list is by no means all-inclusive.
Strawberry Shortcake Oreo
Not a lot of info on this limited edition flavor, but we can practically guarantee you it tastes like… wait for it… Strawberry Shortcake.
Ice Cream Oreo
Released around 2011, these were short-ran and were one of the original flavors on the Golden Oreos. Flavors included Vanilla, Orange Cream, and Sherbert.
Dairy Queen Blizzard Creme Oreo
Released in 2010 for the 25th anniversary of the Blizzard. The ice cream flavor, not the shitty weather phenomenon.
Cool Mint Creme Oreo
It is stressed rather deliberately on the Wiki that these have only a SLIGHT minty flavor. Otherwise, they'd taste like toothpaste.
Peanut Butter Oreo
Oddly, these are gross. Trust us. Gross.
Banana Split Oreo
This one came out in 2008 and featured a filling with two flavors: banana and… um, "split", apparently.
Brownie Batter Oreo
Holiday Oreo
These colored cream filled Oreos reflected the season or Holiday including stamped shapes on the cookie itself. Mmmmmm… Winter! Tastes like cold and emptiness.
Candy Cane (Peppermint) Oreo
Again with the two colors, this one came out in 2012 and is now simply called Peppermint because evidently, these things get less creative with their popularity.
Candy Corn Oreo
Either you like Candy Corns or shut up.
Gingerbread Oreo
Yes, that says 'Gingerbread Flavor Creme' and that man looks elated. Gross.
Lemon Twist Oreo
The 'Twist'? It tastes like Pledge. Sorry, Oreo: fail.
Watermelon Oreo
Who were these marketed for? Fake watermelon flavor with vanilla cookies? There is nothing good about any of that. They were limited in 2013, because yuck.
Fruit Punch Oreo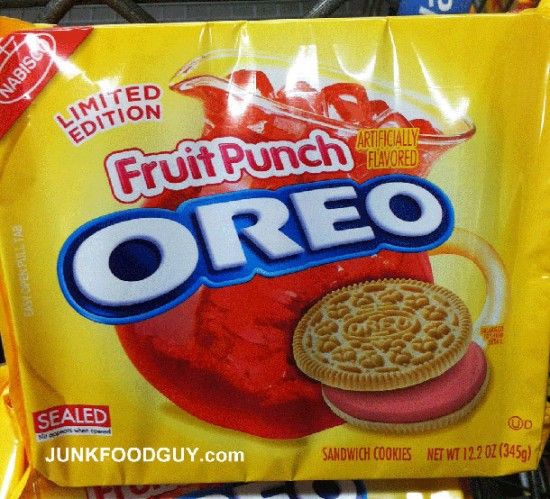 Released a few years ago in 2014, these ones tasted like Hawaiian Punch. We bet you could make a thick drink from the filling if you really wanted to. But don't.
Cookie Dough Oreo
This one is cookie inside of cookie! It's like the Matrix!
Caramel Apple Oreo
Available back in 2014 only at Target. Because Target is fancy.
Pumpkin Spice Oreo
Have some of these with Pumpkin Spice coffee while smelling a baking Pumpkin Pie and you can reach Nirvana.
Red Velvet Oreo
Now here you've got something.
Cotton Candy Oreo
Have you ever had your mouth taste so sickly sweet after eating a bunch of candy and drinking some soda that it's sticky and you feel like you have to sit down and take a breath? Same thing happens after you eat one of these.
S'Mores Oreo
Try microwaving a few for 30 seconds. So amazing. Well, try it if you kept some from 2015.
Rootbeer Float Oreo
Limited release from July, 2014. They look like they were probably pretty good. Or not. Look, we didn't eat all of these.
Toasted Coconut Oreo
Coconut is delicious. Sadly these were limited in 2015.
Cinnamon Bun Oreo
The best ones yet and still in stores.
Fruity Crisps Oreo
Cereal in the cream filling? Yep. Genius.
Swedish Fish Oreo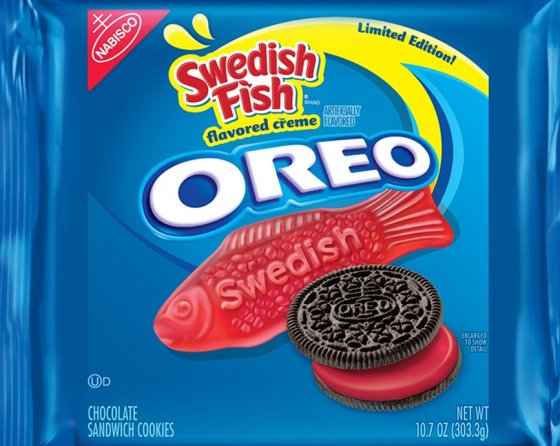 Originally released only through Kroger stores in 2016, these are available all over now. If you like that sort of thing.
Peeps Oreo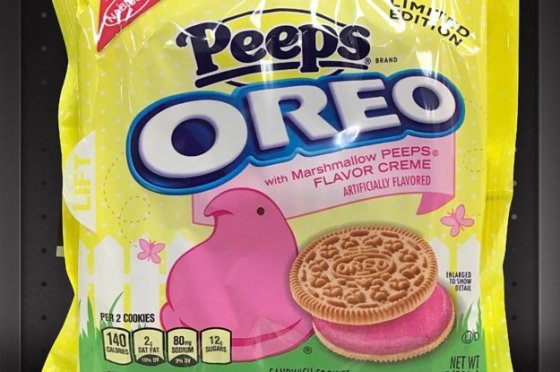 Does anyone actually LIKE Peeps? Anyone?
Fireworks Oreo
Popping candy right inside! Now your cookie can both stick to your tongue and make it talk! Festive!