Oscar Nominations and Gut Reactions
With Oscar Nominations being released this week, we thought we'd take a look at the nominees, and give you our initial thoughts on the major awards. We're not really sure if these will be our final choices, as the event is still a month away, however this is what our gut is telling us at the moment.
Best Picture
Avatar
The Blind Side
District 9
An Education
The Hurt Locker
Inglourious Basterds
Precious
A Serious Man
Up
UP in the Air
Let's start with who's screwed: every movie that didn't get a Best Director nom. Which leaves us with five.
Sure, "Avatar" is the highest grossing movie of all time now, but it's curiously not a movie getting a lot of buzz. It might win, but we think James Cameron's previous win, plus "Avatar" being about talking kitties, will count against him. Similarly, Jason Reitman's big victory so soon is going to work against "Up in the Air".
Everybody pushing "Precious" says "Don't underestimate the power of Oprah". Yeah, because "Beloved" pulled in SO many Oscars. "Precious" is toast.
"Inglourious Basterds" has a decent shot: Tarantino's respected, and it IS about Nazis. But our guess is the Academy goes with "The Hurt Locker". It's about a serious issue, but it's also an action flick, and it's directed by James Cameron's ex-wife, so everybody Cameron has ever pissed off will vote for it.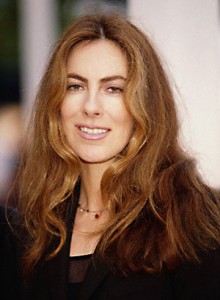 Best Director
James Cameron, 'Avatar'
Kathryn Bigelow, 'The Hurt Locker'
Quentin Tarantino, 'Inglourious Basterds'
Lee Daniels, 'Precious'
Jason Reitman, 'Up in the Air'
Bigelow in a walk: she won the DGA award, which pretty safely predicts Best Director. Even if "The Hurt Locker" doesn't take Best Picture, Bigelow gets the doorstop. Which means instead of having to hear about how the Academy hates vaginas from all the people who really, really love movies directed by women except they never go see them, we'll have to hear about how the Academy hates black gays because they didn't vote for "Precious".
Best Actor
Jeff Bridges, 'Crazy Heart'
George Clooney, 'Up in the Air'
Colin Firth, 'A Single Man'
Morgan Freeman, 'Invictus'
Jeremy Renner, 'The Hurt Locker'
Clooney's got one, Colin Firth is too British, and Jeremy Renner is too obscure. So that leaves America's most beloved stoner and America's Grandpa playing one of the greatest heroes of the twentieth century. Our guess? As much as we love the Dude, it goes to Freeman. Also, anybody saying that's just, like, our opinion, man in the comments gets shot.
Best Actress
Sandra Bullock, 'The Blind Side'
Helen Mirren, 'The Last Station'
Carey Mulligan, 'An Education'
Gabourey Sidibe, 'Precious'
Meryl Streep, 'Julie and Julia'
Meryl has, what, twenty of these? She doesn't need nor does she want another. Helen Mirren is British and in a movie nobody saw, so forget it. Carey Mulligan gets a nomination but that's all she gets, she's too young and not famous enough. We're guessing Bullock will take this simply because they don't usually give Best Actress to newcomers, and her role as a Southern housewife is far outside her usual range. That and the fact that "The Blind Side" was a surprise monster hit.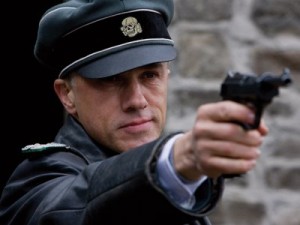 Best Supporting Actor
Matt Damon, 'Invictus'
Woody Harrelson, 'The Messenger'
Christopher Plummer, 'The Last Station'
Stanley Tucci, 'The Lovely Bones'
Christoph Waltz, 'Inglourious Basterds'
Oh, come on, like anybody thinks this isn't going to Waltz. The only possible spoiler is Damon, and he could care less.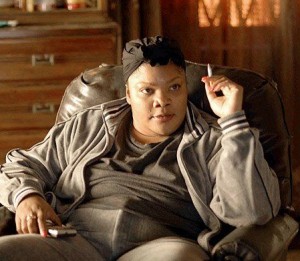 Best Supporting Actress
Penelope Cruz, 'Nine'
Vera Farmiga, 'Up in the Air'
Maggie Gyllenhaal, 'Crazy Heart'
Anna Kendrick, 'Up in the Air'
Mo'nique, 'Precious'
Nobody saw or gave a shit about "Nine", so good-bye Penelope. Vera Farmiga probably isn't big enough to carry this one. Anna Kendrick, nobody's heard of. Maggie Gyllenhaal has a shot, but our guess is this goes to Mo'nique, because Oscar loves comedians acting all serious.
Best Animated Feature Film
'Coraline'
'Fantastic Mr. Fox'
'The Princess and the Frog'
The Secret of Kells'
'Up'
Up. Duh.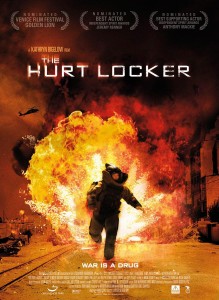 Best Original Screenplay
'The Hurt Locker'
'Inglourious Basterds'
'The Messenger'
'A Serious Man'
'Up'
Quentin already has one of these, nobody cared about "A Serious Man", nobody heard of "The Messenger", "Up" will be seen as already getting its award, and that leaves "The Hurt Locker", especially if Oscar decides it's Best Picture.
Best Adapted Screenplay
'District 9'
"An Education'
'In the Loop'
'Precious'
'Up in the Air'
"District 9" is breaking barriers just by getting nominated, but the last time a science fiction movie was a front-runner to win an Oscar for screenplay, it lost to the other genre Oscar hates the shit out of, a comedy. Namely, "2001: A Space Odyssey" lost out to "The Producers." "In The Loop" is British, so hell no. "An Education" is obscure, so probably not. This comes down to "Precious" or "Up In the Air" and our bet is this is "Air's" consolation prize.
Stick around for our drunken post-show analysis. Seriously. We're going to do shots when each award is announced. So that'll give us ample time to sober up, considering each Oscar ceremony takes 15,000 hours, but we'll still probably be tanked.