Park MGM : Vegas Strip's Newest Hotel
You can't throw a pair of dice in Las Vegas without hitting an MGM Resorts property. Park MGM is the latest to join their extensive portfolio and is the newest hotel on the Las Vegas strip. The building might look familiar to you as the former Monte Carlo, but it has been completely remodeled inside and out, and will be complete (with additional dining and entertainment offerings) by New Years eve.
The biggest attraction at the Park MGM is definitely the Park Theater, which is the new Vegas home of Lady Gaga & Britney Spears, and also hosted a 3-day Halloween engagement from Widespread Panic while we were in town. However Park MGM is also located right across the street from the T-Mobile Arena, home of the Vegas Golden Knights, UFC & Boxing events, and plenty of concert dates itself. We weren't in town for a concert though, rather The SEMA Show and the latest stop on the Trail Trek Tour.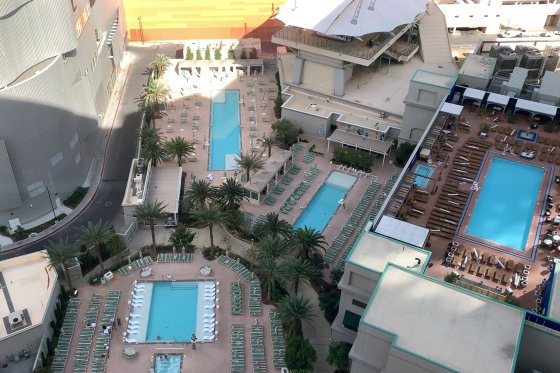 The new property is also receiving rave reviews for its fine selection of outdoor pools. Above you can see the view from our room, which is actually the closest we got to the pools. We believe the three on the left are for Park MGM guests, while the exclusive pool on the right is for guests of NoMad, a boutique offering on the upper four floors of the property.
Park MGM Rooms
The rooms at Park MGM admittedly look a bit plain in photographs, compared to what you might typically expect in Las Vegas. They are designed to look more residential, and be comfortable for guests. Rooms are either green or red, and while we preferred the red aesthetic, both unique colors schemes worked well for us. The rooms are simple and modern without being minimalistic. We found the room packed with the connectivity that we require, and there were plenty of places to sit and relax. Unfortunately there is no refrigerator or microwave, but that is fairly standard for Las Vegas. We did enjoy the table and chairs, which doubled as a desk, something we've missed in some other Las Vegas properties. Overall we found the room fresh, clean, and comfortable.
In addition to our room, we had access to a Peacock Suite, which was used as a Trail Trek Tour Hospitality Suite. This room featured the red decor, a wet bar, plenty of seating, and a Murphy Bed. It was the perfect gathering space for a group staying at the Park MGM together, and had great views of the T-Mobile Arena.
Primrose @ Park MGM
The best way to start your day at Park MGM is with breakfast or lunch (hey, it's Vegas, sleep in!) at Primrose, which is located right off the lobby. We ate two meals there during out stay, and both were excellent. Below you can see a massive plate of breakfast goodness. We sampled a little bit of everything, but didn't want to fill ourselves up too much before a day at The SEMA Show. It was absolutely delicious though, so we followed it up a few days later with an equally scrumptious Turkey Club sandwich for lunch. Primrose is an easy choice, with convenient accessibility, quick service, and a tasty menu.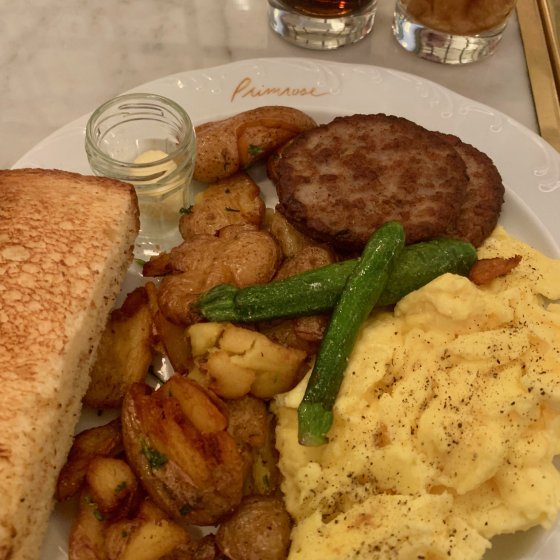 Juniper Cocktail Lounge @ Park MGM
After a long day of off-roading in the Spring Mountains, our group gathered for cocktails at Juniper Cocktail Lounge, located just off the casino floor in Park MGM. Juniper offers the largest selection of gin on the Vegas Strip, and if that sounds overwhelming, they have a fun gimmick to help you decide which Gin & Tonic variety to order. They offer a childhood-inspired Fortune Teller folded paper game to help you make your selection. But if that's not your style, they have several other playful offerings with unique vessels and dramatic smoke & fire filled presentations.
Bavette's Steakhouse @ Park MGM
After drinks at Juniper, our group moved to the dark and mysterious steakhouse next door known as Bavette's. It has a Chicago speakeasy style that reveals its swanky coolness the longer you're in the restaurant and your eyes have time to adjust to the dimly lit dining room. This was our final dinner in Las Vegas, so we did it up in grand style with a bone-in New York strip with plenty of starters and sides. Everything we tasted was excellent, and we would show you a photo of the amazing slab of bacon if we hadn't been so eager to put it in our belly. Bavette's Steakhouse and Bar is a special spot, and we'd definitely encourage you to put it on your list the next time you visit Las Vegas.
As we mentioned, Park MGM is still under construction, and while the rooms are complete, it's still a relatively small property (a size we actually prefer over some of the massive resorts found in Las Vegas), and additional dining and entertainment options aren't set to open until later this year. For that reason, on our first night in town, we decided to utilize some fabulous MGM transportation and make the quick drive up to Mandalay Bay for an evening at one of their other properties.
Libertine Social @ Mandalay Bay
Libertine Social is a modern gastropub by James Beard Award-winning Chef, Shawn McClain. The decor is worth the visit alone, but we certainly recommend you stick around for dinner. It's described as "American bar food with foodie flair" and we could definitely see how the dishes lived up to that billing. Here the chef just kept sending out plates for our group to try, which can be a bit overwhelming, but you wouldn't catch us complaining. We thoroughly enjoyed the Roasted Petaluma Chicken dish that we ordered, but looked with jealous eyes upon the plates of our companions as well. We're going to have to make a few more trips to Libertine Social in order to try everything else on the menu for sure.
Michael Jackson ONE by Cirque du Soleil
Our evening at Mandalay Bay ended at Michael Jackson ONE by Cirque du Soleil. While you certainly can't go wrong with any Cirque show (and MGM offers a few others, KA at MGM Grand, The Beatles LOVE at Mirage, Zumanity at NY NY, and "O" at Bellagio) MJ ONE is absolutely tremendous and we highly recommend it. We've included a video highlight reel of the performance, since we were unable to take our own photographs, and the video is honestly much better anyways.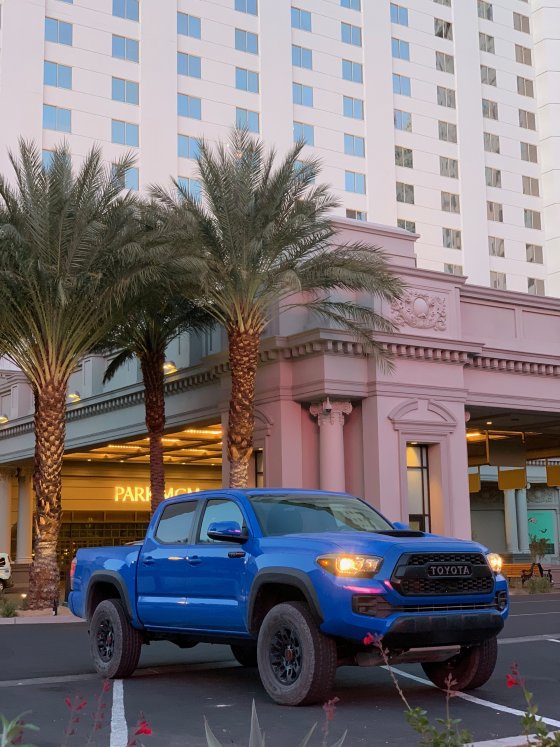 Park MGM is a great choice for those wishing to stay near the T-Mobile Arena or attend shows at the Park Theater. Renovations are nearly complete, and you should feel comfortable making it your destination in Las Vegas. It served as the host property of the Trail Trek Tour : Vegas Adventure with Toyota TRD Pro and staff went above and beyond to take care of us during our stay. Entertainment and dining options offered on-site are already great, but they're about to get even better. The transition from the old Monte Carlo is almost complete, and it is already successful in our eyes. We look forward to future visit to the Vegas strip's newest hotel, Park MGM.