Party with Gunaxin and Crown Royal
If you remember back to November, we described the Crown Royal Pass the Crown Virtual Gift Exchange to you. This holiday season, our friends at Crown Royal took the spirit of Yankee Swap and gift exchange a bit further… by giving out all of the presents! They recruited Gunaxin, along with tons of other great sites to participate in a virtual gift exchange, with real stuff. Real. Good. Stuff.
They called it Pass the Crown, and you can check out the craziness on Twitter by searching for the hashtag #PasstheCrown. Each day's contestant was given an image of an embroidered bag with a clue on it, and given the choice to open that gift, or steal something that someone else had already opened. Our number was called on Day #5 out of 20, so there was plenty of time for someone to steal whatever we opened. We opted to go for it anyways, and stole the bottle of Crown Royal Extra Rare, which came accompanied by a party. The gift we didn't open, and thus passed to Unbiased Writer? Beats by Dre Solo Headphones, yeah, not too shabby.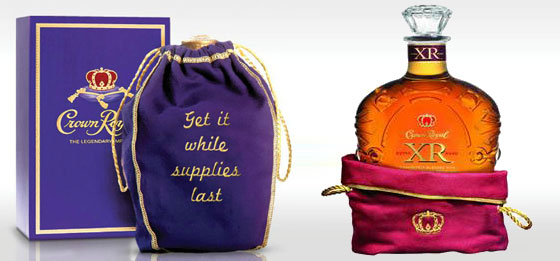 Through 15 more rounds of agonizing stress and thefts, we ultimately emerged at the end of the event with the item we selected for ourselves, Crown Royal Extra Rare. It's Crown Royal's top of the line, limited-edition blend and retails at approximately $169. It is made from the last remaining batch of whisky distilled at the Waterloo distillery. Literally, there is no more to be produced.  With rare, extra-aged ryes and bourbons, it offers a full-bodied bouquet with a creamy, rounded finish.
…and for our readers – "Crown Royal will pick up the tab for up to 40 staff members, readers and friends at a TBD bar or restaurant near your location in January or February to kick off 2012 in style." That's right, we're hosting a Crown Royal party, near our office in the Baltimore/Washington region, and we'd like you to join us! We'll have more details about that on Facebook as the date approaches, so be sure to Like our Facebook Page to learn how you can join Crown Royal and Gunaxin for some good times in the new year.