Ginger Beer Cocktails Perfect for Fall
Nothing says "it's fall" like football and ginger beer. In many a man cave, they're annual traditions. Today we have some recipes from Q Ginger Beer to help you make it one of yours. Trust us, this is the best thing going and will be the hit of any at-home tailgate.
Pear Haymaker
This one is probably our favorite, being easy to make and fun to say. "What do you want?" "Knock me down with a Pear Haymaker, man!" Plus it goes awesome with pizza.
Ingredients:
4 oz Q Ginger Beer
2 oz vodka of choice
1/2oz fresh lemon juice
Half a pear, peeled and chopped
The above makes one drink, so double it for two. Put the chopped pear in a glass and muddle. Pour vodka over the pears, then add ice to near-brim. Add the lemon, stir, and finish with Q Ginger Beer.
Dark, Stormy and Cidery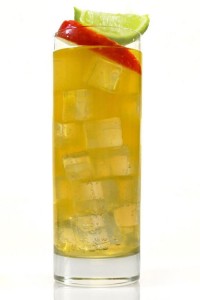 This one has a name that will appeal to the Halloween girl in your life. It's tasty sweet with a little background kick from the lime and ginger notes. Goes well with horror movies and games with more yellow flags than plays.
Ingredients:
3 oz Q Ginger Beer
2 oz dark rum
1 oz chilled apple cider
1/2oz fresh lime juice
Apple slice
Lime wedge
In a cocktail shaker full of ice, add rum and lime juice and shake well. Pour the Q Ginger Beer into an ice-filled Collins glass, top with apple cider, then add the shaken rum. Garnish with the apple and lemon wedges.
Sunset Park Swizzle
If your crowd includes some who prefer more girlie names to their drinks and mixers, but are actually fans of harder-kicking refreshments, then this is perfect. It involves tequila, cider, and a complicated-looking mixing process. Well worth the effort, though!
Ingredients:
3oz Q Ginger Beer
1-3/4oz Partida Reposado Tequila
1/4oz Velvet Falernum
1-1/4oz apple cider
1/4oz lime juice
Dash of Angostura bitters
Lime wedge
In a shaker of ice, shake the tequila, apple cider, lime juice, Velvet Falernum, and bitters. Strain over fresh ice into a highball glass. Top off the rest of the glass with Q Ginger Beer and garnish with the lime wedge.