In Praise of College Rivalries
It's Rivalry Week in college football, and there are few things in sports that can match it. From coast to coast, neighbors turn against neighbors, friends turn against friends and family turns against family. While the teams are playing for rankings, trophies and wins, the fans are cheering for something far simpler; bragging rights. The fans of the winning team will be able to lord it over their rival until the teams meet again next year, a power able to shut down most disagreements.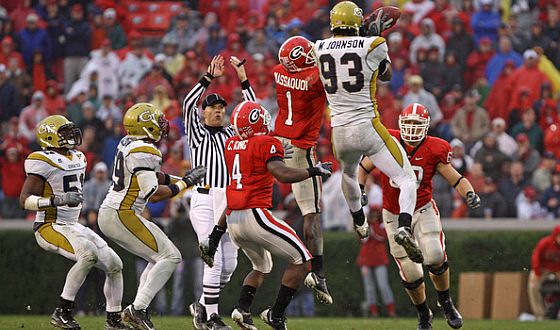 Rivalries can mean different things in for different schools. For in-state rivals, like Washington and Washington State, where fans of both schools live and work side by side, the rivalry remains civil. For others, like Michigan and Ohio States, the hatred is more pronounces, as the state line becomes a virtual sports demilitarized zone between the schools. Some teams, like Army and Navy (who don't play this week) validate their entire season based on the single game. For teams having down years, the ability to cost their rival a shot at the national title can redeem a wasted campaign and save a coach's job. In places like Auburn (Alabama), USC (Notre Dame) and Georgia Tech (Georgia), the old cliché about throwing out the records rings true, as each of those teams will be playing for their own championship.
The significance of these matchups is reflected in the awards and trophies available for the winners. For a regular season face-off, the trophies rival the prestige and ridiculousness  of any sponsored bowl game. The prizes come in many different shapes, from the slightly phallic shillelagh for the USC vs. Notre Dame winner, to the Bedlam Bell for Oklahoma vs. OSU game, to the Old Oaken Bucket for the Indiana and Purdue victor.The longest standing rivalries have a history. Each new game brings back memories of a dozen games before. Great players and great plays in the biggest moments. This weekend is when star players become legends, as no accomplishments register as much as those that come against a rival.
The best part of Rivalry Week isn't the football though, no matter great the play, but the hatred. It is so rare that we can shamelessly express hatred in this day in age. You can't tell your boss, your spouse or your kids that you hate them without repercussions, but you can hate your rival without fear. You can embrace it, revel in it, and shout it out. You can cheer your team to victory, then walk the streets in your old college gear with pride. You can call up your boss, your in-laws, or your friends and rub it in. You know, for the next twelve months, that you are the king of your own football world.