Quentin Richardson: NBA's Most Unwanted Man
If you're not a hardcore basketball fan, you might have overlooked the journey that Quentin Richardson has taken this summer. So let's take a moment and reflect back on his wild and crazy summer. To begin this tale, we need a little background. Like what kind of player is Richardson? Superficially, he is a pretty decent player, who's had a solid career. No star mind you, but he's about to enter his tenth season in the league and can be a useful piece to any professional squad. The former McDonald's All American and DePaul University swingman can shoot the 3 and maintains career averages of 11.5 points and 5.0 rebounds. That's the upside. So why's he being bounced around like a hot potato among NBA franchises? A little lesson in NBA economics and a bit of luck can tell the story.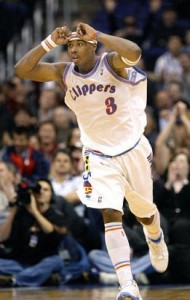 Richardson entered the league when he was selected 18th overall by the Los Angeles Clippers in the 2000 NBA Draft. The Clippers are the blackhole of NBA franchises, so four long seasons later, Richardson bolted that wasteland the first chance he got. He inked a six-year, $45 million dollar offer sheer with the Phoenix Suns as a restricted free agent, and the notoriously frugal Clippers declined to match. Finally free from the sport's worst franchise, Richardson had a solid season with a playoff team. But the success wasn't to be, as the Suns soured on Q after one season and decided to move his large contract to the Knicks (along with draft rights of Nate Robinson) in exchange for Kurt Thomas and a late second round pick. After several seasons suffering through the New York Knicks Isiah Thomas era, things began to look up when the team hired his former coach and offensive guru Mike D'Antoni. But again, it wasn't to be. One year of D'Antoni (and four total in New York), and Richardson was on the move again as he entered the last year of his deal.
On June 25th, he was traded to the Memphis Grizzlies in exchange for Darko Miličić. Yep, being traded for Darko, a new low. Isn't that when you know you've hit rock botom? Less than a month later, the Grizzlies sent him back to the Clippers in exchange for Zach Randolph. And three days after that, the Clippers decided they didn't want a Q-Rich redux and sent him to the Minnesota Timberwolves in exchange for Sebastian Telfair, Mark Madsen, and Craig Smith. Third time's the charm, right? Nope. On August 13, the Minnesota Timberwolves traded him to the Miami Heat in exchange for Mark Blount. Talk about living out of a suitcase. At least Richardson has one thing to look forward to. He's been on four of the most recently pitiful NBA franchises in one offseason. The Heat are not one of those four.
Still, four deals in one summer? Perhaps his agent should have inserted a no-trade clause in that original contract. Richardson has one year remaining on his contract for about $9 million, which helps explain why he's become very movable. Expiring contracts are like gold in the NBA. But I doubt that's what Richardson is feeling these days. An optimist might say he's a valuable commodity that everyone wants. Or a pessimist might say he's just someone nobody wants. One thing is clear, he's not sought after for his acting chops, skills be showcased on the set of the Ryan Reynolds film Van Wilder. If Richardson wants to set his sights high, he can go for the NBA record for most team's played for. Chucky Brown (played from 1989-2002), Tony Massenburg (1990-2005), and Jimmy Jackson (1992-2006) all have played for 12 different teams. And if you want to break new ground, there's always potential to be traded to a European team. Just thinking out loud here.
Funny footnote to the above. As much as Richardson has become the sloppy seconds (thirds? fourths? fifths?) and outright leper of the NBA this offseason, he can't top Grizzlies forward Darrell Arthur. Arthur was originally selected by the New Orleans Hornets with the 27th pick in the 2008 draft before being traded to Portland, Houston, and Memphis in one night. Granted, NBA draft trades are a little wacky to begin with. But four teams, one night? Now that's efficient. Take a lesson Quentin.