Really Expensive Darth Vader Stuff
Darth Vader is an icon, and people will spend their hard-earned dollars on paraphernalia related to him. That would be like martians spending their money on Hitler thingamajigs, but I digress.
Anyway, since Star Wars came out, there have been countless Darth Vader items, and more are coming out. Here is a list of some of the most expensive things ever made featuring the dark lord's image.
Darth Vader Bronze Statue
This statue, a 1:2 scale, is 45 inches high and weighs 45 pounds. Only 30 were made. The price? $18000. So, if you can't afford this one, you have another choice:
Darth Vader Bronze Statue
Here's the $5,000 bronze statue, with only 55 total made. It's 21 inches high, 71 pounds, made of bronze and stands on a marble base. Good luck getting your hands on it.
Darth Vader Life-Size Bust
Typically, busts are a bit creepy because they're someone's head, but this one is 1:1 scale and really cool lookin'. Totally worth the $1200.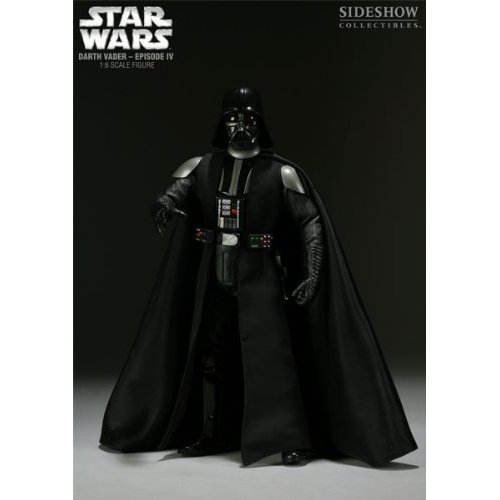 To me, this is the ultimate Darth Vader figure. Check out what it has!
Fully articulated all-new unique male body with 30+ points of articulation
Detailed belt with lightsaber hook
Ignited and unlit lightsaber
Interchangeable hands
A very cool statue, but also kinda sick, and not cheap.
Another Genlte Giant piece, this one of Vader kneeling like the bitch he is.
Gentle Giant has some strange looking stuff, and this Vader statue is currently significantly more expensive than it used to be, so beware buying it – the quality doesn't reflect in the current price.
If you're going to dress up like Darth Vader, you might as well get the best possible costume. Whether this is it or not is beyond me, but it's certainly the most expensive one out there. And as we all know, the more expensive the item, the better it is. Right? Right?
Master Replicas Darth Vader Lightsaber Prop Replica
Finally, Vader's weapon. There are several different ones available but Master Replicas puts out the most expensive.
There are only 5000 of this limited edition piece available. It's a wearable, fully lined fiberglass helmet. It includes a display base, numbered plaque and certificate of authenticity.
Rubies has some good stuff and doesn't disappoint with this Vader helmet. It's also relatively affordable compared to others.
This looks like a mixture of Darth Vader and the Terminator.
Not exactly what Vader purists are looking for, but the gold does look cool.
A chrome mini bust. I'll pass on this one.
Okay, this isn't expensive at all, but it's way cool and any fan of Lego and Star Wars must own it.
Darth Vader Helmet (Pink Edition)
This Gentle Giant piece gets the award for the dumbest Darth Vader item. I mean, pink? Are you serious? Someone actually thought this was a good idea?