Really Expensive Star Wars Stuff
I thought Lord of the Rings fans were crazy, but then I did some digging and discovered LOTR ain't got nothing on Star Wars when it comes to spending money on really cool expensive stuff. Well, a womp rat could've figured that out, but nonetheless, here are some of the most expensive but cool things I found, excluding original toys still in their original packaging.
Jabba the Hut by Sideshow Collectibles

Jabba the Hutt fans have a choice to make. They can go with the above statue (about $120), throne environment (several hundred more), and creature pack (with Jabba's famous lizard monkey) (about $35), all made by Sideshow Collectibles and SOLD SEPARATELY. Also available are other characters seen in the mix, like Bib Fortuna ($54.99), Leia as Boushh ($59.99), and a secondary creature pack for about $32. OR, you can get this:
This one costs about $200, and includes that green dancer chick and a Jawa, but to me, doesn't look as good. However, Gentle Giant does have this:
…which Sideshow Collectibles doesn't have, so if you go with the first version of Jabba that I suggest, and you want to fill in the blanks with the Gentle Giant band, go for it.
There are a couple of other versions of Jabba the Hutt out there, such as the one from Attakus and a 30-inch version made by Mario Chiodo.
Han Solo in Carbonite

Not a big fan of this but have to mention it for the folks who want to get every character in that Jabba sequence. Costs about $200. Check out the Lego version of this.
Salacious B. Crumb Life Size Figure

At no point in Return of the Jedi do I remember this dude's name being mentioned, and I was disappointed when I learned what it was. The little lizard monkey that hangs with Jabba the Hutt is named Salacious B. Crumb (ick). A life-size statue was originally $350 but he's sold out and going for far higher on Ebay. I want this, but only if I can get it for cheap. I've seen this go as high as $629.
Gamorrean Guard Cold-Cast Statue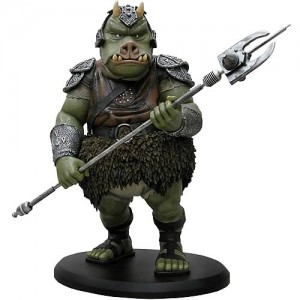 This 15-inch Attakus statue is great. Price range: $385-$550. Ebay is your best bet.
Speeder Bike and Scout Trooper
Screw the statue, I want the real thing. Of all the vehicles in Star Wars, the speeder bike in Return of the Jedi looks like the most fun. Costs about $800.
Luke & Yoda – Dagobah Training

There's something creepy about this statue. I think it's because it's an 18-inch version of Luke and humans just aren't as cool as creatures or robots.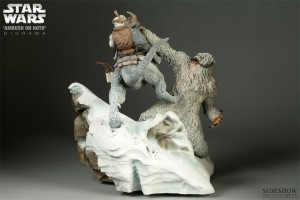 Now this thing is friggin awesome. It's got the Wampa, Tauntaun and Luke. It's 18 inches high and costs about $300. This thing also happens to be available in Faux-Bronze for $349.99. Gentle Giant has another version of the Wampa for $230.00, but it looks downright silly.
Luke and Han on Tauntauns
Finally, here's something that Gentle Giant that made that's cool. Sold separately, Tauntaun statues with Luke and Han.
Gentle Giant Rancor & Handler Statue

I'm a big fan of the Rancor and I want this. Costs about $295.
This one is made by Rubies and it is a 1:1 replica, and it don't get better than that. Well worth the $500 for the Jedi Master.
Princess Leia as Jabba's Slave
I'd like to say "GOTTA GET THIS" but her face don't look so hot. There's also this version, from Kotobukiya.
Yeah, me likey this one better.
Unlike everyone else I know, I'm a big fan of the Ewoks, but there's not really much out there for high-dollar collectors other than the Wicket W. Warrick statue, by Attakus (It's sold out, so good luck finding one). And this dude only stands 8 inches tall. Where's the 1:1 scale of this figure? Where are the life-size dolls? There's a market for Ewok lovers… deliver the goods already!
This thing is kinda neat… wouldn't buy it though, even though it's relatively cheap.
This dude is kind of neat. I had the original action figure and enjoyed it. This statue costs about $100 from Kotobukiya.
There are also a number of lightsabers and weapons available in the Star Wars universe. Be sure to check them out.
Masks are also a big thing in Star Wars. Once I bought a Don Post Darth Vader mask at Target, but it's possibly the cheapest one out there and I only bring it out for Halloween to display by the door for the trick-or-treaters to see. Here are some cool, better quality ones that I found, made by Rubies:
Again, there are MANY other masks out there, but I'd say these are the best quality.
Now, on to the busts. I hate busts because they are creepy. It's like chopping someone's head off and displaying it on your grand piano. But for Star Wars, I'll list the ones that I found to be somewhat interesting, mainly because they are 1:1 scale, which is as good as it gets.

From top, left to right, Admiral Ackbar $500. Greedo $600, but that's only good for target practice (haha). Bossk $529. Darth Maul $600. Palpatine $500. General Grievous $500.
Check out what else I found:
LEGO Star Wars Ultimate Collection Series Darth Maul Bust

Most of the stuff I've mentioned so far is relatively cheap. Let's move on to the very high dollar stuff.
Millennium Falcon & Death Star Resin Set

I like this because it has the characters hanging around, but it costs about $3150.
Millennium Falcon Studio Scale Model
This one is from Master Replicas. Costs about $2300.
The most expensive item I can find is an $18000 bronze statue of Darth Vader, at 1:2 scale that weighs 150 pounds. Only 30 are being made. If you're too cheap to buy that, then get the $5000 Vader bronze statue or Boba Fett for the same price (as if either of them deserve to be bronzed, those evil jerks).
Saving the best for last, as noted in a previous article, Sideshow Collectibles has 1:1 scale replicas of C-3PO and R2-D2 available. Buy R2-D2 for $5450 and C-3P0 for $5950.