Remembering American McGee's Alice
For those of you who don't know, a looooong time ago, back in 2000, an Alice in Wonderland-themed game came out called American McGee's Alice, a third-person action game. McGee is one of the guys who worked on Doom. His name is actually American, and he has a website.
Sure, the visual effects in Tim Burton's film are great, but let's reflect on the cool imagery this game brought us a while back, which is far darker and more adult-oriented than Johnny Depp in a clown suit. The game is available on Amazon, and there are plenty of action figures based on it, as well. Photos below.
AMERICAN MCGEES ALICE ACTION FIGURES – MAD HATTER

American McGee's Alice – Alice and the Cheshire Cat Box Set

American Mcgees Alice Action Figures – White Rabbit

American McGee's Alice Tweedle Dee

American McGee's Alice – Tweedle Dum Action Figure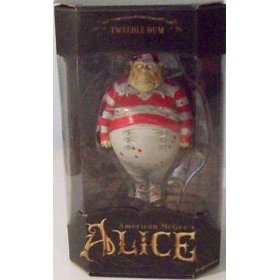 American McGee's Alice – Caterpillar Action Figure


Black Rabbit in gray top coat and gray hat figure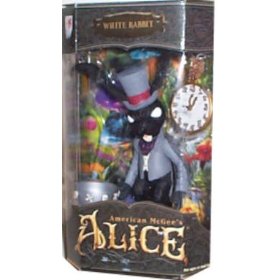 American Mcgee's Alice (Score)

no images were found