Remembering Lorenzo Charles' "Dunk"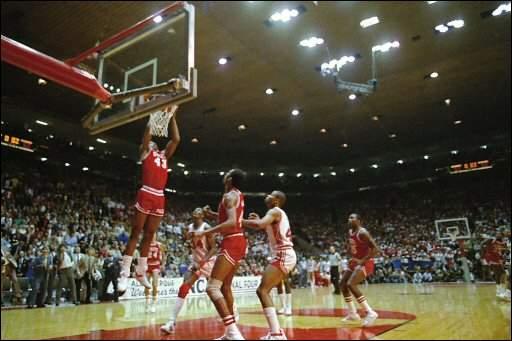 There was sad news yesterday in the world of college basketball, as former N.C. State Wolfpack forward Lorenzo Charles passed away after a bus he was driving crashed along Interstate 40 in Raleigh, North Carolina.
The N.C. State basketball star is most known for his play during the 1983 NCAA Tournament which featured a singular moment in the National Championship game that still lives to this very day. The Wolfpack earned their way into the 1983 tournament after beating Virginia for the automatic bid from the Atlantic Coast Conference.
After close wins over Pepperdine and UNLV along with a blow-out defeat of Utah, they faced Virginia again for a chance to go to the Final Four and it was Charles who made two big late game free throws to help the send the Wolfpack onwards. Their first opponent was Georgia who advanced to the Final Four in their first appearance in the tournament. The game was a heated affair but N.C. State pulled out the win and was set to face the University of Houston for the National Championship.
At the time, The University of Houston was better known as "Phi Slamma Jamma" and bolstered by two hall of fame players in Hakeem Olajuwon and Clyde Drexler. They were the better and more dominate team during the season and some media members thought that the National Championship game was going to be a Phi Slamma Jamma rout.
However, when the game started Jim Valvano's Wolfpack played nose to nose with the Cougars as they were deadlocked entering the final seconds of play. On NC State's final possession, a bad pass from Thurl Bailey ended up in the hands of Derrick Wittenberg who heaved up a long three pointer that appeared headed for the hardwood floor. Then, out of nowhere, Charles leaps into the air for the dunk as time expired. The players for Houston, the CBS announcers, and fans were shocked by what happened, the Wolfpack had pulled off one of the greatest upsets in NCAA history. The image of Jim Valvano looking for someone to hug has been etched in the sport for life and he has Charles to thank for that moment.
Charles was drafted into the NBA by the Atlanta Hawks in 1984 but only played for one season before heading overseas to finish out the rest of his career in Italy and a myriad of other places.  Before his death, Charles was rental bus driver who didn't seek the fame that his one play brought him outside of the occasional appearance at NC State basketball games.
As we mourn Charles death, let's remember the good times that the 1983 NC State Wolfpack gave the world and "The Dunk" that gave the world a chance to celebrate the underdog.