The Saddest Wrestlemania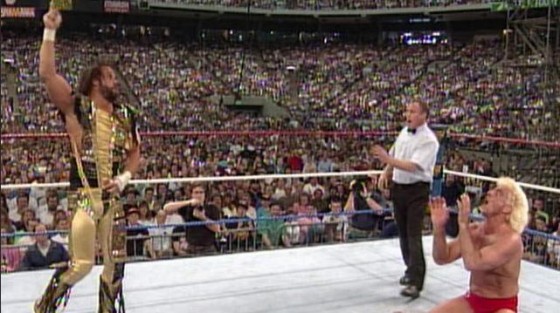 Growing up in the 1980s, I was an unshakeable fan of professional wrestling, specifically, the World Wrestling Federation ((WWF). If my dreams at the time could have been fulfilled, I would have grown up to be a WWF wrestler and ultimately take part in Wrestlemania.
It was always a dream of mine to see Wrestlemania live, and in 1992, that dream was achieved when my family took me to see Wrestlemania VIII. As I grew older, I learned that there was a high mortality rate associated with professional wrestling, so it's probably best that I never became a wrestler. However, I have taken a particular interest in the people who participated in Wrestlemania VIII over the years as well as the sad results for many of them, who passed from this earth way too soon.
Joey Marella (2/1963 – 7/1994)
Joey Marella was a recognizable referee to WWF fans in the 1980s and the son of Robert 'Gorilla Monsoon' Marella. After refereeing matches in Ocean City, Maryland on 7/4th, 1994; Marella fell asleep at the wheel while driving home to New Jersey. Marella had one passenger, Bruno Lauer, who is better known to wrestling fans as manager Harvey Whippleman. Lauer was injured but survived because he was wearing a seat belt and Marella was not. Marella actually had an LJN action figure made in his likeness in the 1980s.
Ray Combs (4/1956 – 6/1996)
The celebrities associated with Wrestlemania VIII were not particularly immune to its specter of tragedy. Ray Combs was a rising star with a revamped Family Feud in the late 1980s. Combs was a guest announcer at Wrestlemania VIII and primarily insulted the 'Nasty Boys' as part of a staged skit. Ray would later fall into a series of personal turmoils. Combs owned comedy clubs which were deeply in debt, and his house was being foreclosed on. Combs was also in the midst of a separation from his wife Debbie. After a destructive episode at his home in 1996, Combs was committed to hospital under a suicide watch. In the hospital, Combs fashioned his sheets into a noose and hung himself.
Owen Hart (5/1965 – 5/1999)
A member of the famous Hart family (including brother Brett), Hart initially started out as a dynamic talent in Canadian wrestling before moving onto the WWF. Hart's original persona was that of the 'Blue Blazer.' In Wrestlemania VIII, Hart defeated Skinner as part of the mid-card. On 5/23rd, 1999, Hart would fall to his death during the WWF's Over the Edge, a pay per view event in Kansas City, Missouri. The Hart Family would sue over the incident and the WWF settled out of court. Thankfully, Hart's death was not televised live. The audience buying the event on pay per view was told of the incident, however the crowd in the arena was not.
Robert Marella (6/1937 – 10/1999)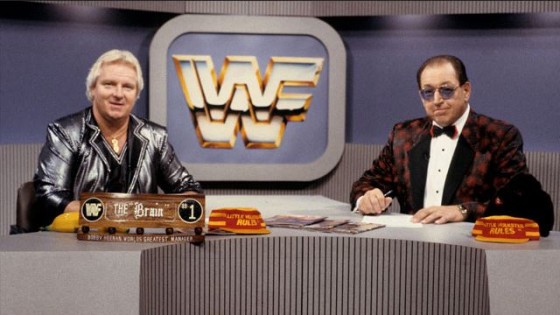 Robert Marella was known as 'Gorilla Monsoon' during his wrestling and broadcasting career in the WWF. His wrestling career was highlighted by an actual wrestling versus boxing match against Mohammed Ali. The match would later serve as an inspiration for the Rocky III match featuring a young Hulk Hogan and Sylvester Stallone. Monsoon along with Bobby 'The Brain' Heenan pioneered Primetime Wrestling in the 1980s which was the direct precursor to Raw. Marella died of heart failure in 1999 as a result of complications from diabetes.
Curt Henning (3/1958 – 2/2003)
Curt Henning was one of the bright lights in the last days of the American Wrestling Association before moving on to his Mr. Perfect persona in the WWF. In Wrestlemania VIII, Henning did not have a match so much as he was supporting Ric Flair's effort against Randy Savage. On 2/10th 2003, Henning was found dead in a hotel room in Florida. The cause of death was ruled to be complications resulting from cocaine. At the time, Henning was only 44 years of age.
Elizabeth Hulette (11/1960 – 5/2003)
Elizabeth Hulette (who had the ring persona of 'Miss Elizabeth') was the longtime manager of Randy Savage in the WWF. However, it was her later entanglement with wrestler Lex Luger which would factor into her passing. Hulette was living with Luger aka Larry Pfohl when she took a mix of painkillers as well as vodka leading to her demise. This came roughly a week after she was involved in a domestic dispute with Pfohl which required the intervention of the Marietta, Georgia police department. There were rumors that Luger and Hulette were planning on getting married at the time of Hulette's passing, which would have been Hulette's third marriage.
Michael Hegstrand (9/1957 – 10/2003)
Michael Hegstrand was better known by his ring name of Road Warrior Hawk. Along with Road Warrior Animal, Hegstrand formed the Road Warriors (also known as the Legion of Doom) which was one of the most fearsome tag teams of the 1980s. In Wrestlemania VIII, The Legion of Doom appeared only in an interview, but in the arena, the interview was not really able to be heard. Hegstrand was found dead after an apparent heart attack while moving into a new home in Florida in 2003. On a DVD about Jake The Snake Roberts, Roberts specifically indicated that Hegstrand was one of the harder partiers on the circuit.
Ray Traylor (5/1963 – 9/2004)
Of all of the personas in the WWF, Traylor's was actually one of the most honest ones. Traylor was actually a security guard in a prison in Cobb County, Georgia before getting involved in professional wrestling. In the 1980s, Traylor would go on to be one of the more recognizable figures in the WWF, portaying the Big Boss Man and challenging Hulk Hogan to a series of matches for the WWF title. In 2004, Traylor passed away due to a heart attack at the relatively young age of 41.
John Tenta (6/1963 – 6/2006)
John Tenta was best known as Earthquake in the WWF, and he was actually a collegiate wrestler at Louisiana State University. Initially, Tenta had a promising career as a sumo wrestler before he went on to a career in professional wrestling. In 2004, Tenta was diagnosed with bladder cancer and given less than a thirty percent chance to live. He succumbed to the cancer on 6/7th, 2006, and will be remembered as one of the great 'heavies' in the ring.
Sherri Martel (2/1958 – 6/2007)
Sherri Martel was one of the really early 'divas' to come across the wrestling scene. Known as 'Sensational Sherri,' Martel was in the corner of Shawn Michaels during his victory over El Matador (Tito Santana) in Wrestlemania VIII. After a long career in different wrestling promotions, Martel was found dead on 6/15, 2007. She was in her mother's home in McCalla, Alabama (near Birmingham.) There was a homicide investigation involved, but the results of the toxicology report revealed the Martel had multiple drugs in her system including high amounts of Oxycodone.
Randy Savage (11/1952 – 5/2011)
The 'Macho Man' Randy Savage had an intensity that simply was not matched in the annals of wrestling history. In Wrestlemania VIII, he defeated the legendary Ric Flair in a match for the WWF World Heavyweight title. On 5/20th 2011, Savage (real name Randy Mario Poffo), suffered a heart attack while driving in Florida. The Jeep wrangler which he was driving went into a tree but it was the heart attack and not the crash that killed him. Savage will always be remembered as one of wrestling's all time greats.
William Moody (4/1954 – 3/2013)
William Moody aka Paul Bearer was a long time manager for the Undertaker. He was also well-known in the Memphis area as manager Percival Pringle III. Moody was in the Undertaker's corner when he defeated Jake "The Snake" Roberts in Wrestlemania VIII. Moody would continue to manage and attended a reunion in Mobile, Alabama shortly before his passing, where he was coughing and appeared to be short of breath. Moody would die shortly after being treated for a blood clot.