Saluting the Service Academies
The NCAA likes to say in their advertisements "There are over 400,000 NCAA student-athletes, and most of us will go pro in something other than sports." This year, for Veteran's Day, we should take a moment to recognize a few hundred of them who will "go pro" in something far different from the average college student.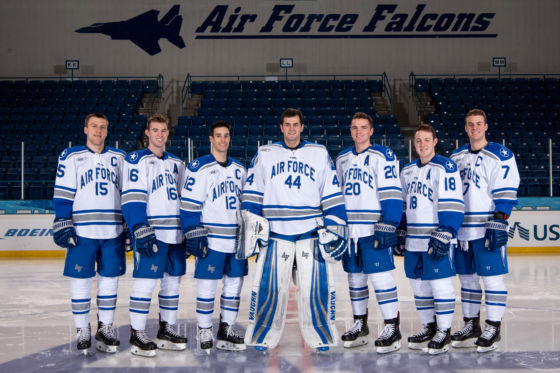 The young men and women who take to the fields, courts and pools of the service academies, The United States Military Academy (West Point), The United States Naval Academy and The United States Air Force Academy are a very different type of student-athlete than on most college campuses. Being an athlete at a service academy isn't easy, as athletes must meet higher academic standards, follow a strict Honor Code and participate in military and officer training while completing their coursework. They know that they represent more than just their school when they compete, but also the millions of men and women who have served or currently serve in the Armed Forces and that winning is secondary to representing the uniform with honor. The words of the Alma Mater of the Naval Academy, sung after both victory and defeat, best expresses the pride and tradition that is displayed whenever a service academy team takes the field.
Now colleges from sea to sea
May sing of colors true,
But who has better right than we
To hoist a symbol hue?
For sailors brave in battle fair
Since fighting days of old,
Have proved a sailor's right to wear
The Navy Blue and Gold.
Veteran's Day each year happens to coincide with the end of the fall sports season for most teams, and it is then that the sacrifice and dedication of these young people are most obviously on display. While Senior Day is an emotional time at most schools, as athletes are honored for the last time in front of their families and home crowd, at Army, Navy and Air Force it takes on a more somber tone, as parents and fans know that these athletes will soon be trading in their athletic uniforms for those of the military and in many cases going off to war. While most of these men and women will return home and be future veterans it is important to keep in mind that over the last decade nearly 150 service academy graduates have died while serving this nation, many of whom were decorated athletes.
An extraordinary example of these student-athletes was 2005 West Point graduate Emily Perez. A decorated athlete on the Women's Track Team and four-time letter winner, Emily was also the Cadet Command Sergeant Major (second highest ranking officer) for her senior class. As a high school senior she chose West Point over a number of other schools, becoming a member of the "Class of 9/11," the first class of students to enroll following the September 11th attacks in New York and Washington.
Soon after her graduation, the newly commissioned 2nd Lieutenant Emily Perez was assigned to a Medical Support team in Iraq. Nine months later, on September 12, 2006, 2Lt. Emily Perez was killed by an improvised explosive device while on patrol in southern Iraq and laid to rest on campus, within walking distance of the track where she excelled. While her death is tragic, it also serves as a reminder of what faces so many of the young men and women who don the athletic uniforms of the military academies.
We ask you to salute, as you enjoy your football, basketball or other sports this Veteran's Day weekend, the student athletes of the Army, Navy and Air Force and veterans everywhere. While the sports pages are filled with stories of misbehavior and poor sportsmanship, it is reassuring to know that there is one group of athletes who truly put honor ahead of victory.
*The author is a season ticket holder for the Navy Football Program and member of the sponsor family program.