Sam Kinison: Finally Unleashed!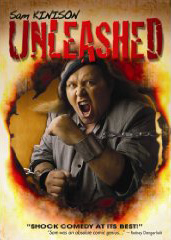 Amazon.com has it right. I logged in just now, and right in front of my face was something I'm absolutely buying: A new DVD, Sam Kinison: Unleashed!, being released Jan. 27, about 17 years after his tragic death in a car accident.
According to Amazon's website, this DVD includes two HBO Specials: Sam Kinison Breaking the Rules and Sam Kinison Family Entertainment Hour. Also included is never-before seen footage which will be released for the first time on DVD.
For some reason, the manufacturer discontinued making Sam Kinison: Breaking the Rules DVD, and the Sam Kinison Box Set, both of which were released in 2001.
---
Here are some vintage Sam Kinison Clips to get you in the mood :
Breaking the Rules:

First Appearance on Letterman:

On Arsenio Hall (Remember that show?)