SAW Beer (Drank It)
Saw Beer (Drank It)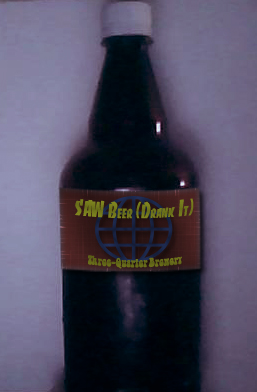 Information: From the Bottle: "A distinctive ale-style brew developed by the Three-Quarter Brewery for its mild flavor yet deceivingly punch-packed hoppiness and after-drink 'longevity'. In its basic sense, it's easy to drink but it will certainly remind you that you did it for a while after words."
This is only the second time I was actually requested to do a review by the brewers themselves. It's a pretty prestigious honor when a beer maker -who has read and is a fan of my reviews- seeks me out to specifically do a review on his product. Very cool. Anyway, with the pleasantries out of the way…
The pour is a bright, crisp yellow with a nicely effervescing head that powers forth to only dissipate into a few bubbles in a moment. The nose is a bright torrent of honey and ripe citrus fruits with an air of fresh hay and grassy hops. There isn't a trace of bitterness in the smell, which does all the more to hide its seductive fury.
The flavor is an amazingly crisp and lite blend of malts and coriander. There is a slight honey undertone with what could only be described as fresh blueberries in the background. After a few sips the hidden subterfuge that is the higher-than-supposed alcohol content powers forth and you can certainly 'feel' the beer. And that is specifically one of its charms. Without the taciturn elbow from the alcohol, this beer could remind one of a Celis without even thinking twice. But, thanks to its 'warming' characteristic, it leans even a bit into IPA territory but without any of the bitter hoppiness. This could be a turn off for some, as the point of the strength of the IPA is to experience the gnashing rindiness. But, even so, this is a fine brew… and slightly different, indeed. This would go very nicely with a table-full of steaming crabs.
Rating: * * * *
Like a High School girlfriend, sweet up front but a bitch at the end.