Scenes from Virgin Mobile #FreeFest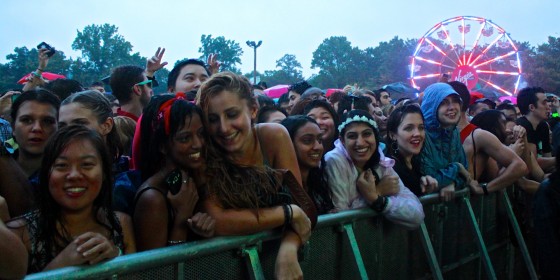 You know that old saying about into each life, a little rain must fall? Well apparently the same holds true for music festivals, as well. Schedule an outdoor music festival and you can pretty much mark it down, there will be rain, and mud, and fans slipping and sliding around, shirking umbrellas and raincoats in favor of skimpy outfits and fun.
That was the scene at the Virgin Mobile FreeFest this past Saturday, an event held annually outside of Baltimore on the sprawling, hilly grounds of the Merriweather Post Pavilion in Columbia. Headlined by acts like Robin Thicke and Vampire Weekend, the three stages also shined the spotlight on smaller acts on the verge of breaking out, like Chvrches, Black Joe Lewis, Icona Pop, and Little Green Cars, among others.
And of course it's called FreeFest for a very good reason: tickets are free. Well, most of them are, anyway. And whatever money does get paid for the "free-mium" tickets doesn't even go to Virgin, because after all, Richard Branson doesn't need yet another island to call his own. Instead, the profits of those tickets go directly to charity, like the RE*Generation House.
So what is the RE*Generation House? It's an effort to fight homelessness, and the donations and ticket sales from FreeFest go directly to helping keep a shelter over the heads of youths. The RE*Generation House is a transitional home in Washington, DC, and to date nearly $800,000 has been raised by the folks who put on FreeFest each year.
If those people didn't already feel good enough from helping keep kids from sleeping on the streets, they can feel pretty incredible about the events of FreeFest. From the constant techno and electro coming from the Dance Forest stage to the blues, pop, and alt rock on the main Pavilion Stage and the West Stage, the music began at noon and didn't end until 11:00 p.m. In other words, it was a music lover's dream day.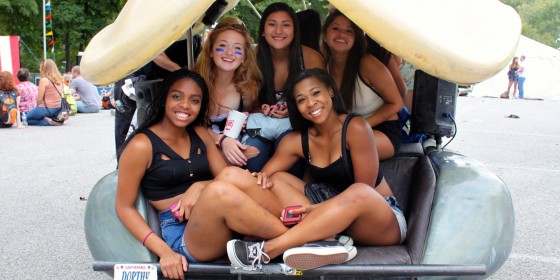 Along those same lines, it was a people watcher's dream day as well. The festival was filled to the brim with, shall we say, interesting characters braving the elements. If you made a drinking game with the Ole Smoky Moonshine flowing freely in the VIP section, well, you'd probably be dead. One of the rules would certainly have to have been spotting people in somewhat obscure old basketball jerseys. Major props to the guy rocking the vintage Toronto Raptors Tracy McGrady jersey, and even more props to the guy in jorts and a skintight Team USA "Thunder" Dan Majerle jersey. Thanks to that guy, Thunder Dan can actually prove to people that yes, he was on one of the Dream Teams. James Richardson of MGMT even got the word about the theme, and performed in Juwan Howard's #5 Bullets jersey as a nod to the hometown team.
Adding to the people watching goodness was spotting a 50-something man walking around shirtless, putting the flex on, while mingling with high school girls. Naturally, if you're going to have a music festival in the rain, with people happily downing moonshine, beers, vodka, and wine, you're going to see some nudity. Of course the only nudity we spotted was not quite the kind we were expecting or, more importantly, hoping for. It was still far superior in terms of comedic value, though, as a little guy who had been walking around shirtless decided his shorts simply needed to go. The resulting shitshow that ensued involved security chasing him in a small circle before finally tackling him, putting some zip tie cuffs on him and loading him onto a backboard to be hauled away in an ambulance. It's possible that he was under the influence.
Not far from that scene were the teeter totters with shag carpeting draped over them, which were consistently being ridden throughout the day. Even more fun was putting together that those were, in fact, supposed to represent mustache rides. And yes, the drunken naked guy was happily riding one shortly before his adventure. The only thing missing from that scene was Yakety Sax. Maybe next year, Virgin will plan ahead and make sure they don't waste that particular opportunity again. The whole day had a circus-like atmosphere, which was certainly by design considering there were actual circus performers, and yes, even a fun house.
The rain started really coming down around 4:00 p.m. and was unrelenting into the evening. Apparently, Mother Nature didn't think Robin Thicke had it in him to get the women in his enormous crowd quite wet enough and wanted to lend a hand. Of course none of that deterred the well over 50,000 people in attendance. After all, they had music to listen to. And probably a lot of booze. And probably also weed, based on the scent of the Dance Forest.