Shamrock Shakes and other St. Patrick's Day Treats
How to celebrate St. Patrick's Day? If ladies are you thing, check out our sexy women of St. Patrick's Day. And if alcohol is your thing, you can go with some traditional green beer or check out our Drinks of St. Patrick's Day for other suggestions. But beyond women and beer, there's a whole world of Irish inspired items that come around on St. Patrick's Day. As many of you know, the Chicago Journeymen Plumbers dye a portion of the Chicago River a bright emerald green for March 17th. But you can enjoy the holiday on a much smaller scale without resorting to coloring large bodies or water. Here are some festive examples that anyone can enjoy:
Shamrock Shakes
The seasonal McDonald's dessert with a subtle mint flavor is available at select American locations during the months of February and March. If you need help locating them, try this website for verified McDonald's locations serving the shakes. The treats even once had their own character to market them, Uncle O'Grimacey. He's from the same bizarre lineage of Grimace, and we already tried with questionable results to figure out what Grimace is. I doubt we'll know what the hell Uncle O'Grimacey is either. Here's a retro commercial to enjoy to get you in the mood:
Special Edition Green Clover Lucky Charms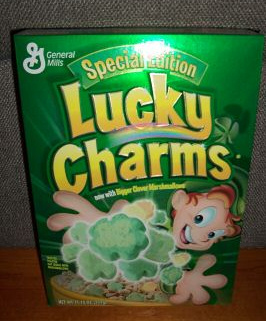 The magically delicious breakfast cereal is already tilting pretty Irish, but even Lucky was willing to ditch the pink hearts and purple horseshoes to go full on Irish. Filled entirely of marshmallows of an Irish flavor, the Special Edition Great Green Clover Marshmallow Lucky Charms contained green clovers, green clovers, and did I mention green clovers? Oh yeah, there are also some pots of gold. So there's a little variety. Although less coloful than the original, at least the marshmallows were super sized.
Spruced up in a mylar looking green box, this variant was around earlier this decade, but hasn't been seen recently. If you can't find it in stores, you can always just go for the original instead. It's still reasonably Irish and an acceptable way to start your St. Patrick's Day. And you can pick out the non-Irish marshmallows if you choose.
Lucky Puffs
Whenever I think of Hostess Sno Balls, I'm reminded of The Simpsons episode (4F11 – Homer Phobia) where Homer begins to think Bart is gay. To test him, he is given two Hostess snacks to choose from, the chocolate CupCake and the pink Sno Ball. Bart goes for the pink Sno Ball, sealing his fate of gaydom (at least in Homer's mind). And I can thank the episode for forever linking the famous pink coconut snacks with being gay. Way to go Matt Groening!
If you can get past the gay association, this might be the snack for you. Sno Balls have been around forever, and over time have come in a variety of colors. So it's no surprise a St. Patrick's Day version is included. And it's thankfully not pink. The green "Lucky Puffs" are no different than normal Sno Balls, except for the obvious green colored coconut. Underneath is the expected marshmallow layer, followed by chocolate cake, and eventually the patented cream filling. If you're fine with coconut, you might like them. I'm not, so I avoid them like the plague. But at least the Lucky Puffs don't glow in the dark like the orange Halloween Scary Cakes variant.
Green Bagels
Starting your morning off right with a disturbingly green bagel or two. Almost any bakery or bagel shop will help please the Irish in your life with this creation. Despite the radioactive look, they taste quite normal. And unlike many food items in this list, this one isn't pure sugar. So you can eat a few and not feel too bad about yourself. Well, provided that you don't load up on the cream cheese too. A bagel is also a great snack to eat before heading off on the town for a day of binge drinking and debauchery.
Green Donuts
A little less healthy, but still a viable option for breakfast are the Saint Patrick's Day donuts. Not really any different than normal donuts, just colored green with icing, dye, or sprinkles. And let's be fair, this list can be extended to virtually any baked goods. Examples can include muffins, cupcakes, cookies, and so forth. But you're less like to be drunk on the morning of March 17th, so breakfast foods seem like better ways to celebrate. Come the evening, a green cookie might not be the first thing on your mind. (Photo by bitchcakesny)
M&Ms
Not really anything all that different than normal M&Ms, but there's all sorts of variants of the melt in your mouth chocolate candy, so why not include St. Paddy's Day as well? You can get them in shades of green, or you can choose to toss in some white pieces to mix it up. You might have to special order these, so if you really want them, here's one place you can get them online.
Green Peeps
Yes, even your favorite toxic marshmallow chickens come in green. Normally a staple of the Easter holiday season, Peeps has branched out in recent years, putting out green variants in time for St. Patrick's Day celebrations. And consumers are buying the green chicks.
Although St. Paddy's Day is not officially a part of the Peeps seasonal calendar (which covers Easter, Valentine's Day, Halloween, and the Christmas holiday season), the typical yellow, pink, lavender, and blue colors have curiously seen green marshmallows added to their mix. If you want to find out more ways to utilize your Peeps, try some recipes found over at MarshmallowPeeps.com.
Green Popcorn
I wasn't aware of it, but there's apparently a market for green popcorn on and around St. Patrick's Day. At the very least, it makes the ultimate St. Paddy's movie watching snack. Pop in something like the Boondock Saints and have it. And despite the color, it doesn't taste any different than normal popcorn. Not sure if this will ever really take off into mainstream culture, but it has to be more successful than the green ketchup idea, right? (Photo by William C. Hutton, Jr.)
Cookie O' Puss
You remember Carvel's ice cream cakes don't you? If you're not familiar, I'd refer you to Patton Oswalt's great bit on Tom Carvel and the various cakes. Except it's not on YouTube. So you'll have to dig that one up yourself. In short, they are ice cream cakes in assorted shapes, most famous among them being Fudgie the Whale and Cookie Puss. And the famous Cookie Puss has an Irish friend, Cookie O'Puss. He looks pretty much like Cookie Puss, just greener. His body is made of vanilla and chocolate ice cream, separated by a layer of chocolate crumbs. His nose is pistachio ice cream in a sugar cone, his eyes are two chocolate chip cookies topped with white and green icing, and his hat is a Flying Saucer cookie that includes shredded coconut. Whether your familiar with Carvel or not, I think you'll enjoy this retro ad:
Nike Shoes
If food isn't your thing, you can always don some green clothing. But don't just go for a t-shirt or a plastic leprechaun hat. You can go Irish in style, with a pair of Nike St. Patrick's Day kicks. There have been many variations over the years, the example to the right is just my favorite example. Not sure what you do with the shoes the other 364 days of the year, but on March 17th people will compliment you on your rockin' footwear.