Shamrocks and Shenanigans with House of Pain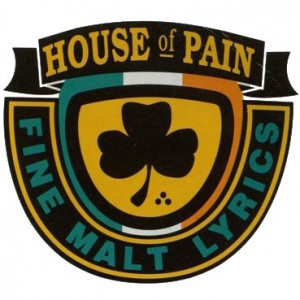 To me, there is no finer example of Irish music than the House of Pain. Maybe it is because I was 14 when Jump Around came out, but these guys will always be a classic in my music collection. From Wikipedia:
House of Pain was an Irish-styled American hip-hop group who released three albums in the early to mid 1990s before lead rapper Everlast decided to pursue his solo career again. The group is best known for its 1992 hit single "Jump Around", which reached #3 in the United States, #6 in Ireland and #8 in the United Kingdom.
So, in honor of St. Patrick's Day, we present the lyrics from some of House of Pain's Irish Inspired Classics. All three of these songs are from their debut, self-titled, album. Be warned that Everlast is sometimes NSFW, but chock-full of great one-liners:
"Shamrocks And Shenanigans"
I kicks the flavor, like Steven King writes horror
If I was a Jew then I'd light a menorah
I got rhymes for ya, excuse me senora
Are you a whore or are you a lady?
Is it Erica Boyer or Marcia Brady?
Let me know hon, the deed'll get done
Just assume the position, I'll take my rod
And then I'll go fishin', I'll get your river flowin'
When it comes to givin' pleasure, I'm every woman's treasure
I came to work your body, so let me do my job
I've never been laid off, my rhymin' skill paid off
Cause now I'm makin' records, now I'm makin' tapes
Steady bustin' suckers in bunches like grapes
Makin' all the papes, scoopin' up the loot
Puttin' suckers on the run, pull my gun and then I shoot
I never been a front, I never a fraud
I gotta natural skill, for that I thank the Lord
Cause I feel blessed, I'm casually dressed
I always got my gun, but I never wear a vest
I'm quick on the draw like the horse named McGraw
From the cartoon boom sha lock lock boom

[Chorus]

(boom sha lock lock boom)
All right now
(Boom sha lock lock boom)
A little louder
(Boom sha lock lock boom)
Everybody
(Boom sha lock lock boom)
All right now

Breaker, breaker, here comes the caper
Straight with the taper, the lyric skyscraper
Hit ya like a lyrical murderer
I know ya think I have, but yo
I never heard of ya
Just because you heard of me kid
Fuck around until you do the lifetime bid
I'll put you in the dirt, and leave your ass for dead
When it comes to tools, T's the sharpest in the shed
Cause I'm the 55 Cadillac king
It ain't no thing, my cargo ring
We'll bust you in the crib
I got the skill, you gots to chill
Cause I bring doom, I got the boom sha lock lock boom

[Chorus]

I rock mad styles, I hop turnstiles
I rock all mikes, I last all night
I puff fat blunts, I rock fine scunts
Step up bo, I'll kock out your gold fronts
Everlast, that's my name
My unique rhyme style's my claim to fame
The House Of Pain's the name of my clique
You can't be down, punk, get off my dick
You make me sick, like strawberry Quik
Your style is wack, you ain't the mac
So yo step back, get off the crack
And sing a new tune like boom sha lock lock boom

[Chorus (2x)]
"Danny Boy, Danny Boy"
Peckerwood, peckerwood, tell me your tale
Please do explain why your skin's so pale
And you're so funky, now how can that be
Like a bird in a tree on the TLP
It's the Irish intellect, no one disrespected
My shit'll get hectic real quick
This is the House Of Pain (pain)
And pain is one thing we're not
Cause we know we've got
Style and fashion, smoke some hash and
I'm smackin' up girls like cars were crashin'
Danny Boy, Danny Boy, the pipes are callin'
Thought you was a winner, ya was, now you're all in
That's right, damn skimpy, ya can't get with me
I run the whole track and leave ya three laps back
Chop seuy don't do me no good
I gotta have corn beef and cabbage, if I wanna manage
I never eat pig, but I'll fuck up a potato
I'm not a dago, but pasta's all that
My pockets stay phat, so step the fuck back
You wanna move on me, you better bring an army
I rip shit daily, ask my man Tom Baily
I'm rockin' the clock like if I was Bill Hailey
I'm cockin' my glock, and I got my shileighly
So watch your lady, because I'm

(Danny Boy!) Danny Boy
(Danny Boy!) You know it's Danny Boy
(Danny Boy!) 'S Danny Boy
(Danny Boy!) You know it's Danny Boy
(Danny Boy!) 'S Danny Boy
(Danny Boy!) You know it's Danny Boy

(Da ney Boy, Da Da ney Boy)
Oh Danny Boy, the pipes, the pipes are calling
From glen to glen, and down the mountainside
"Top O' The Morning To Ya"
She won't come, just when you want it
Ya see, I'm Irish, but I'm not a leprechaun
You wanna fight, then step up and we'll get it on
You gotta right to the grill, I'm white and I ill
A descendant of Dublin with titanic skill
I ducked and I swing, next thing your jaw's broken
Punk I ain't jokin', you can bet you'll be chokin'
On a fist full a nothin', meanwhile I'll be puffin'
On a fat blunt, run punk, you don't know the half
Tryin' to talk shit, man, please don't make me laugh
These Irish eyes are smilin', I'm buckwildin'
The House Of Pain is pumpin', start jumpin'
Freak it, funk it, back seat junk it
If you can't get with it, you'll wind up sweatin' it
Then you'll get a beatin' just like an egg
It's so hard to run when you've got a broken leg
But we can have a run off, the House Of Pain'll come off
We got the cake that you're tryin' to get a crumb off
The Irish style, the Celtic jazz
No one has it, just us that's it
If you try to take it, I got a big shileighly
I don't have dreads cause I shave my head daily
You call me a skin head, I call you a pin head
Yo, where you been man, just like the tin man
You got no heart, here comes the good part
I pick 'em, buck 'em, cut 'em up, and buck them down
No fuckin' around
Home boy ya get clown like Krusty, trust me
You shouldn't play, and by the way
Top o' the mornin' to ya

[Chorus]

(What's the hassle man?) Top o' the mornin' to ya [2x]
(Hey, are you givin' us a hassle man?)

Greetings, salutations
Peace to the nations of Zulu and Islam
Crack the bottle, rev the throttle
Put the gear in, now you're stearin'
Like Mario Antretti
So let me kick it, cause I can make a wicked
Noise like a cricket
Rubbin' his legs, my rhymes are like eggs
I'll keep layin' 'em, I'll keep sayin' 'em
This is the House Of Pain, we're far from plain
But we're not fancy, Ron and Nancy
So just say no, but I say go
Straight to hell, I kiss and tell
So if you're a ho, all my friends know
What you gotta say, let's hit the hay
And have no delay, and yo, by the way
Top o' the mornin' to ya

[Chorus]

Extra extra, read all about it
How could ya doubt it?
Now scream and shout it!
The House Of Pain soon will reign
Over the hip hop scene in white, gold, and green
I rip shit and back flip like a Jedi
I roll with the groove and I'm smooth and you can bet I
Come correct and get respect when I'm flowin'
Collecting my dough, I got you're girlfriend ho-in'
And how do I know that she's funk?
I know she's broke cause yo, the T's hung like a
Shetland pony, gettin' paid like Sony
So never ever try to play me out like a phony
Cause I can get real thick like a bowl of Malt-o-Meal
And by the way, top o' the mornin' to ya

[Chorus]
All Lyrics from AZLyrics.com