Six Controversial Magazine Covers
They usually say don't judge a book by its cover, but it seems like that's not the case when it comes to magazines. Most magazines have a steady subscription base, but they're always looking to attract your attention as you walk past the rack. Typically, the more controversial a cover is, the more copies you can expect to fly off the newsstand.
However as we've seen with the recent Rolling Stone cover controversy, if you push it too far, you risk alienating advertisers, distributors, and your subscribers. Here are six other cases of magazine covers that the dedicated readers and fans of pop culture will never forget, no matter how many years go by from their release. These provocative covers drove sales to new levels.
6) Rolling Stone, September 2010
Sookie, Eric and Bill drove their fans crazy with their bloody, naked and really graphic shooting for this cover. Those who don't follow the super successful TV series "True Blood" are probably still trying to figure out what went wrong with Rolling Stone's cover back in September of 2010. All it really took was a love triangle between two male and one female vampire covered in blood, and Rolling Stone magazine happily saw their sales exploding to the sky. It was the biggest selling issue for 2010 and the subjects on the cover weren't even musicians.
5) Focus (German edition), February 2010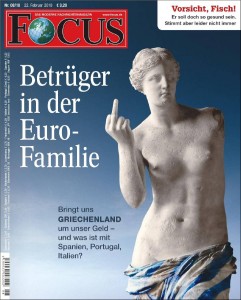 What happens if you load a blender "ingredients" such as history, art, economy and political propaganda? The German cover of Focus magazine (2/10) is probably the best answer you could ever get to this question. The imagery really says it all, but the context is needed for those who don't pay attention to European affairs. Let's just say that this was the answer of the German magazine to the European Union and the Southern member-states (Spain, Greece, Italy and Portugal) that needed financial support the most. Nobody ever accused Germans of being sensitive.
4) Love Magazine, February 2009
We guess that the editors of Love Magazine were sick and tired of seeing all these anorexic models on covers and decided to give to the world a truly plethoric cover for a change. The "heavyweight" singer of Gossip band, Beth Ditto, was the ideal muse the alternative magazine was seeking at the moment and her nude "endless" body didn't disappoint them or the readers. Beth's cover helped the magazine to do the best possible (in terms of sales) and the most dynamic début they could ever imagine or dream of.
3) Vanity Fair, August 1991
This is probably the most copied cover in recent pop culture history. We are not exaggerating at all, just think about how many giga-stars followed Demi's example and then you might agree: Britney Spears, Mariah Carey, Cindy Crawford, Christina Aguilera, Jessica Simpson and Halle Berry just to name a few. Demi Moore however, was the first who dared to do such a thing back in the more prudish early 90's and she can now look back proudly and say "Hey, I did it first….and I shook the world".
2) Entertainment Weekly, May 2003
Back in March of 2003 the lead singer of Dixie Chicks, Natalie Maines, during the introduction to their song "Travelin' Soldier" stated:
"Just so you know, we're on the good side with y'all. We do not want this war, this violence, and we're ashamed that the President of the United States is from Texas."
This comment was enough to open Pandora's box (from both fans and haters of the group) but the "chicks" never got discouraged. Even though they lost many of their fans after this statement and most radio stations in the States banned their songs, only two months later the brave girls appeared naked on the cover of Entertainment Weekly magazine (that some called cover of the decade) with some of the graphic comments (verbal attacks in reality) they had heard from their fellow American citizens in response to their comment against President Bush. "Dixie Sluts", "Saddam's Angels", and "Traitors" were just a few of them.
1) Hustler, June 1978
If this cover was a poster in a feminist festival or campaign, it would have (probably) never caused so much controversy and chaos like the cover of the almost pornographic magazine, Hustler, caused back in the late 70's. What made it even worse was the fact that the specific cover featured an extremely disrespectful, ironic and sardonic comment by the master of the kind, Larry Flynt
"We will no longer hang women up like pieces of meat."
Minced anyone?