Six Holiday Twelfies with Mike's Hard Lemonade
The good folks at mike's hard lemonade are hosting a fun social-media based version of the classic "Yankee Swap" holiday party game this season. You may also know it as White Elephant, but the general idea is that gifts are passed around, and hilarity ensues. To participate in the game, all you need to do is take a holiday #Twelfie, share it on Facebook or Twitter and then register for the Tw'elf Re-Gift-O-Rama at twelfie.mikeshard.com.
What the hell is a #Twelfie you may ask? Ah, an intriguing question indeed, but we'll get to that in a moment. First you must understand that mike's is available in a much-loved 12-bottle variety pack, featuring mike's hard lemonade, black cherry lemonade, cranberry lemonade and strawberry lemonade. For the holiday season they've dubbed it a "Tw'elf Pack." You see the bottles above are wearing little Elf costumes and its all a bit cheeky like mike's. Its an easy way to add fun and flavor to your holiday get-together.
So that brings us back to the #Twelfie, which is obviously a festive holiday selfie taken with mike's hard lemonade. To show you how it works, we've prepared some sample #Twelfies that you can see above. Inspirational, I know. Clearly I dressed up in various costumes and posed for photos with a bottle of mike's hard lemonade. Then I actually gave each costume a name, because I thought it was funny. I'll let you decide after checking out the photo list below if I was right…
1) Horsing Around Twelfie
2) Ugly Sweater Party Twelfie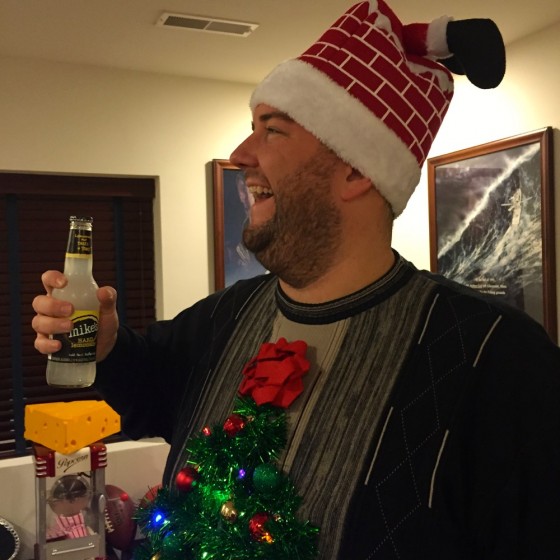 3) Fur Hat Twelfie
4) Feliz Navidad Twelfie
5) Fantasy Football Playoffs Twelfie
5) Come to the Dark Side Twelfie
Now that I've thoroughly embarrassed myself for your inspiration, you hopefully see how this works. So after posting my #Twelfie to Twitter, I then proceeded to register for the Tw'elf Re-Gift-O-Rama at twelfie.mikeshard.com, and received my first gift, the video below :
Like Yankee Swap, I can now decide whether I want to keep that gift, or re-gift it to a friend in order to receive a new gift. Everyone who participates receives a gift, ranging from "gags" such as funny GIFs, mounted squirrel head or mike's-branded footie pajamas to more coveted items such as smart watches, gaming systems and gift cards. Now we have your attention right?
To participate just follow these steps :
Take a selfie and share it on Facebook or Twitter with #Twelfie
Visit twelfie.mikeshard.com to link that social network and open a gift
Keep the gift or re-gift it to a friend in their social network for a chance to open something else
Can you come up with a better #Twelfie than me? We want to see it!
This is a sponsored conversation written by me on behalf of mike's hard lemonade. The opinions and text are all mine.