Six Memorable Super Bowl Catches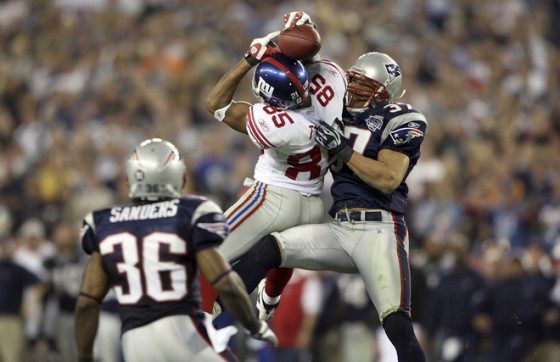 The Super Bowl is the single most exciting part of the football season for many fans. Nothing is better than watching your favorite team face off for the right to seize the Lombardi Trophy. Bring a few friends, grab some drinks, and you are set for an evening of football.
Memorable plays occur during every Super Bowl, but few things arouse more boisterous cheers (and jeers) than a thrilling catch. Here are six of the most amazing catches in Super Bowl history.
6) Jermaine Kearse – Super Bowl XLIX
This is easily one of the most spectacular catches in Super Bowl history, but we're not yet sure how memorable it will be. Late in Super Bowl XLIX, Jermaine Kearse made a circus catch to put Seattle within striking distance of the victory. Of course Marshawn Lynch wasn't given the ball to secure that victory, thus this amazing catch came in a losing effort and will likely fall out of memory within a few years.
5) John Stallworth – Super Bowl XIV
In Super Bowl XIV, John Stallworth made an amazing catch. It was a crucial moment in the game because it was on 3rd down and the Steelers needed seven yards for a first down. That is not a position you want to be in during the Super Bowl. Quarterback Terry Bradshaw took a huge risk and threw a 45-yard pass to Stallworth, who managed to reach over his shoulder for the grab, and just out of reach of the Rams defender.
4) Mario Manningham – Super Bowl XLVI
This incredible catch actually decided the winner of Superbowl XLVI. Mario Manningham's amazing sideline snag, which looked like it would be out of bounds but was kept in because of a single foot that remained on the field, vaulted the Giants to a championship over the Patriots, 21-17.
3) David Tyree – Super Bowl XLII
This was an even closer game-saving catch for the Giants, one that many fans will never forget. Trailing 14-10 with less than three minutes to play, the Giants faced a 3rd and 5 on their own 44-yard line. Big Blue quarterback Eli Manning deftly escaped a certain sack and delivered a desperation throw to wide receiver David Tyree, who outwrestled Patriots safety Rodney Harrison by pinning the ball against his helmet to secure the catch and continue the Giants game-winning drive.
2) Lynn Swann – Super Bowl X
While not a game-winning catch, it was still truly spectacular. Lynn Swann managed to snag an improbable 53-yard pass by diving over one of the Cowboy defenders. The Steelers went on to win the Super Bowl X, due in large to Swann's acrobatic feat.
1) Santonio Holmes – Super Bowl XLIII
Arguably the most amazing catch in Super Bowl history. The score was 23-20, with Pittsburgh trailing with only 2:37 left in the game. Steelers quarterback Ben Roethlisberger quickly marched the offense down the field, setting them up for a potential shot at glory. With less than 40 seconds remaining, Roethlisberger threw a pinpoint laser into the end zone that was snagged by receiver Santonio Holmes, who tiptoed along the boundary for the game-winning touchdown.