Six Observation from MLB's Highest Paid Players List
While salary talk should take a back seat to the action on the field, sometimes it becomes impossible to ignore. The fine folks over at MLB Trade Rumors put together a list of the highest paid player on each team, and we dove in to see if there was anything to learn from the list. There are some surprising, and disappointing names that make an appearance, and we've listed them too.
The Cheapest Player
Bud Norris is the Astros highest paid player, at only $3M for 2013. This is a good sign for the rebuilding 'Stros, as it means that they don't have any bad contracts weighing them down in their long-term efforts. When compared to some of the contracts on the Cubs, Marlins or Mariners, Norris represents a conservative approach to team building.
The Most Expensive Player
It's worth noting that Alex Rodriguez is still the highest paid player in baseball, at $29M. That's an especially large number for a player who hasn't been on the active roster for the Yankees this season, and likely won't for quite a while. In fact, A-Rod has only reached 500 at bats in a season once in the last five seasons for New York, making his big contract an even bigger albatross.
Home Grown Talent
Out of the highest paid players for the 30 teams an impressive ten are completely home-grown. Of those players, five (Tim Lincecum (SF), Felix Hernandez (SEA), David Price (TB), John Danks (CHI) and Norris) are pitchers, and the other five include two catchers (Miguel Montero (ARI), Joe Mauer (MIN)), two infielders (Rickie Weeks (MIL), Joey Votto (CIN)) and an outfielder (Nick Markakis BAL)).
That list expands to 11 if you include the Marlins Ricky Nolasco, who was drafted by the Cubs but eventually made his way to the majors with the Marlins.
Best Drafters
A number of teams have drafted more than one of the players on the list. Six teams drafted two players each: The Rays with Josh Hamilton (LAA) and Price, the Orioles with Jayson Werth (WAS) and Markakis, the Diamondbacks with Dan Uggla (ATL) and Carlos Quentin (SD), the Twins with Johan Santana (NYM) and Mauer, the Brewers with Prince Fielder (DET) and Weeks and the Pirates with Chris Young (OAK) and Jose Bautista (TOR).
International Signees
Only five players on the list entered baseball as international free agents. Two of them, Hernandez and Montero, are still on their original team while three others, Alfonso Soriano (CHI), Ervin Santana (KC) and Jorge De La Rosa (COL) have since moved. Montero and De La Rosa were both originally signed with Arizona.
The Five Best Contracts For This Season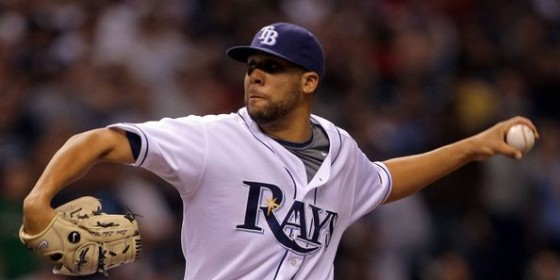 David Price ($10.1M)
Joey Votto ($19M)
Bud Norris ($3M)
Felix Hernandez ($19.9M)
Miguel Montero ($10M)
The Five Worst Contracts For This Season
Johan Santana ($26.4M)
Alex Rodriguez ($29M)
John Lackey ($16M)
Alfonso Soriano ($19M)
Tim Lincecum ($22.125M)