Six Sustainable Mobility Examples from Movin'On by Michelin
Movin'On by Michelin is the international summit for sustainable mobility that was recently held in Montreal, Canada. Four thousand participants from more than 31 countries gathered in Montreal to work together to further the vision of a sustainable future to mobility. The event was supported by 108 partners and featured 79 speakers, 49 workshops, and 5223 hours of collaboration between participants.
We were honored to be hosted by Michelin at this important conference and were immediately struck by the impressiveness of the venue, logistics, and details of the event. It was by far the best produced conference we've ever attended, which made it very easy to focus on the important subject matter at hand. Check out this short video below for a taste of what Movin'On was like, and start making your plans now to attend when it returns to Montreal in 2018.
Sustainable mobility should be important for all of us, and has been a hot topic over the last decade. Movin'On was full of great examples of real-world sustainable solutions, and visionary concepts for the future. We've selected six specific examples that caught our attention at Movin'On, which span a wide range of what is being developed by the industry.
1) Electric Bicycles
Movin'On featured a variety of ride and drive opportunities, and none was more fun than the bicycle circuit around the big top tent showcasing two two-wheel technologies. BMW's Cruise e-Bike is an electric bike designed for commuters and built with a BOSCH Performance Line electric motors. Michelin's E-Drive system is a lightweight battery and motor system that converts your current bicycle into an E-Bike. Check out the video below to see an example of how E-Drive works.
2) Electric Vehicles
Electric vehicles have made great strides in recent years, and no company has captured the imagination of American consumers more than Tesla. However they're not known for their availability to media, so we took this opportunity to take the Model X (pictured above) for a first-drive in Montreal. The Model X was one of 21 innovative vehicles available for Movin'On attendees to ride & drive. While we've driven most in the past, we also seized the opportunity to take BMW's i8 out for a short spin. The Tesla is fully electric and the i8 is a plug-in hybrid performance vehicle. Both were quite impressive and show the range of what an electric car can be.
While we've all seen electric cars before, other notable examples of electric vehicles available to experience at Movin'On included electric boats and buses. There is seemingly no limit to what electric motors can be used for, and it appears we can expect a future where all forms of our transportation are propelled by sustainable electricity, instead of fossil fuels.
3) Autonomous Vehicles
As we work down this list, we're starting to move into the territory of future technology. Autonomous vehicles are being worked on by nearly every manufacturer in the automotive industry, and they're coming sooner than many people think. While OEM manufacturers are working on the vehicle technology, other companies are working on the technology to coordinate multiple vehicles, manage whole fleets, or manage the service transaction.
One of our favorite presentations at Movin'On was by Dr. Karl Iagnemma of nuTonomy, who discussed his company's pursuit of an autonomous fleet of vehicles in Singapore. They've partnered with Lyft, and envision a day when transportation in cities will all be purchased as a service, and provided by self-driving taxis. Some studies say that 30% of traffic in cities is vehicles looking for a parking spot. Imagine a future when all cars are autonomous and available on demand, the efficiency of mobility would far exceed our current gridlocked cities. This future is currently being tested in Singapore by nuTonomy, check it out in the video below:
4) Michelin's Visionary Tire Concept
Let's be honest, tires in their current form aren't very sustainable. All of those electric and autonomous cars are still going to need tires, which is why Michelin is working on the future of sustainable tires, and unveiled their Visionary tire concept at Movin'On. While it's definitely a future looking concept, it's based on projects and technology that Michelin is currently working on. Visionary is an airless tire composed of naturally sourced materials and is 100% biodegradable.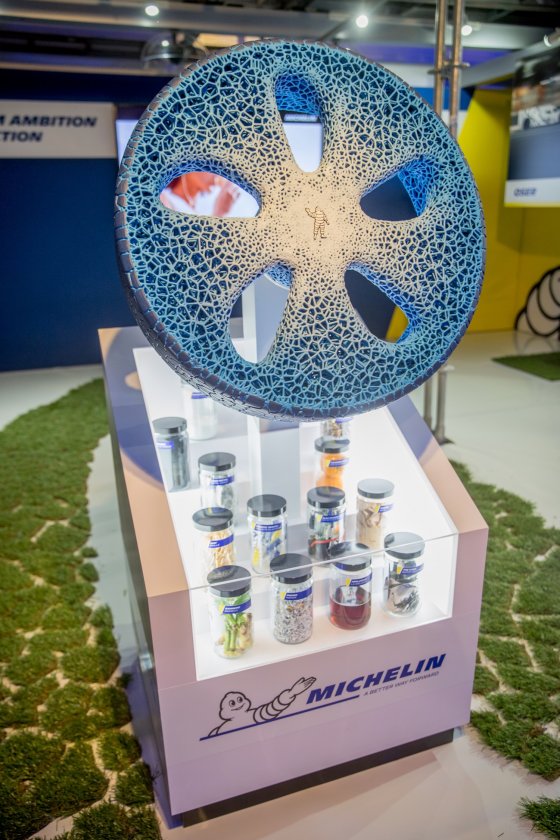 Obviously they made it look cool so that people would take photos of it and share them online, but this particular photo doesn't really show the coolest part. The entire tire is 3D-printed from organic material and the concept is to make the tread re-printable as it wears down. Check it out in much more detail in the video below :
5) Uber Elevate
If Dr. Mark D. Moore, Movin'On Speaker from Uber Elevate, is able to implement his vision, we may not need as many tires in the future. Moore, formerly of NASA, recently moved to Uber Elevate because he is anxious to make an immediate impact and described his near future vision. Roofs of parking garages could be converted into Vertiports, where Vertical Take-Off and Landing (VTOL) aircraft could service Uber customers. Those customers could then take short flights across large cities or between metropolitan areas. There are many benefits to air travel, but it mostly comes down to speed and time, so you can imagine a demand for this service by anyone whose time is worth more than the service would cost. Moore would prefer that you not call them flying cars, and he indicated they're on track to begin flying over the Dallas-Fort Worth market by 2020.
6) Hyperloop One
Rob Lloyd closed Day 1 of Movin'On with one of the most controversial sustainable mobility projects, the Hyperloop. Famously dreamed up by Tesla's Elon Musk, the Hyperloop is described as a new way to move people and things at airline speeds for the price of a bus ticket. The idea is to propel pod-like vehicles through a reduced-pressure tube at high speeds using magnetic levitation or air bearings. While Uber Elevate, discussed above, benefits from very minimal infrastructure needs, Hyperloop is on the other end of the spectrum and is similar to building high-speed rail between major cities. Despite the many challenges and skeptics, Hyperloop One was recently demonstrated successfully in Nevada, and they're now working on a plan to build the world's first Hyperloop between Dubai and Abu Dhabi.
Movin'On Themes
There were several concepts that we noticed coming up repeatedly at Movin'On, from multiple panels and speakers. While we're far from experts, and not actively working in the industry, we've summarized our takeaways in 4 major themes below :
Sustainable Mobility is an all-of-the-above proposition. It's likely to be achieved by a combination of what we've discussed above and many other forms of transportation.
Collaboration is Key. There are many stakeholders that need to be involved and there is plenty of opportunity for everyone to benefit by working together.
Electricity and sustainable methods of generating that electricity are what will power the future of mobility and fossil-fuels will be left in the past.
The technology is advancing much faster than social engineering, and human nature will likely be the biggest hurdle to progress.
Movin'On by Michelin will return to Montreal in 2018, and we hope to see you there to learn more about the fast-developing future of sustainable mobility.