SportsDome – Thanks or No Thanks?
Fans of The Onion have come to trust this label as the leading provider of satirical headlines and humor disguised as news, a business started by two stoned college kids from the University of Wisconsin-Madison back in 1988 that has flourished to become one of the more popular news publications on the market today. According to Wikipedia (one of the most trusted sources of reliable information and data in the world today… trust me, that's EXACTLY how Wikipedia should be introduced in any conversation), The Onion enjoys a print circulation of nearly 700,000 with an online audience as versatile as any (claiming "61% of our web site readers are between the ages of 18 and 44").
In March of 2007 the folks at The Onion launched The Onion News Network, a daily web video podcast pushing many of the same stories and headlines you'll find in their print edition. This led to the creation of The Onion Sports Network in February of 2009, a separate and powerful set of video podcasts offering the top satirical headlines of the day from the world of sports.
On Tuesday night Comedy Central welcomed the latest offering from the illustrious news organization known as The Onion to their menu, giving us the premier of their new sports show SportsDome (10:30pm ET). Since the show aired a debate has taken form via the sports communities populating the world's social media, and as such we wonder if the show is truly troubled or if public expectation (and the disappointment in meeting it) has pitched SportsDome poor reviews from the typical sports consumer.
From Twitter…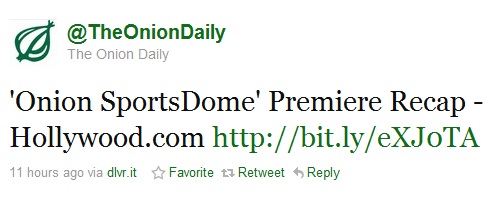 (They even post the reviews of their own work… how can you not like that?)
Some suggest the show lacks humor. Others seem to believe the show should put more focus on actual athletes and sports headlines.
We wanted to know what you think.
THE ONION SPORTSDOME
– Crystal Meth Hallucinations League Power Rankings – Week 2
– OSN Globo Poll: Ultimate Fighter Nick Prindell's Career Highlights
– Official Proclamation from St. Louis Granting Albert Pujols Working Key to the City
– The High Reis: Parking Garage Near Heat Arena Very Confusing
– The High Reis: Top Sports Stories of the Year
THE DEBATE: RELATED LINKS
– Meth Addict versus Invisible Snake from Videogum
– Review from Matt Toder at Gawker
[poll id="243″]
---
[poll id="244″]
---
[poll id="245″]