Spring Gadget Roundup
Every now and again I get a pileup of gadgets that need a-reviewin' and we tackle them en masse in detail in our Gunaxin Show podcast. Hear the in-depth reviews on all of the following products in this episode. Here's a brief roundup if you just want the skinny.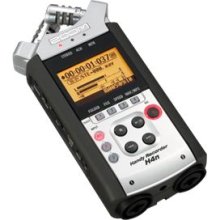 Zoom H4n
Simply put, the Zoom H4n digital audio recorder is one of the best gadgets I've ever had the pleasure of reviewing. Offering 4 digital tracks, full stereo recording, multiple inputs of every imaginable size, oodles of recording formats and frequencies, the Zoom H4n is a must-have for anyone in a band, radio or podcasting who is even remotely serious about recording on the go. Totally worth it at $299.

Samson Meteor Mic
While looking something like a cross between an electric razor, an alien spaceship and a vibrator, the Samson Meteor Mic is a decent and simple-to-use USB condenser microphone, perfect for those new to digital recording. The sound is decent, although a tad lacking on bass, but makes up for it by being awesomely plug-and-play. It also comes with fold-up legs so you don't need to waste extra money on a stand. A decent bet at around $99.

Grace Digital Audio WI-fi Bookshelf Music System
It's the mini-stereo for the digital age. Grace Audio bring us the first ever bookshelf system with 802.11n wi-fi. Listen to Pandora, Rhapsody, satellite radio, Live365, podcasts or any of tens of thousands of terrestrial radio station streams and on-demand programming. For a quick example of it's power, I typed in an out-of-town radio station's call letters, and within seconds I had it streaming live, crystal clear. Grab one now for around $195.