St. Patrick's Day: Sucks or Rules? – Masters of None

[podcast]http://www.podtrac.com/pts/redirect.mp3/media.libsyn.com/media/mastersofnone/MON_6_2.mp3[/podcast]
Masters of None – St. Patrick's Day: Sucks or Rules?
(.mp3 file)
The Ecto Cooler Health Inspectors really loved their jobs
Is St. Patty's Day all it's cracked up to be? Sure it's an amazing excuse to get loaded on a Thursday, but when you boil it down to it's roots, is it really that big of a deal? We decided to put one of the most beloved of excessive holidays under the microscope in this week's episode of Master's of None. Here are just a few of the things we discussed.
Green
Everyone wears green on St. Pats. It's a great way to be festive. But seriously, how many "Kiss Me, I'm Irish" shirts or variation thereof do you have to see before you want to use your fist to do the kissin'. Weird things become green on St. Patrick's Day. Bagels? What's more Irish than a bagel you ask? How about a River? However on the plus side it is the one day of the year where the Incredible Hulk can actually blend in.
"Hulk Smashed"
Food
Everyone loves a good Corn Beef sandwich right? Lil' rye bread and throw a little spicy mustard on that sucker and you have a meal that will stick to your ribs as well as leave you happy and content. But on St. Patty's day that simple sandwich that you can get anywhere gets its' price jacked up like floor seats at the Garden since 'Melo showed up. Maybe it's not as good as I thought… but… but… Oh Sandwich, I could never stay mad at you.
That'll be eighteen dollars.
But is that really enough to say that St. Patrick's Day truly sucks? We debate these topics and much much more on our latest episode of Masters of None where we finally put the ultimate in Celtic Pride to the test. Masters of None: Sucks or Rules?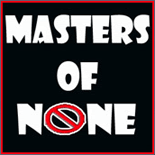 Gunaxin is proud to be partnering with Masters of None, and featuring their content here on our site. Masters of None are former radio guys Mike, Art & Jay, who debate and answer mankind's most important questions each week. Along the way you'll encounter unsustainable amounts of movie quotes, horribly tasteless jokes, TV references, offensive comments, old radio bits, biting insults, tall tales, unsportsmanlike conduct, raping and pillaging of all things pop culture. It's a comedy podcast that doesn't suck.
---