Star Wars Butthead Alien Bust Revealed
Do you recognize this?
Here's a hint. This is also a part of it.
Yes, you're right, it's the head and mouth of one of those alien musicians in the Mos Eisley Cantina in Star Wars Episode IV: A New Hope. His name is Figrin D'an, because every last character in the Star Wars universe has a name and backstory. According to Wookieepedia, he's the Bith leader of the band Modal Nodes. A Jizz (yes, Jizz) musician, Figrin plays a Kloo horn. Fascinating.
By the way, if you don't remember what he looks like, here he is:
Still don't remember? Perhaps the whole band will refresh your memory.
Why are we magnifying his head and mouth after all these years? Because Sideshow Collectibles is producing a life-size bust of this character, for an affordable price of $499.99. And something this size highlights his best assets like no other product ever made.
Figrin D'an Life-Size Bust

Don't have $500 for this? Never fear, there's also a $99 doll coming out.
Figrin D'an 12 inch Doll

(It does not come with the apple).
As we all know, Sideshow Collectibles comes out with the best stuff. However, Gentle Giant, a Sideshow pretender, has already produced some items.
Gentle Giant Star Wars: Figrin D'an Mini Bust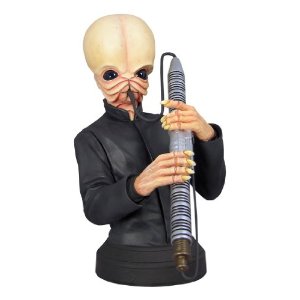 Or, for less money, get the entire band.
Bust-Ups: Cantina Band Boxed Set

Or, just get the the entire collection of action figures.
Star Wars Cantina Band Action Figure Set

Last but not least, the classic scene: