Stay Tuned For Two Weeks of Tom Brady-Eli Manning Porn
Once Lawrence Tynes' game-winning field goal sailed through the uprights of a sullen Candlestick Park and punter Steve Weatherford frolicked across the field screaming, "I'm going to the fuc*ing Super Bowl," a  massive erection the size of Vince Wilfork's right leg began pulsating in the offices of ESPN, NFL Network and NBC.
And before this throbbing member penetrates the cavernous bulge known as Lucas Oil Stadium on February 5th, football fans and the rest of the world will be subjected to two straight weeks of hardcore sports media pounding otherwise referred to as Tom Brady versus Eli Manning, Part Deux: The Dickening.
Will Golden Boy get his revenge? Can Eli finally emerge from Peyton's shadow? Does Gisele really like Tom's hair? Does God hate us for allowing one of these two to win another title? You get the point. Nonstop Brady-Eli porn guaranteed to make everyone who isn't a Patriots or Giants fan sick to their alcohol and Rolaids-filled stomachs.
While the sportscasters we've grown to loathe spout endless platitudes about a pair of privileged millionaire quarterbacks embarking on a Super Bowl rematch for the ages, those of us with an ounce of sanity left will be lost in revery, wondering what if Billy Cundiff hadn't shanked that 32-yard field goal, and what if Kyle Williams hadn't muffed two punts in the most meaningful game of his life…
Alas, a championship minus a Brady and a Manning wasn't meant to be. The pigskin prophets deemed Joe Flacco and Alex Smith unworthy of stepping foot on the most holiest of gridirons. Instead, there is this:
And this:
And this:
And this: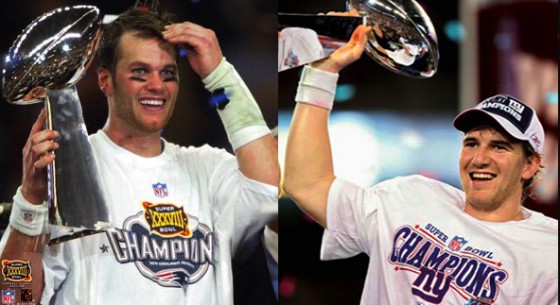 You are now free to kill yourselves.