Eight Odd Logos Found in a Liquor Store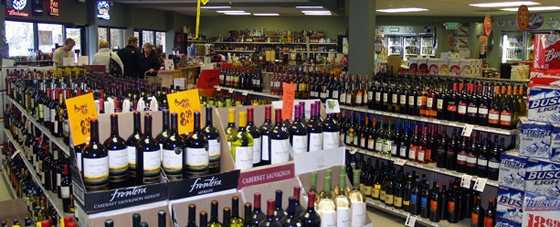 Ever wander around a liquor store (maybe because you were already drunk) and taken a look at all the weird logos on your favorite products? Well, maybe not since the reason you were there in the first place was to grab your case of Schlitz and a half-gallon of Ten High and hurry on to that massive Frat party. But, if you had stopped for a quick second and taken a look around, you'd discover that there are a bunch of really cool, and downright odd logos all over the place.
1
The Acid Cigar Logo
Nice Crotch Rocket
If you are a cigar smoker, or know someone who is, you've no doubt seen the Drew Estates Acid brand Cigars. The logo is impossible to miss as it features a hip, cool smoking fellow silhouetted against a very sleek and modern 'crotch rocket' motorcycle. But why? Well, according to the story:
"The company was formed in 1995 by former lawyers Jonathan Drew and Marvin Samel. They teamed up with the New York based artist Scott Chester to produce Acid brand cigars. The name was derived from Chester's art studio, Arielle Chester Industrial Design (ACID)."
..and it was Chester who designed the now infamous logo more or less representing leisure and fun. Makes sense to me.
2
The Bacardi Bat
Makes for a Nice Tattoo
You're sitting back with a fine bottle of Bacardi Rum in your hand and you're just about to pour off a splash into that daiquiri you're about to concoct (Bacardi was the first to patent the term, by the way) and you notice a really peculiar -and honestly kinda spooky- critter on the label. Is that… a bat? Yep. And according to those soothsayers over at Wikipedia, here's why:
"Bacardi is also the only brand to feature the Mexican free-tailed bat as its icon or logo. This is mostly because the Mexican free-tailed bat is a great sugar cane pollinator and eats insects that damage sugar cane."
…and yes, it would look cool on your forearm as a sweet tat. Especially if you're a douche bag.
3
The Bell's Oberon Sun
He Looks Drunk
Unless you're one of the fourteen or fifteen states that currently carries Bell's beer (and if not, I'm so very sorry) you've probably never seen the logo for their summer wheat beer, Oberon. Well, it's hard to miss. As you can see, it's a rather laid back sun on a stark, sky-blue background. But, Oberon didn't always go by that name. In fact, prior to 1993, it was known as Solsun, but, thanks to the beer called Sol, this was to be relatively short lived after Bell's was (ahem) politely asked to please change their name. So, they did. And they chose the name of a King from Shakespear's 'A Midsummer Night's Dream'… or, maybe it's from Faust where Titania and Oberon are celebrating their Golden wedding anniversary. That might explain the color connection, anyway. But, basically, it's a logo holdover from the Solsun days… which makes more sense.
4
The Bic Lighter Logo
His Head is a Ball
Though the main company, Société Bic out of France, makes everything from pens to razors, it's no doubt the company's colorful lighters you've seen on the counter at your convenience store of choice. And since it's original product, the Crystal pen, is what made BIC synonymous with pens in general, at least it makes sense having the big PEN in the background. But why the weird dude with a floating ball head? Well, according to BICworld.com:
"That's the "BIC Boy." He was originally drawn as a school boy, with a head in the shape of a ball, holding a pen behind his back."
Okay. That's vague. Oh well, at least we all feel a little closer to the BIC Boy now, don't we?
5
The Bombay Sapphire Queen
She Looks Royally Pissed… Get it?
If you're a gin drinker, it stands to reason that you've forgone the nastier, cheaper brands a time or two and have turned your dollars to Bombay Sapphire. It's got a pretty blue bottle that just beckons the purchaser to take it home and love it without pride or prejudice. But wait… who's that old broad on the label looking all regal and, frankly, a little sauced? Well, it's deceptively simple, really: It's Queen Victoria. See? Simple. Now go drink one for the queen.
6
The Gambler Guy
I Don't Think That's Kenny Rogers
This one was a bit tough. Sadly all I could really find was a metric ton of complaints on how bad Gambler Tobacco really is. Fortunately I do not smoke so it makes no never mind to me, but it didn't really help me either. I did find out that Republic Tobacco owns Gambler, and has many ways and means of which to contact them were you to want to form a complaint. As many are. But, no word on the logo… so, let's just assume it's just a Gambler: an iconic cowboy doing cowboy stuff.
7
The Leinenkugel's Indian
What's Up, Chief?
If you're lucky enough to be the purchaser of a Leinenkugel beer (now offered in nearly every state) you might have wondered what the deal was with the 'Native American' emblazoning the label. So, what is the deal? Well, since Wisconsin is an Ojibwa word ('Gathering of Waters') and the city in which Leinenkugel's are made is called Chippewa Falls (Chippewa being an alternative version of the word Ojibwa), it only makes sense that the label on the state's most important beer be a female tribute to the Ojibwa tribe. And there ya go.
8
The Zig-Zag Guy
Right… Cigarette Papers
Let's say you like to roll your own cigarettes. Or, since I'm not a complete moron, let's say you like to partake of the weed. In either case you're gonna need some rolling papers to get the job done. So where do you turn? Well, Zig-Zag of course. No self-respecting 'smoker' would bow to anything less. But, what's the story with that French fellow on the pack? And why does he look really high? Let's ask Wikipedia:
"The character portrayed on the front of Zig-Zag products, colloquially known as the "Zig-Zag man", originates from a folk story about a Zouave in the battle of Sevastopol. When the soldier's clay pipe was destroyed by a bullet, he attempted to roll his tobacco into a cigarette using a piece of paper torn from his bag of gunpowder. In an advertising campaign in the 1960s, Zig-Zag published leaflets with the Zouave facing the viewer (much like Uncle Sam) and the caption, "Captain Zig-Zag wants YOU!"
Now go get baked like a good American.