Ten Strange Beer Names
Creative beer names are commonplace in the craft brewing world these days, but some brewers were at the forefront of this trend, like our local favorite, Flying Dog Brewery. Below are ten of our favorite classic strange beer names. How many have you tried?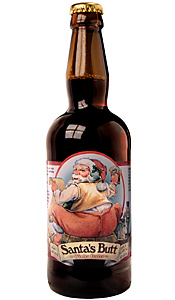 It's a splendid, satisfying Winter Porter at 6% — a souped-up version of the classic Entire Butt Porter that you've enjoyed in the past. Everyone wants a piece of Santa's Butt. This special porter is made for winter — rich and warming, the way they like it in the North Pole. It was inspired by this famous line from a well-loved children's story book: "And Santa sat on his great butt, drinking a hearty brew."

Pours a chocolate brown with a white head that leaves a good amount of lacing. Not a whole lot to me on the nose that really sticks out…maybe some toasted nuts and malts. The taste is a different story, some bitterness, nuts, malts, and hop flavor that really melds together well. Mouthfeel is light-medium in body with a perfect amount of carbonation.Great beer, even better name.

You do not need a high-sounding name to sell beers always, the Old Speckled Hen is proof for that. It is an impeccable combination of sweet and bitter tastes. The drunks who used to build MG automobiles back those days used one vehicle to ferry them around the factory, which they called – "The old speckled 'un." On the 50th anniversary of the car, this popular beer brand saw the light of the day. It was marketed with slightly different brand name to make it more acceptable to the consumers.

Another masterpiece from Peter Scholey at Ridgeway Brewing. Seriously Bad Elf is Peters's very English interpretation of a Belgian Tripel, brewed to warming 9% alcohol, especially for his rapidly-growing American following. Seriously Bad Elf has been banned in Connecticut! That little red speck you see in the background of the label? Why, that's none other than Kris Kringle, Santa Claus, who, according to the Connecticut Department of Consumer Protection, cannot appear on a beer label.

That first taste, the best part of a beer after a long day. We want to make that better than ever. So we made Moose Drool. The name sounds a little iffy, but it's really the best Brown Ale you'll ever taste. That's why Moose Drool is far and away the best-selling beer brewed in Montana. A malty beer with just enough hop presence to keep it from being too sweet. Another great beer with a great name.

This one pours brown with deep red highlights. The head is pretty thick and sits at about one finger, leaving a few light patches of lacing. Toasty malt is first on the nose with some bittersweet tones and hints of fruits and malty molasses and licorice.The taste isn't far off at all; toasted malts first on the tongue with an oddly sweet tartness in the finish. The taste is a little stronger than the aroma.

This beer is an offering from Columbia-based Shaftebury. "4:20" can be almost mythically related to Marijuana, typically a West Coast Culture. There is a deep bonding between 4:20 and the Marijuana / Cannabis culture. To the people at Shaftebury, this name for their new beer product seemed to be an obvious choice.

From the Bluegrass Brewing company, a Belgian style ale. This higher alcohol (7.5%) beer is brewed with Belgian malt and yeast and spiced with coriander, sweet orange peel, and an additional secret spice. This beer is a full-bodied amber ale. With a big malt body balanced by it's spices. Taste is full of the chewy, syrupy fruit and malts along with a slight tartness and bitterness from the hops. Wheaty, dry grains are accompanied by a spiciness that I can't put my finger on but reminds me of cinnamon, allspice or nutmeg. The spice throws the taste a little off-balance. The feel is super-sticky, somewhat viscous, and slightly stale.

Bad Frog Beer
Bad Frog Beer is an American beer company founded by Jim Wauldron, a tee shirt salesman, and based in Rose City, Michigan. Bad Frog beer is a light colored amber beer with a moderate hop and medium body character. The beer generated controversy and publicity because its label features a frog extending its second of four fingers, presumably the middle finger. The slogan is "Beer so good it's bad".

Flying Dog in Heat Wheat
She taunts and teases… In-Heat Wheat is a German-style Hefeweizen. She is a full flavor beer, perfect for the more adventurous craft beer drinker. The addition of malted white wheat gives this brew its smooth, full mouthfeel. A proprietary yeast creates intriguing flavors of bananas and cloves.