Stranger Things Returns Friday
Come this Friday (October 27th), we will all find ourselves once again in Hawkins, Indiana. Taking place this time in 1984 (a fact we know because it's confirmed that the Halloween following the summer's release of the Bill Murray, Dan Aykroyd flick will have the kids dress as the Ghostbusters themselves), the group of youths from Stranger Thing's Season One (Mike, Dustin, Lucas and Will) begin to realize that the previous year's events have left a lasting impression on everything in and around the hapless town of Hawkins.
That's right, fans: Stranger Things (read our review of Season One! That's a shameless plug, kids) returns for its second sure-to-be-epic season following huge amounts of speculation, guesses, and desires since the first run last year. Season One in itself broke NETFLIX viewership records and there's no reason to believe the second won't do the same, if not more.
Judging by the first trailer, it's easy to see that Will is still experiencing sights from his trip to the Upsidedown, and the multi-limbed creature looks like something straight out of the King novel, 'The Mist'. Will and his friends are no doubt going to have to find out what's going on, as well as where Eleven has been the past year.
Eleven is in hiding and even she seems to have some kind of innate fear about what's happening to the town. She still claims her Eggo waffles from the box in the woods but she seems skittish and scared. What does this mean? Will has begun seeing a new specialist and it appears a new man by the name of Owens (Paul Reiser) is tasked with cleaning up the events from Season One.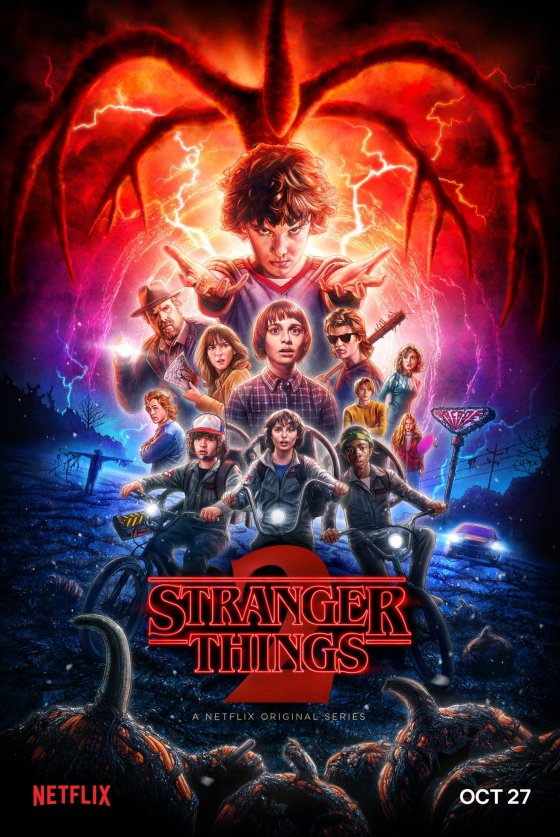 None of these questions will be answered until Friday, October 27th. So if you're anything like this author, it's going to be a night of binge-watching as I'm sure it will be for millions of others. If you need some kind of excuse to get NETFLIX, let this be it.