Seven Surprising Things We Learned at English Football Matches
It's the dream of every fanatical Premier League fan, to hop across the pond and see live and in person one or two of the English football matches you wake up so damn early to watch on the weekends.
Not only is the atmosphere more electric in person, those early morning matches on TV in the States are taking place at 12:30 and 3:00 P.M. in England. So sleep in you footy nerd!
Before you book your flight to London though, there are some things you should know about seeing a game in person. We've prepared these tips for attending an English Football Match, with some things you won't learn on the excellent NBC Sports coverage of the Premier League or while digging deeper into the football league on ESPN+.
To Beer or Not To Beer… is not a Question
It isn't a stereotype or a trope. It is 100% true that having a beer or three does indeed go hand and hand with English football. What you might be surprised to learn is that you won't be enjoying a pint in your seat at the stadium. No alcohol is permitted to be consumed within view of the pitch in English league football. You've got plenty of pubs lining neighborhood streets for before and after the match, and there's the mad dash during the 15 minutes of halftime to pee, get a beer, and drink it before the ref blows his whistle again, but during the 90 minutes plus stoppage time, it's water, soda pop, or nothing.
Getting a Ticket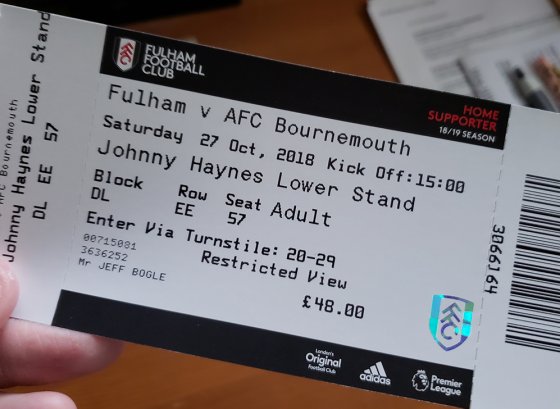 Tickets to football matches in England can be difficult to come by, but not because every football ground and stadium is sold out. To prevent away fans from buying tickets in the home supporter sections, many clubs limit ticket sales to members or fans with a purchasing history.
Often, for the big clubs like Manchester United, Chelsea and Liverpool, and for big games like derby matches or top of the table clashes in the Premier League, you may need to buy a club membership if you have any hopes of buying a ticket to the match you dream of attending.
Think of those extra 30-45 pounds for the football club membership as a one game Personal Seat License.
As a bonus, memberships come with a snazzy member kit that sometimes contains goodies like an exclusive club scarf (thanks, Leicester City!), a fancy notepad and pen with the club's badge on them (nice, Brighton!), member only pins and more.
If you have an aversion to becoming a member only to buy a ticket to one match, consider dropping down a level or two, to see a Football League game in the Championship, League One or Two. You'll have no problems getting a ticket, won't need to become a member, and that ticket will likely be half the price of a Premier League match. You'll then see English football close to what it looked like 'back in the day' before petrol dollars and sketchy nation states starting pouring cash into the top flight. You'll also see some pretty cool English towns along your journey, like Norwich, Derby, Nottingham, and Bristol. Make your English football journey in a Toyota Prius and you'll save even more money because with 60+mpg, you won't blow your budget on pricey U.K. gas!
No Parking Zones
Few English football grounds have parking lots. Unlike here in America, where the lots are 20x the size of the stadium itself and parking costs $20 and up, driving to the match isn't a part of the culture in England. So plan on parking your Toyota Prius in town or catching a train, then joining in the parade with the other supporters and fans to the turnstiles.
Turnstiles Back the Clock
Turnstiles are still a thing! Sure, there are modern scanners to read your ticket's barcode inside each nowadays but you must enter every single English football ground through a specific bank of slender turnstiles depending on where your seat is (your designated turnstile will be printed on your ticket). Once inside, toss aside your dream of wandering the perimeter of the stadium on the concourse like you do here in America. Thanks to crowd segregation (home vs away supporters) you will be restricted to the concession stands, bathrooms and views from your side of the stadium after squeezing sideways through a slim turnstile.
Candy! Candy!! Candy!!!
English football fans love their chocolate candy. LOVE IT! In addition to the classic steak and ale pies, juicy sausage rolls, and pints of ale, you'll have a few chocolate candy bars to choose from for your pre-match and halftime snack.
Scarves Up!
You've watched English football matches on TV so you know footy scarves are the most popular fan accessory. What you might not know is that they are affordable in England! The football scarf is a classic piece of supporter apparel so thankfully most cost 9-12 pounds ($12-$15, roughly). Compared with MLS scarves here in the states, which are reliably a ridiculous $30 each, seeing and repping your favorite English football club around your neck is a more reasonable experience.
Warning: half & half scarves will be on sale for some matches. These feature the colors and crests of both clubs playing and while a neat memento from the experience, you may be ridiculed for wearing it. Most all hardcore football supporters frown on the touristy half & half scarf. You might opt for the tried and true home team scarf, emblazoned with only the home team colors, but you do you. Maybe limit the half and half scarf purchases for international matches like Champions League and Europe League action? That's one idea.
Bet You Didn't Know This
You can bet on the matches inside the matches and during the matches. This might be the most glaring difference between American sports and English football. Not only are about half the clubs sponsored by sports gambling websites, but every English football ground has betting slips to wager on about a million different propositions, from first goal scorer to correct final score and everything in between. Bet responsibility, but it is fun to put a pound or two down on something to make the action across the football league more exciting while you visit England to watch matches.