Swoon : The Simple Dating App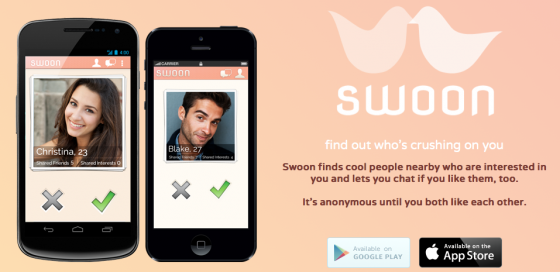 Online dating doesn't have the stigma that it once did, and the chances are you know someone who is currently dating or married to someone they met online. However anyone who has ever used an online dating service will tell you it can be a pain in the ass. You have to fill out your profile, answer questions, upload photos, etc. Well there is a new App that makes meeting new people much easier.
Enter Swoon, available for both iPhone and Android, a simple app that utilizes information from your Facebook profile to present a catalog of possible mates to you. All you do is flip through the virtual black book clicking the X or the check-mark depending on your preferences as the app provides some fairly limited info about the person it's displaying. Meanwhile your basic profile will be displayed for others, and if you check someone who checked you back, you'll be connected together. It's that simple.
They don't attempt to notify your Facebook friends that you're using the app, or even provide your last name to prospective mates. Its quick, smart, and anonymous.
Key Features – All Free

In-app Messaging
Profile page with profile pictures you can edit
Sleek photo stack review