Ten Best Cooking Shows of All-Time
Right off the bat we can already hear the grumblings and groanings of those of you who know as well as we do that a list like this is nothing but subjective nonsense. And that may be true. But what is also true is that you can't deny how both impressive and influential the following ten chefs and their respective shows have become. Each has managed to carve a niche and a following that elevates them just that much above other shows in the way they're presented and in the host's natural abilities and talents. So sit back, grab a 10-inch Chef's Knife, and get ready to sing the praise of great food shows.
10) Two Fat Ladies
Air Date: 1996-1999
Hook: Two distinctively large women traverse the UK on a Triumph motorcycle and cook local dishes for anyone who asks.
Why We Love It: Because, watching Clarissa Dickson Wright and Jennifer Paterson do what they do in whichever kitchen they happen to be in, is not only fascinating, but it's a real lesson in Country-style English fare. No ingredients are pulled, no amount of lard or butter is held back, and even items that can't typically be easily found on American shores are introduced. The ladies more then prove their mettle, and even get a little goofy in the process.
9) Iron Chef / Iron Chef America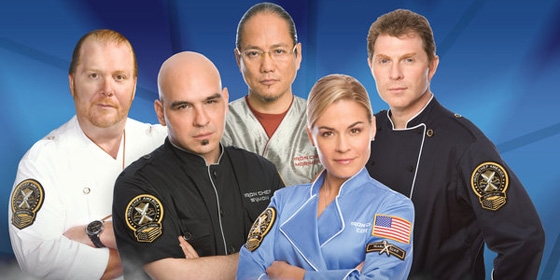 Air Date: 1992-1999 / America – 2005 – Current
Hook: At it's heart, it's a culinary game show featuring endless ingredients that support the one main ingredient, with color commentary.
Why We Love It: Because even if it hadn't originally been promoted as a 'Game Show', it would still be as exciting as a car race. Confining the cooking to one hour is genius, and really forces the chefs to organize both their menus and though processes in a real hurry. Luckily, the commentators keep the pace lively and more often than not, give us viewers a little bit of info into specific ingredients.
8) Diners, Drive-Ins, and Dives
Air Date: 2006 – Present
Hook: A combination of hidden, out of the way, hole-in-the-wall eateries, and host Guy Fieri's hair.
Why We Love It: Because Guy Fieri absolutely loves what he does and we can tell. His travels take him all over the US and ultimately lead him to just about every hidden gem you'd want to know about. Much of the time, viewers email Guy and request his appearance, and when he shows, it's a big deal! He tries it all, whether he likes the food or not, and truly puts the 'lost' places on the map. Granted, Guy himself doesn't do any of the cooking, but they do show the process of how each tried meal is made.
7) East Meets West
Air Date: 1998-2003
Hook: Chef host Ming Tsai uses fresh, Oriental-inspired ingredients… and porcelain knives!
Why We Love It: Because there was, and is, a severe lack of Asian-inspired cooking shows on TV, and Ming absolutely filled that void. His knowledge of Oriental food and preparation led to beautiful dishes and impressive plates. Often, Ming would cook outdoors in locations such as Hawaii and Japan, and he always used his magnificent set of white porcelain knives. They were gorgeous.
6) Nigella Express
Air Date: 2007
Hook: Stunning, self-proclaimed 'Domestic Goddess' makes everything she cooks drip with sexiness.
Why We Love It: "Formidably Charismatic", "Lawson's sexy roundness mixed with her speed-demon technique makes cooking dinner with Nigella look like a prelude to an orgy", "flawless, polished and sexy"… those are just some of the ways Nigella Lawson and her show(s) have been described. And they're all true. As MILF-ish celebrity chefs go, Nigella might very well be the most attractive. And it doesn't hurt that she really knows how to cook.
5) Hell's Kitchen
Air Date: 2005 – Current
Hook: Chef host Gordon Ramsay's acid tongue and acerbic wit cut deeply into aspiring chefs and every single mistake they make.
Why We Love It: Because just about everyone loves Gordon Ramsay and his incredibly filthy mouth. He berates his 'students', literally treats them like garbage, and we all get a huge kick out of watching it happen. Sure he's rude, crude, and about as helpful as a broken arm, but Gordon knows what he's doing and does it particularly well. If you're gonna cook around Mr. Ramsay, you'd better do it well and do it correctly, or you're gonna regret it.
4) Bitchin' Kitchen
Air Date: 2010 – 2013
Hook: Though Nadia G. has tendencies toward annoyance, her knowledge of food and how to prepare it expertly more than off-sets her over-the-top quirkiness.
Why We Love It: Because it really doesn't hurt that Nadia G. is incredibly easy on the eyes, if maybe just a little 'over done'. If you can listen past her snarky and on-again-off-again accent, and look past her catty goofiness, Nadia G. really knows her way around the food and makes some pretty outstanding dishes. Looking around her kitchen is like peeking into a loony's garage sale: teddy bears on the shelves, bizarre knick knacks all over the place… but aside from that, it's as pristine as her plates.
3) The French Chef
Air Date: 1963-1973
Hook: Simply because it was hosted by the Master Chef -and master personality- Julia Child.
Why We Love It: Because Julia Child started it all. Classically trained in French Cuisine, and it showed. Red wine became less of additive or flavor and more of a full-on ingredient. Whether or not she really knocked back a few during production is likely a myth, but her idiosyncratic method and lilting, warbling voice made her a star and solidly placed her in the echelons of Classic Cooking.
2) Molto Mario
Air Date: 1997-2007
Hook: No one quite knew -or knows- Italian cuisine, it's distinctive pronunciations (even more so then Giada), and how it's perfectly plated, like Mario Batali. Also he wears awesome shorts and clogs.
Why We Love It: Because unlike the almost elfin fairy-like personality of the other Italian chef, Giada, Mario took his food to the other side of seriousness. Each ingredient came complete with a story about his travels and his life in Italy, and how it was used there and then, and how it was going to add its brilliance to the dish at hand. Mario had a dark and eerie sense of humor that often times sounded brash or snide. But it was that hidden bit of humor that really made Mario who he was.
1) Good Eats
Air Date: 1999-2012
Hook: Filmmaker and professional chef, Alton Brown, did something no one else dared: making the science behind cooking equally as fun as the cooking itself. Combining quirkiness with intelligence, 'Good Eats' is, perhaps, the most fun cooking show of all time.
Why We Love It: Because we adore Alton Brown, and that's really all there is to it. His long-running show, 'Good Eats' proved without a shadow of a doubt that combining the science of ingredients with a cooking show filmed as off-kilter as possible can not only work, but can easily become the best cooking show of all time. Alton never talked down to his audience, even if he readily understood that not everyone was going to get what he was doing. His humor was solid, his attitude wacky, and his knowledge of everything from chocolate to beer was more than evident. 'Good Eats' stands as a cooking show where learning takes center stage, and not just learning how to cut a pepper… though even that was explored.