Ten Best Non-Rookie NBA Contracts
When Rudy Gay was traded from the Memphis Grizzlies to the Toronto Raptors, the former got rid of what is probably one of the ten worst contracts in the NBA.
Typically, you don't want to pay a player barely shooting 40% from the field over $16 million, but the Raptors saw fit to acquire Gay and give up one of their young, promising assets in Ed Davis.
There are also some great contracts in the NBA, excluding rookie deals, because Kyrie Irving getting paid $5 million in an All-Star season is an obvious steal.
Here are the ten best non-rookie contracts in the NBA (contract information from Spotrac.com). Injuries are taken into account, and the 2012-13 season is included in each contract.
10) Kyle Lowry – Raptors
Remaining contract, 2 years/$12 million
Injuries have kept Lowry from making a big impact on the Raptors, but when healthy he is an All-Star caliber point guard. He currently has a PER of 21.26, and is averaging nearly 14 points, 5 rebounds and 6 assists per game in only 28 minutes per game. If he can stay healthy through next season, he's in for a big payday in 2014.
9) Kevin Love – Timberwolves
Remaining contract, 3 years/$44.1 million
Despite his documented success as one of the league's top rebounders, Kevin Love's play did not warrant a full max deal from the Timberwolves. He has been injury-plagued lately, which affects his status on this list. If things continue to turn sour with his current team, look for Love to decline his player option in 2015.
8) Omer Asik – Rockets
Remaining contract, 3 years/$25.1 million
The big question coming into the season was if Asik could replicate the success he had in Chicago in a starting role in Houston. The answer has been a resounding yes, as Asik has shown himself to one of the league's better rebounders and interior defenders. This deal is backloaded under the Poison Pill Provision in the CBA so he will be making nearly $15 million in 2014, but if he continues to improve at his current rate, he will be well worth it. Also, on a completely unrelated note, why the hell did he change the pronunciation of his name to "Ashik"? Asheek sounded much more badass.
7) Rajon Rondo – Celtics
Remaining contract, 3 years/$35.9 million
The ACL tear that ended his season was a bummer to everyone who enjoys watching basketball, but the Celtics should take solace in the fact that they're getting an All-Star point guard for roughly $12 million per year for two seasons after this one. The Celtics should aim to get as many of their games on national television as they can, as Rondo is notorious for having his best games in front of a national audience.
6) Mike Conley – Grizzlies
Remaining contract, 4 years/$33.4 million
Although once heralded as a potential superstar, Conley has deferred to the ceiling of All-Star caliber point guard. He is an excellent floor general, and averages as many steals per game as he does turnovers. He's not flashy, but he's steady, and for a team with pieces around him, an average of $8 million per year for four years is a pretty good price.
5) LeBron James – Heat
Remaining contract, 4 years/$79.3 million
What if I told you that the Heat were getting a complete steal for a player costing nearly $20 million per year? On a free market there's no telling how much LeBron would be worth. The key here is that he could potentially walk after the 2013-14 season due to an early termination clause, but regardless, a player as dominant as LeBron James is almost priceless.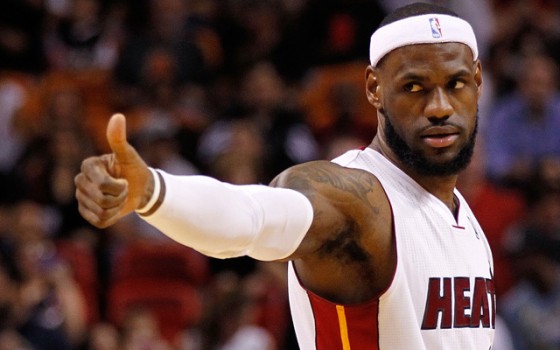 4) LaMarcus Aldridge – Trail Blazers
Remaining contract, 3 years/$42.4 million
The man who lives to break the hearts of Mavericks fans has been an under the radar star for far too long. The Trail Blazers have themselves a franchise player at an average of $14 million per year locked up for the next three years. He's a cinch for 20 points and 8 rebounds per game, and has the potential to surpass those standards.
3. Jrue Holiday – 76ers
Remaining contract, 4 years/$41 million
For Holiday's sake, it's a shame that his breakout All-Star season didn't come last season, as a max deal could have been the result. He's only 22, and already averaging 19 points and 9 assists per game. Between him and Russell Westbrook, UCLA has made two NBA teams very happy at the point guard position.
2) Tyson Chandler – Knicks
Remaining contract, 3 years/$42.3 million
Mark Cuban let Tyson Chandler walk on the chance that they could attain Deron Williams a year later, but not only did Williams resign with the Nets, Chandler proved to be an even better player as a Knick than Williams, winning the Defensive Player of the Year award. Chandler led the Mavericks to a championship with his interior defense, and has transformed the Knicks into a championship-caliber team with three years still left on his contract.
1) Stephen Curry – Warriors
Remaining contract, 4 years/$44 million
Yes, Stephen Curry's ankle is so fragile that it has its own twitter account, but the best shooter in the NBA has turned himself into a complete point guard of elite status. Curry is already a top 5 point guard in my book and, injury concerns or not, getting him for four years at $11 million per is the best deal in the league. The former college superstar who had us watching his every move is on his way to doing the same in the NBA.