Ten of The Dumbest Reasons to Root For a Team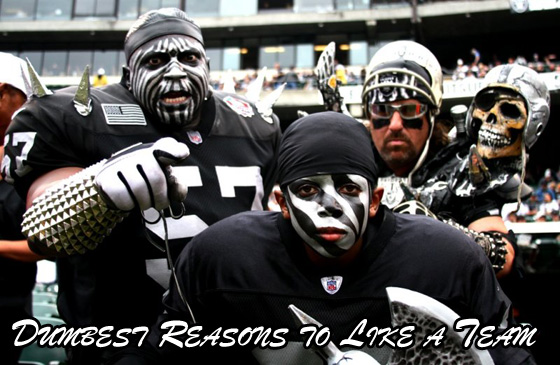 In sports, you're allowed to like any team you want for whatever reason. However, there are reasons that make more sense than others. Liking a team for geographical reasons is the most common. If you grew up going to games and watching a team, then it's just natural to get behind that program. However, there are several reasons that lack any logic whatsoever, even though they're valid. So here are Gunaxin's dumbest reasons to like a sports team:
1. Because it's your parents' favorite team, though you grew up in a town that has its own team.
You grew up in Jersey, but your dad is from Boston, so go Sox!
2. Because all your fantasy players happen to be on that team.
And that's why I root for them THIS season.
3. Because that team happened to be good when you came to this country and started liking the sport.
As you step off the boat, you hear that the Cowboys won the Super Bowl. Football is a cool sport, so therefore, go Cowboys!
4. In spite of someone you know.
You dated a girl from Philadelphia who broke your heart, and because she likes the Phillies, you now root for the Braves though you were never a baseball fan.
5. You're Irish, so you root for Notre Dame.
This has gotta be the dumbest reason ever. I've seen Fighting Irish fans go rabid over this team though they've never set foot on its campus.
6. Because they're finally good and about to win a championship (bandwagon fan).
All of those Capitals fans who didn't go to a game until three seasons ago, get out of my way, I was there when they sucked and you weren't, so I get priority.
7. You didn't even go to that school, and the school you went to has its own team.
My school: UNC Wilmington. My team: Duke!
8. Because of something that happened with the team 20 years ago.
The Washington Redskins won Super Bowls in 1983, 1988 and 1992. Therefore, go Skins!
9. Because Cal Ripken used to play for them.
There really shouldn't be any Orioles fans anymore.
and of course…
10. Because of the logo or uniform colors.
Reasons why you're not a real fan:
Though you claim to be a fan, you do not go to see that team when they come to town or you do not watch them on TV when they're on.
You can't name a single player on the team.
You have no idea if they ever won a championship or not.