Ten of the Most Enraging Christmas Movie Posters
The days of awesome movie posters like A Clockwork Orange, Jaws and Alien are long gone. Nowadays, one-sheets are for the most part either recycled from tried and true templates or haphazardly assembled messes. Basically, they suck. This is especially true for Christmas movie posters, which unfortunately suffer from an extreme case of douche chills. Like these ten delightful disasters.
Arthur 2: On the Rocks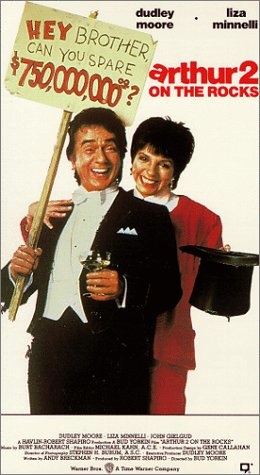 It's funny because his homeless guy sign is asking for $750 million instead of a dime. And look, best gal Liza is holding out a top hat to collect all that cash. They might be "on the rocks" but that won't keep them from smiling. An axe buried in Dudley's chest would make this poster one thousand percent better.
The Santa Clause 3: The Escape Clause
Uh oh, there's trouble brewing in the North Pole. That bastard Jack Frost is planning a coup d'etat. Note the clever play on words: fight instead of night. Genius. Beware, "Frost Bites" on November 3rd. His name is Frost and he's going to bite, because he's evil. Get it? Of course you do.
Ernest Saves Christmas
Wait a minute. You're not supposed to climb on a Christmas tree. What the hell is Ernest doing? He's supposed to save Christmas, not ruin it. Won't that incorrigible hayseed ever learn? I sure do hope he decks, not wrecks, the halls. KnowWhatIMean?
Trapped in Paradise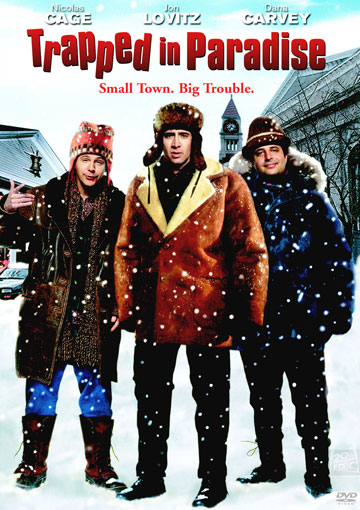 Something tells me the small town of Paradise (play on words title) won't be able to handle this triple threat of buffoonery. Dana Carvey's stupid cap, ridiculous "yo" expression and moronic wigger hand gesture makes me wish he and his jackass brothers were neck-deep in a vat of boiling oil.
Deck the Halls
Let me count the ways this poster makes me want to commit murder. 1) the cringe inducing play on words; 2) the omnipresent image of Santa's sleigh flying over the moon; 3) DeVito and Broderick playing tug-o-war with the title font. All I want for Christmas is a can of gasoline and a box of matches.
I'll be Home For Christmas
This yule, be cool. Ugh. The only way this poster would be tolerable is if the vulture was plucking the eyes from Jonathan Taylor Thomas's rotting dead corpse after he was flattened by a passing tractor-trailer. And to think that douche got to make out with a 16-year-old Jessica Biel in this flick.
Fred Claus
Hold onto your Santa hats, folks. The jolly old elf's irresponsible dickhead older brother Fred is coming to the North Pole and things are about to get crazy. I mean, look at the guy — he's a grown man riding a big wheel! That's nuttier than the Nutcracker. Will these sparring siblings ever get along? I've heard murder-suicide is a great problem-solver.
Reindeer Games
The standard poster for '90s action movies. I'm still perplexed how Steven Seagal and Jean-Claude Van Damme missed out on this Christmas calamity. What could Ben and Charlize be looking at so intensely? The police? Their back from the dead cohort? Santa shaving Donner and Blitzen's ballsacks?
Jingle All the Way
Ah-nuld is about to blow. Shopping for an elusive Turbo Man toy on Christmas Eve has taken its toll. But it's the time for giving, and he's a shitty father, so buying the kid's affections with an overpriced piece of plastic screams season's greetings. Most enraging thing about this poster? The awful tablecloth shirt. All that's missing is a picnic basket.
While You Were Sleeping
Everything in this poster is enraging, from Sandy Bullock's dumb toothy grin to Bill Pullman's tucked into his jeans blue shirt. It's my sincere hope that Bill is readying to hurl Sandy into the path of the oncoming L-train. Then they could rename this abomination While You Were Mangled or While You Were Decapitated.