Ten Call-Ups Who Can Save Your Fantasy Season
We're in week 10 of the 2013 fantasy baseball season, and it's desperation time for some players. Thankfully, a crop of new players are joining the big leagues this month that could help reshape your lineup before it's too late. You probably already know about Yasiel Puig, Nick Franklin and Anthony Rendon, but we are including them along with seven other players who need to be picked up before it is too late.
Yasiel Puig, OF, LA Dodgers
We know it's a small sample size, but Puig's first two games with the Dodgers already have made him the most added player in fantasy. If it's not too late in your league, pick up the former Cuban star as soon as possible, and plug him in to your lineup immediately. While we don't think that his current 2.125 OPS is sustainable, the 22-year-old did post a 1.016 OPS over three minor league levels and had eight home runs in the Southern League before his call-up this week.
Wil Myers, OF, Tampa Bay Rays
If you're thinking that Myers has been a top prospect forever, you are right. He first appeared in Baseball America's Top 10 list before the 2011 season, and was 4th going into his first season in the Tampa Bay organization. While his numbers are down slightly this season in AAA, he's still accumulated 10 HRs and 47 RBIs in only 53 games. The pitching in the AL East isn't nearly as intimidating as it has been in years past, and there are enough weapons in the Tampa Bay lineup to keep Myers from getting exposed early, which makes him a must-add for anyone in need of power in the outfield.
Nick Franklin, SS/2B, Seattle Mariners
Franklin is already up, and playing moderately well for a mediocre Mariners team. What interests us most about Franklin isn't his bat (though we love his bat), but his position eligibility. He's been called up as a shortstop, making him eligible at that position in most leagues, but with eight games at 2B he's rapidly becoming universally eligible at that position as well. With the dearth of quality players available in the middle infield this season, a player who could hit .280 with a handful of HRs is a valuable pickup in most AL-only and deep mixed leagues.
Zack Wheeler, SP, New York Mets
You've obviously heard of Matt Harvey, the 24-year-old potential Cy Young winning pitcher for the New York Mets, but did you know that he's not considered the best pitching prospect in the organization? That title goes to the 23-year-old Wheeler, a former first round pick who is having another standout season in AAA. Wheeler could be up as soon as the Mets decide that they've seen enough of Jeremy Hefner in the rotation, and will stay up the rest of the season. He might not win a lot of games (it is the Mets), but he's averaged more than a strikeout an inning over four minor league seasons and offers help in ERA and WHIP as well.
Anthony Rendon, 3B/2B, Nationals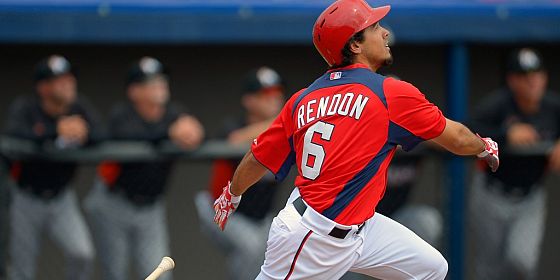 The Nationals are down two former top prospects with Bryce Harper and Steven Strasburg both dealing with injuries, so it might fall to another former top pick to add some juice for a struggling team. While he only hit .240 in a brief call up earlier in the season, his college and minor league track record says that Rendon should be able to hit .300 at any level (if healthy). Much like with Franklin, Rendon's appeal comes in part from the fact that he has recently been called up to play second base, a fantasy wasteland this season where he can contribute as soon as he is eligible.
Mike Zunino, C, Seattle Mariners
Speaking of fantasy wastelands, there isn't a position more bereft of talent than catcher this season. That could change as soon as the Mariners decide to call up their 2012 first pick, Mike Zunino, to replace the demoted Jesus Montero behind the plate in Seattle. He's taken a step back from his blazing start in AAA, but Zunino is clearly the catcher of the future for the Mariners, and the team has little reason not to go to him now. He was considered the most major league ready bat in the 2012 draft, and will likely get a chance to prove it as soon as this week.
Gerrit Cole/Jameson Taillon, SP, Pirates
We're bundling the Pittsburgh pitchers, since we aren't sure which one is likely to get the call to the bigs first. Cole is a year older and at AAA, but hasn't shown the confidence and control that Taillon has down in AA in their minor league careers. Either player slots in as a quality #3 starter right now, but we prefer the safety of Taillon to the elite skills of Cole as a rookie starter.
Billy Hamilton, OF, Cincinnati Reds
It looks like the middle infield experiment is officially dead for Hamilton, but he's the only player in the minors with the potential to win a category for you on his own. The biggest question for Hamilton (and the Reds) is if he can get on base, with the speedster having posted a .317 on base percentage at AAA this season. When he gets on base, however, the fun begins, as Hamilton already has 32 stolen bases this year and has averaged better than one per game over the last two seasons.
Jonathan Singleton, 1B, Houston Astros

A 50-game pot suspension has kept Singleton from top prospect lists this season, but the former Phillies and current Astros slugger is not long for the minors if he keeps up his current minor league production. With only a week's worth of games under his belt this season, Singleton already has three home runs and, just as impressive, four walks. With only Chris Carter blocking him, and a DH spot in the lineup as well, Singleton could be up as soon as next week, and should hit .280 with a fair number of home runs and doubles once he gets a shot.