Ten Great Beers for Father's Day
If your dad is anything like mine, he likes swimming down a can of oat soda every now and then. Sadly, my dad also happens to be a slave to dull domestics and lackluster brews like Coors and the occasional Labatt's. Definitely not the beer connoisseur I happen to be, but we can't all be perfect, right? All snarkiness aside, there is a way to get your beer monogamous pops to branch out a little, especially on Father's Day, and really enjoy a few of the summer offerings from the many different brewers available.
The list I have compiled here is by no means complete and it certainly doesn't make assumptions that your dad is going to outright love any one of these, but I am relatively sure that if the guy can choke down six or eight really cheap, watery cans of things like Bud Light and Milwaukee's Best, he just might jump at the chance to expand his horizons, find actual flavor, and truly enjoy a beer for once.
So why not snatch up a few of these for Sunday and see if your old man is a bit more of a beer snob than you ever thought. They all make great gifts, cuz who wants a tie when you can have a few brews, right? Additionally, I tried to steer clear of heavier beers not particularly good for a Summer barbecue.
10) Chimay Bleue
"A 9% abv, darker ale. In the 75 cl bottle, it is known as Grande Réserve. This copper-brown beer has a creamy head and a slightly bitter taste. Considered to be the "classic" Chimay ale, it exhibits a considerable depth of fruity, peppery character." – Wikipedia

Though it can seem to be a bit heavy during a hot day, nothing quite wraps up your Father's Day 'cue than hanging out at a camp fire sipping on this quite delicious classic. Granted, it might be a bit much for those not accustomed to its vibrant nuances, but you'd be amazed how many people, typically unfamiliar, really enjoy it.
9) Lambic – Framboise
"Lambic is a very distinctive type of beer brewed only in the Pajottenland region of Belgium (southwest of Brussels) and in Brussels itself at the Cantillon Brewery and museum. Lambic is now mainly consumed after refermentation, resulting in derived beers such as Geuze or Kriek." – Wikipedia
I have found that, by a wide margin, our best selling Lambic is the Framboise, or raspberry. For a crisp, refreshing, almost champagne-like beer that is darn near perfectly suited for a muggy June day, it's hard to go wrong with the Belgian fruit beer. Very nice.
8) Dragonmead Final Absolution
"Tripel is a term used by brewers mainly in the Low Countries, some other European countries, and the USA to describe a strong pale ale, loosely in the style of Westmalle Tripel." – Wikipedia
Being a tripel ale, this style from Michigan brewer, Dragonmead, tends toward the stronger style. But those already familiar with very hoppy beers (bitter, crisp) will certainly take to its flavor. It also has a slightly yeasty characteristic giving a not unlike wet bread note. Very good.
7) Shocktop
"Shock Top is a 5.2% abv Belgian-style wheat ale introduced under the name Spring Heat Spiced Wheat as a seasonal beer in 2006, then all year from 2007." – Wikipedia
And another Belgian style beer to add to the mix. Those wacky cats have had their historic hands in just about every style America has since embraced. The Shocktop, unbelievably from Michelob, is a very nice, rich Summer style -though it is brewed all year. This particular version is the Raspberry that has begun flying off the shelves of late and introduces a nice tangier flavor to the quite balanced fruit melange.
6) Rogue Juniper Pale Ale
"A pale ale, saffron in color with a smooth malt balance, floral aroma with a dry spicy finish from whole juniper berries." – Rogue.com
This sample from Rogue is simply amazing. Though the addition of juniper berries may at first seem off putting or really weird, it's neither of those things. The beer has a pretty solid malty characteristic that really refreshes, but it's the gin-like third act just as you swallow that really sets it aside from others even slightly similar. It is one of the best beers I have ever had and just right for summer.
5) Brooklyn Breweries Monster Ale
"Most barley wines range in colour from amber to deep reddish-browns, though until the introduction of Whitbread Gold Label in the 1950s, British barley wines were always dark in colour. All are rich and full-flavored." – Wikipedia
This, too, tends to the strong side of ales. It is a far bit more of a sipping beer than a chugger, but you will be rewarded. It's nicely rounded with berry characteristics that tend toward toffee and spice notes. As you might imagine, there is a wine-like appeal to it that makes it just right for an after-meal favorite.
4) Bell's Oberon
"Bell's Oberon is a wheat ale fermented with Bell's signature house ale yeast, mixing a spicy hop character with mildly fruity aromas. The addition of wheat malt lends a smooth mouthfeel, making it a classic summer beer." – Bell's.com
Oberon is definitely the one beer Michiganders hold their breath for. Available from March to October, Oberon has become the quintessential summer beer and has a reputation for being slightly different every year. This year's batch is one of the better ones in a while and really is a beer best with grilling meat.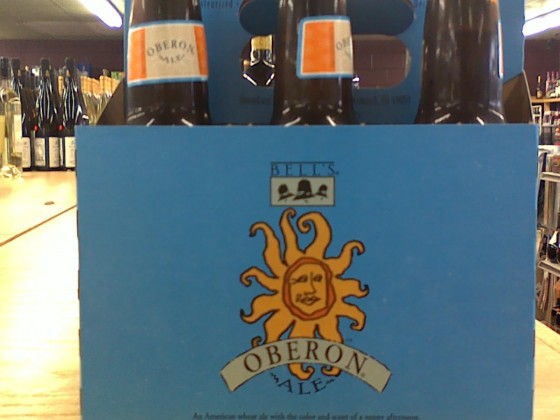 3) Sierra Nevada Pale Ale
"Sierra's flagship Pale Ale has been described as "a balance between aggressive hops and hearty malt flavor", with its Cascade hops offering a grapefruit aroma and fruity palate." – Wikipedia
One of my favorite not-quite-IPA ales is the classic Sierra Nevada Pale Ale. For those discriminating dads who are more familiar with Natty Light or Pabst, this might be the perfect stepping stone to a larger world. Sure, it's a bit bitter, but it's definitely not overpowering as its malty characteristics more than balance it out. One of the greats.
2) Leinenkugel's Summer Shandy
I'm typically not a huge fan of beers with an over-abundance of fruity flavors, especially if they taste like Skittles (unless it's Skittle-Brau, that's a different story). But Leinenkugel's has really outdone themselves with the Summer Shandy. It, like many recent beers from some lesser companies, is brewed with lemon, but it's not overpowering or sickly sweet. This beer is just plain refreshing and just about as perfect as it gets on a sweltering summer afternoon. Your dad's gonna like this, cuz I'd bet he secretly adds lemon or lime to his beer anyway.
1) Short's Soft Parade
"This gourmet specialty is engineered of toasted rye flakes and two row malted barley. Loaded with pureed strawberries, blueberries, raspberries, and blackberries, we refer to this fermented potion as a fruit infused rye ale. The result is a refreshing fruit delicacy that's easy to drink, appealing to look at, and finishes dry." – Shorts.com
I know, I know, it's another fruity beer. Look, what can I say, I have adjusted my past statements about not particularly enjoying fruity beers. I like some, and this is the best of the some. There's something about the vibrant variety of berries in here (rasp, blue, and straw to be precise) that almost reminds one of a summer fruit salad. It's is a fermented ale, so it has a nice sour note that plays well off the sweet fruit. It is as refreshing as it gets and a must for your Father's Day enjoyment. You're dad will thank you.