Ten Great Irish Beers for St. Patrick's Day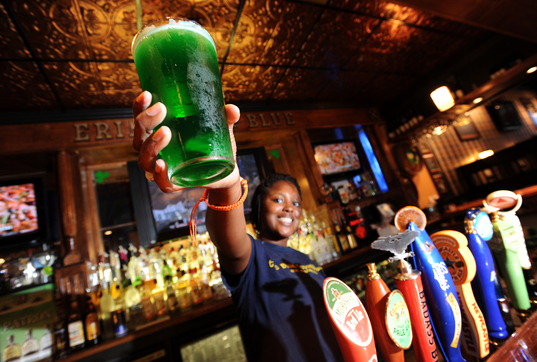 As much as I'd like to admit that I'm a huge drinker on St. Paddy's Day, it sadly just isn't the case. That isn't to say that I won't imbibe a few brews for the sake of the holiday, it just means that I don't go nuts, chug mass quantities of green beer-like swill, and wake up a few hours later with a sore ass. I'm a snob and I prefer actually very good beer over the emerald-tinted vomit the bars try to cram down our collective throats for a buck a pint.
Not to mention the fact that St. Patrick's Day has to do with an Irishman shoveling the asps out of the country (which may or may not have actually happened) and not a damn thing to do with America. Oh well, any chance for the U.S. citizens to drink a bunch, right? Anyway, let's talk about some very good beers you, too, can find for your celebration. All of which are actually worth drinking and not to be tainted with grassy food coloring.
10) Beamish Irish Stout
The popular Cork beer and the only Irish stout brewed exclusively in Ireland. Proving once again that there is plenty of life left in the Ireland breweries outside of Dublin.
9) O'hara's Celtic Stout
O'hara's aims very high to be a wonderful alternative to the Irish big three of Guinness, Beamish, and Murphy's. And it's major claim is being one of the only bottle-conditioned Irish Stouts.
8) Murphy's Irish Red
Murphy's recipe is an original that dates back to 1856. It's main body is a rich, malty, caramelized, and toasty deep burnished bronze. It is as classic as an Irish Red can get.
7) Kilkenny Irish Ale
This traditional Irish Red Ale was originally brewed in 1985 for export only by Smithwick's Brewing Company. It is sweet, malty, and dry that finishes bitter and hoppy.
6) Harp Lager
Oddly, not a Stout because, as it seems, not everyone in Ireland prefers Stouts. Some, in fact, enjoy European-style lagers. Though this is an older recipe to be sure, it is now brewed by Guinness.
5) Moling's Traditional Celtic Beer
All beers produced at the Carlow Brewing Company are based on Traditional Celtic recipes and use only strictly authentic ingredients – malt, hops, yeast, and water.
4) Guinness Draught
Since the introduction of Guinness Draught in 1959, the patience and effort that went into pouring a proper Guinness has become much easier. Previously, it was a daunting task at best.
3) Guinness Special Export
Guinness does offer a stronger version of its famous stout, and at 8% APV, it was, once, brewed exclusively for the Belgian market. It is noted for being considerably more complex than its stout brethren.
2) Guinness Foreign Extra Stout
If you happen to live in Asia, Africa, or the Caribbean you can also be a lucky drinker of another of Guinness's stronger stouts called the 'Foreign Extra', and it rings in at a pretty hefty 7.5%. It also tends to be hoppier.
1) Guinness Extra Stout
If you're interested in the classic at its finest, you can't come much closer -outside of Ireland, that is- than the 'Extra Stout'. It is roasty, toasty, and oaky, and is almost always the Guinness you'll get here in the states when you ask for a Guinness.