Ten Pieces of Christmas Kitsch From Around My House
If it's one thing I have an abundance of during the Christmas decoration extravaganza, it's old tchotchkes and holiday kitschy knick knacks. Damn, that's far too many 'K' s! Anyway, this isn't singular to just my household, as I'm sure many, many of you suffer from the same affliction: every year, a few weeks before the Christmas celebration, we whip out our boxes upon boxes of decorative whatnot and stash it about our houses like some kind of mad toy store purveyors. And this year, for some inexplicable reason, I went about as far overboard as I could without tipping headlong into tastelessness. Though, I have to say, it was a close one. So, since I typically do lists based on things that other folks have done (as I'm just basically a compiler, you see. Not very glamorous), I decided that this list would mark the first time I have gathered items of my own to serve as a theme. Each and every one of these pics were taken of little ornaments from our personal Christmas collection so if you hate on them, you, by proxy, hate on me. And you know what, judging by the mess I've amassed here, I'm okay with that. Enjoy!
Disney Kitsch!
Also he's missing his eyes.
As you can see, this is an ornament for our Christmas tree. Oh, yes, it's very old indeed. Something like the 1970's I think? It used to have a date on it much in the same way it used to have eyes. I've since had to re-draw them on just so it doesn't look like some kind of mutant. It is this close to falling completely apart into decoration never land but it still holds a special place for me and is always on my tree somewhere. Cute, isn't it? No? Screw you.
Frilly and Silly
This thing HAS to have been made in Mexico.
Yes it's faded, yes it used to be more green and slightly less sad looking, but that's what years of sitting on my Grandmother's end table for the Holidays will do to ya. Poor thing. Anyway, when not in use looking sorry and defeated, this tree can be folded up not unlike an Oriental fan and put away for another year. Unfortunately there is no date, no name, and no markings of any kind which leads me to believe it's part of a set long since faded away into obscurity.
Blue Christmas
Since when is light blue a Christmas color?
Apparently a new color has been added to the traditional Christmas trio of late and I was not informed. Since when is horrid baby/sky blue a Holiday color? Especially on some creepy looking Santa carrying a duo of equally disturbing snowmen children? No, this isn't old, per se (1999), but it doesn't have to be to be full of Christmas kitsch! I can see on the bottom that this was made in the good old USA in San Diego, California! Hurray for American holiday necessities!
Needlepoint
Why do snow-folk need coats?
I haven't got a clue where this couple of 'needlepoint' snowmen originated from, but I suspect either my grandmother or mom, or, possibly someone in my wife's family, but I kinda doubt it. Anyway, they make an appearance every year and somehow always end up in the window. As far as tacky goes, this oddly attractive snow-duo set is right up there, but, as with all this other stuff, I'll never get ride of 'em!
July in Christmas!
The oddest amalgam of icons ever.
It should come as no surprise that this ornament, along with many others similar (yes, we have at least two) came out post 9/11 in Christmas '01. Look, I have absolutely nothing against patriotism and loving America, but this is just borderline ridiculous. I suppose if Santa were real… and I'm not saying he isn't, then I guess it makes a little sense that he'd, maybe, wave an American flag and dress like a Christmasy Uncle Sam… I guess. Or, just maybe, this is quite possibly the most obnoxious ornament we have.
Caroling Candes
I almost lit these one year…
I know exactly where I got these: they were bequeathed to me from my grandma just shortly before she shuffled this mortal coil seven years ago. They used to sit comfortably atop her piano and would accompany her as she played the Holiday carols for the family each year. It is one of my most vivid memories of our holidays at my grandparent's house and, despite the fact that they are some homely looking orphans, will remain as much a part of my Christmas as the giving. My grandma would want it that way. Or else she's gonna haunt my ass.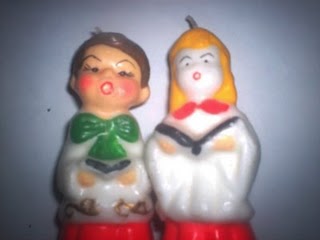 Hammy and Egg
I guess Mother Goose and Christmas go together…
Yet another decades-old ornament given to me by my grandma in 1978 ( I was 4) and still a part of our box o' Holiday goodies to this day. I honestly have no idea what a children's Nursery Rhyme has to do with Christmas. My best guess would be that it is part of some long-forgotten set including such others as Little Bo Peep and The Three Little Pigs, but I'll never really know as this is all that remains. Make your Christmas a Humpty Christmas, won't you? And possibly also Humpty Dance?
Santa Metallica
Blindingly shiny… especially with a flash.
Yet another Kitsch-mas bit of nonsense given to me by my grandmother (the other one, this time) comes in the form of a length of garland featuring metallic Santa's in his iconic sleigh and a reindeer leading the trip, repeated ad nauseum. As far as a tasteless piece of gaudy Christmas garland goes (say that five times fast) this is without a doubt it.
Origami Santa?
You can make Santa's belly growwwww!
Coming to you from the fine folks who created the fanning tree from number 9, it's the Expand-a-Belly Santa! This one, however, has a few little bits of info on the back which leads me to believe that it might just be from the same set as the tree. It proudly states: Made in U.S.A. Biestle Company. And that's all ya get. No date, no nothing. I really wish I knew but I can safely assume like sixties or seventies for sure. This thing has been around for as long as I can remember and unless I accidentally set it on fire, it always will be.
Ceramic, Baby!
Anyone know where I can get lights for this?
This is by far my favorite piece of Christmas Kitsch we own and I don't mind telling you that it took a bit of wrestling to get it away from my grandma (the same one as number 3). But now it's mine and, as such, it's my responsibility to keep ablaze during the holidays despite its shoddy and slightly piece-missing appearance. It still has the original bulb from its original purchase from its original shipment from Taiwan, as it still bears the sticker. Beyond that, I have no idea where it came from. It's also missing the star which likely lost its life decades ago. I cherish this thing and will only offer it up for sale at a starting bid of $50! Do I hear $75?