Ten Reasons Chip Kelly Turned Down the Eagles
As NFL teams start hiring their new coaches for next season one popular name has been taken off the board. Oregon Coach Chip Kelly, considered a favorite for the Cleveland and Philadelphia job, has decided to remain at Oregon for at least another year. While the Browns are used to being turned down, the Eagles seem genuinely shocked that Kelly would walk away from the chance to move to Philadelphia.
While long interviews and hardcore sell jobs led many to believe that Kelly was seriously considering the NFL move, we saw Kelly's decision coming. Here are ten reasons why we knew that Chip Kelly would never take the Eagles' head coaching job.
10. Fancy Uniforms
Oregon is at the forefront of college football uniform creativity, with the team rolling out dozens of designs over the last few seasons. This appeals to Kelly, who secretly aspired to attend the Fashion Institute of America as a child. While Kelly is obviously an innovator on the field, most fans don't know that he secretly works with Nike's design team to create most of Oregon's new looks.
9. He Loves Portlandia
Kelly is a huge fan of IFC's "Portlandia", and secretly harbors hopes of being invited to guest star on an episode. His jealously of the Blazers' LaMarcus Aldridge nearly reached critical mass when the basketball player appeared on an episode as Penny Marshall's boyfriend.
8. Oregon Fans
7. Philly Fans
6. Phil Knight's Money
There is something to be said for having the biggest bankroll in college sports, and thanks to Nike founder Phil Knight, that's something Oregon can boast. Knight has poured hundreds of millions of dollars into the Oregon program, including a $40m academic support building, new workout facilities and a national advertising campaign.
When it comes to the extra benefits that constitute the gray area of college recruiting, no school can brag about better facilities than Oregon. In the NFL Kelly is stuck with existing contracts, a limited salary cap and players who expect new contracts for performance, all of which limit his ability to bring in whatever players he wants. That isn't a concern at Oregon, where Kelly has a blank check to go after the best players every year.
5. Philly Cheesesteaks are Overrated
Whenever you ask people about Philly, the cheesesteak sub is almost always mentioned as a major selling point. We don't know why, however, since they suck. The Philly cheesesteak sub is a marketing trick to sell low quality meat, crappy cheese and four ounces of grease for ten bucks a pop. It's not unique, it's not high quality, and it's not appetizing unless you are drunk or stoned.
4. Job Security
The average tenure of an NFL coach is a little over four years, a number that is inflated by a handful of coaches who manage to last a decade or more in one place. Only a handful of teams (12 of 32) make the playoffs, and any coach who doesn't runs the risk of being out on the street the next season.
Meanwhile the college landscape is littered with coaches who win 8 or 9 games a season, make a bowl game, and keep their jobs as long as they want to. The deck is stacked in the NCAA toward schools with more resources and a history of winning, so unless scandal or sanctions derail him, Kelly can count on staying at Oregon for the rest of his career if he wants to.
3. The Pac 12 Stinks
While the NFC East is hardly at it's peak, it still boasts a pair of teams in Washington and New York that should be playoff contenders for the next several years. Philadelphia likely will be fighting just to make a wild card game in the next few years.
On the other hand, the PAC 12 is mediocre at best, giving Kelly a chance to feast on his conference foes. Stanford was an impressive 11-2 this season, but after them there is not one school that you can call a regular title contender. USC and UCLA are a mess, with Lane Kiffin attempting to destroy the Trojans from within, Mike Leach is always one accusation away from another investigation at Washington State, and Utah floundered in their first season in the conference.
2. Awful QBs
If we learned one thing from this NFL season it's that a quality QB makes all the difference in elevating a bad team to relevance. Kelly likely looked at the QBs already in Philly (Mike Vick, Nick Foles) and realized he would need to bring in someone new under center.
With a potential free agent class headlined by Joe Flacco and a trade market featuring Alex Smith, Kelly would have then looked to the draft to bring in his QB of the future. The 2013 draft class is light years behind the 2012 and 2011 groups at QB, with Geno Smith, Landry Jones and Tyler Bray among the big names. Kelly likely looked at that situation and decided he was better off staying in college.
1. Phil Knight's Money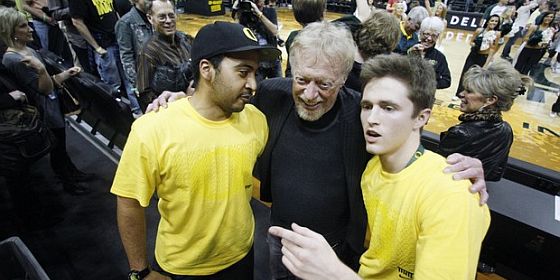 We need mention this again, it's a lot of money. As long as Nike is writing checks to the Oregon Athletic program Chip Kelly will remain one of college football's best paid coaches, and will have the best facilities and resources available. That will never be the case in the revenue-sharing NFL.