Ten Ridiculously Expensive Cars
What is the most expensive car in the world? I guess whatever anyone is willing to pay for it. Admittedly, that's an amibiguous concept, I mean some guy sold Obama's 2005 Chrysler 300c on eBay for $100,000. Doesn't mean everyone's Chrysler is worth that much. And somehow I'm reminded of the car Homer designed for his brother in The Simpsons. But we'll ignore all that and instead focus on MSRPs and actual costs to buy from a dealer. Granted, not all of these cars are currently in production. But most of them were recently on the market, giving one a fair idea of price.
Now, I'm going to go out on a limb here and guess none of our readers actually own any of these ten cars. Hell, with this economy you might not be able to afford your current car. But a man can dream, and most men dream about owning a car with some flash. And let's face it, if you had the money and the opportunity, you will definitely spend a small fraction of your cash on a nice car. It's just that the super wealthy can own the flashiest supercars without much of a dent in their wallet. So with that in mind, here are ten of the most ridiculously expensive cars out there. Maybe one day you'll have one or two in your garage.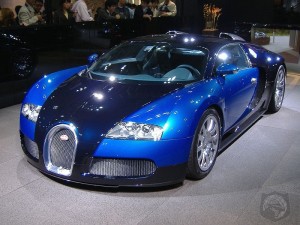 1. Bugatti Veyron EB 16.4
Cost: $1,500,000
Dubbed the fastest production car in the world (although that title is debated), it's also the most expensive. It's named after French racing driver Pierre Veyron, who won the twenty four hours of Le Mans in 1939. Handcrafted in Molsheim, France by Bugatti, a Volkswagen subsidiary, the car is powered by an awesome 8.0-liter, sixteen-cylinder, quad-turbo engine that puts out 736-kilowatt (1,001 PS; 987 hp) and can reach 408.47 km/h (253.81 mph). Production started in 2005 and continues to this day, with about 300 Coupes and 150 Grand Sport Targas (450 units total) made so far.
2. Enzo Ferrari
Cost: $1,000,000
Ferrari stopped producing the the Enzo in 2004, but until the Millechili is released, it's Ferrari's most expensive model. And the name Ferrari brings to mind Formula One racing, so we couldn't ignore it on this rundown. Named after the company's late founder, the car remains one of the most powerful production cars in the world. Fewer than 400 were made, and prospective owners had to apply to Ferrari for the privilege of buying one. It was built using Formula One technology, such as a carbon-fiber body, and also used technologies not allowed in F1, such as active aerodynamics and traction control. The Enzo's V12 engine is the first of a new generation for Ferrari and the car can accelerate to 60 mph (97 km/h) in 3.14 seconds with a top speed of around 368 kilometers per hour (227 mph).
3. McLaren F1
Cost: $1,000,000
Like the Enzo, another car long out of production, but it's a classic. Made from 1992–1998, 107 were produced in a variety of body styles. And it was the fastest production car ever built, at least until it was surpassed in 2005 by the Koenigsegg CCR (and then the Bugatti Veyron a few months later). It sports a 6.0 liter BMW engine that can reach 60 mph (97km/h) in 3.1 seconds and reportedly has achieved a top speed of 240.14 mph (386.5 km/h). The car incorporated many world firsts for a road car: a fully carbon fiber monocoque structure, fully active fan-assisted ground effect aerodynamics, and a central driving position with two offset rear passenger seats.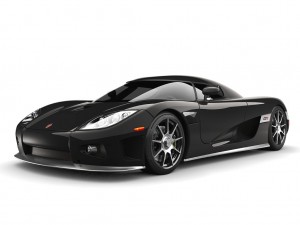 4. Koenigsegg CCX
Cost: $545,568
Back to realm of currently produced models is the Koenigsegg CCX. The Swedish car manufacturer makes this supercar, with the CCX an abbreviation for Competition Coupe X. The X (being the Roman numeral for ten) commemorates the 10th anniversary of the first CC vehicle. Koenigsegg spent a lot of development time to cast their own V8 that could drink US-grade, 91 octane fuel, yet still run at a high compression ratio. Despite all the regulatory changes, the CCX is still one of the world's fastest supercars. It can accelerate from 0–62 mph (100 km/h) in 3.2 seconds with a top speed of 259 mph (417 km/h).
5. Lamborghini Reventón
Cost: $1,284,674 (or One Million Euros)
The new Lamborghini Reventón is latest supercar for the super rich. Based on the Murciélago, the exterior of the Reventón is said to be inspired by the F-22 Raptor fighter jet and other fast airplanes. The official press release states that only 20 cars will be released to the public, eleven of which will be U.S. bound (further reports indicate the total number will eventually reach 100). The engine hood is made of glass laminate with open ventilation slits offering a glimpse at the large 6.5-liter V12 engine. The Reventón delivers 650 horsepower and 487 pound-feet of torque. It accelerates to 100 km/h (62 mph) in the same time as the Murciélago LP640 (3.4 seconds) and is capable of reaching a maximum speed of over 340 km/h (210 mph).
6. Porsche Carrera GT
Cost: $440,000
As Porsche cotinues in its quest to develop a "Bugatti Veyron killer", the Carrera GT remains the company's top released supercar. With its V10 engine providing more than 600 horsepower, and withan array of cutting edge technologies including a ceramic composite clutch and brakes beneath its carbon-reinforced body, the Porsche Carrera GT utilizes the undiluted qualities of a genuine race car in a production car. Reaching top speeds of up to 205 mph (330 km/h), the car can also accelerate from a standing start to 62 mph (100 km/h) in only 3.9 seconds. Production halted in 2006, with only 1,270 units produced making the car unique for any owner. To comprehend how much development goes into these vehicles, Porsche claims that over 75 technology patents have been filed as a result of the Carrera GT.
7. Pagani Zonda C12 F
Cost: $667,321
The Zonda C12 F debuted at the 2005 Geneva Motor Show as the latest version of the Pagani Zonda and was built as a tribute to five-time world champion Juan Manuel Fangio. With production proceeding at roughly 10 cars per year, the Zonda remains a rare vehicle, with only 95 built as of September 2008. It is one of the fastest supercars ever made, built using Pagani's extensive experience in carbon fiber construction. The C12 F model is the most extensive re-engineering of the Pagani car yet, though it shares much with its predecessors including the 7.3 L V12. Power is increased to 602 PS (594 hp/443 kW) with a special club sport model. The company promises a 3.5 second sprint to 62 mph (100 km/h), a top speed over 215 mph (346 km/h). The top speed can be further tweaked by adjusting the aerodynamic settings.
8. Saleen S7 Twin Turbo
Cost: $555,000
Lest we forget about American produced supercars, we present you the Saleen S7 Twin Turbo. If you are a true American patriot, you can be proud to show off this car. Hand-built in limited-productions, the high-performance automobile was jointly developed by Saleen and several others. The S7 debuted on August 19, 2000 at the Monterey Historic Races, and was replaced in 2005 by the S7 Twin Turbo. The Twin Turbo features a more powerful engine system featuring 750 horsepower (760 PS/559 kW) and the top speed to an estimated 250 mph (402 km/h), reaching 0-60 in 3.2 seconds.
9. SSC Ultimate Aero TT
Cost: $654,400
Staying with the theme of American-built cars, the SSC Aero TT is the brainchild of Jerod Shelby and a supercar built by Shelby Super Cars in order to rival the Bugatti Veyron. Designed over a period of seven years, the styling includes the use of flip doors similar to the ones found on the Ferrari Enzo among others. The design uses carbon fiber and titanium extensively throughout the car, keeping the weight down and allowing top speeds of over 250 mph (400 km/h). On September 13, 2007 in West Richland, Washington the car reached 255.83 mph (411.707 km/h), and was subsequently verified by Guinness World Records as the world's fastest production car. If top speed isn't enough, it can go from 0-60 mph time of just 2.78 seconds.
10. LeBlanc Mirabeau
Cost: $645,084
The Leblanc Mirabeau, from Swiss manufacturer Wysstec GmbH and Leblanc cars, is the closest you'll ever get to a race car for the street. The fact that it is street legal is almost unbelievable. To reach that race car feeling the car interior is optimized for maximum speed and acceleration, and the exterior is extremely lightweight. It is constructed of Kevlar, carbon fiber, and assorted unobtanium. The engine outputs about 700 horsepower from a 4700cc supercharged engine, which comes from Koenigsegg's V8, the same engine found in the CCR. The Mirabeau has a top speed of 370 km/h (229.9 mph).