Ten TV Shows You Should Be Watching
I love TV, don't you? For a few years I was without any reliable source of televised entertainment and though I did download what I could, it still sucked. Because I love TV. Don't you? Of course you do. But you really do have to be careful these days because there is just so much quality television right now that you could easily become a reclusive shut in before you know it. No one wants to be friends with a dude who looks like Gandalf and smells like Radagast, if ya know what I mean. So plan your binge watching accordingly. And you can start right away with these great shows:
How It's Made (Science Channel – Thu 9pm)
Just because you're sitting around staring at the TV doesn't mean you can't learn something, too. This show has been around a few years and it's still as fun as it was way back then! Each episode showcases some every day objects and takes you on a little journey through how each one is created from beginning to end. It's cool, fun, and always makes you want to hang out for more.
Legends (TNT – Mon 10 pm)
Martin Odum is a deep cover FBI operative played by Sean Bean. Yeah, that very same Sean Bean who seems to die in everything he's in. Fortunately for the viewers, not in this show… yet. I kid. Anyway, in its second season now, this show is incredibly exciting, edge-of-your-seat action and intrigue, and will keep you salivating for the next episode. The best part is that Odum becomes a different person every adventure. Awesome.
The Knick (Cinemax – Thu 10pm)
I've said it before, and I'll say it again: The Knick is a fascinating show. Directed by Stephen Soderberg and starring Clive Owen (among many others), the show revolves around a Turn of the Century New York hospital called The Knickerbocker and all of its physicians, nurses, managers, and patients. You learn, relatively accurately, how the state of medicine changed over the years and just how barbaric and archaic it was, even as it improved. Oh, and Owen's character, Dr. John Thackery is a coke addict with a thing for the whores. Fascinating.
The Walking Dead (AMC – Sun 9 pm)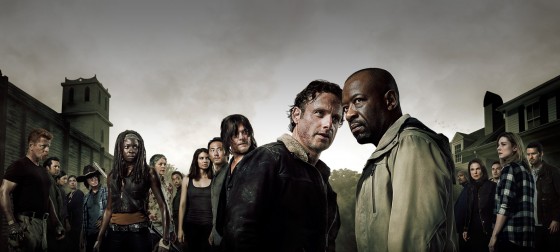 Now in its sixth season, this zombie horror show that isn't is as riveting as it is sad. Yeah, sure, the world has been overrun by hordes of shambling corpses, but screw that! We all want to know the life story of the greasy hunter dude with the crossbow and why the wack-job cop can't stop saying 'Carl'! It's a great show and even if you know the comic, you don't know the series unless you follow along.
Rick and Morty (Cartoon Network – Sat 9pm)
This is absolutely not a children's cartoon, even though it's about as childish as they come. I mean seriously, there are penises everywhere! Basically, we have a weird homage to Back to the Future where Rick, the bat-shit crazy scientist, travels the cosmos through both space and time with his grandson, Morty. They run afoul of just about every crazy, bonkers, loony situation you can imagine with just about as similarly described characters. The plots are pretty deep for a cartoon not called Adventure Time and the characters really do become ones you care about. All that aside, this thing is hilarious. Smart and hilarious. Good combo.
Fargo (FX – Mon 10pm)
Yet another solid show now into its second season, Fargo is a special beast all together. You see, season one featured a man killing his wife, trying to hide it, telling the wrong people, and causing mayhem all over the place. The second season features none of that and none of the same characters. The only similarity is the location, Fargo, and now stars Jeffery Donovan, Kirsten Dunst, Patrick Wilson, and Ted Danson. The dark humor is all there as is the twisting, wending, bizarre plots you love from the original Film. Check it out because it is crazy good.
The Flash (The CW – Tue 8pm)

I probably could have chosen any number of superhero shows to fit this spot, and each is great on its own merits. But, there is just something so down-to-earth and innocent about Grant Gustin as Barry Allen. He is such an every-man that you can almost identify with his every day issues; juggling girlfriends, worrying about the death of his mother, fighting people with superpowers… you know how it is. Anyway, The Flash is quickly (get it?) becoming my go-to superhero show.
The Goldbergs (ABC – Wed 8pm)
There are truly only a handful of decent comedies on right now that feature prominently on the 'Big Four' Networks and, for my time, The Goldbergs stands out as one of the funniest. The show takes place during the decade of the 80's so, in a way, it's a lot like I'm reliving my own childhood through the eyes of Adam every week. His parents are equally bonkers in their own way (yeah, I dig that) and his older brother Barry and sister Erica are as protective as they are insane. I love seeing his toys, the movies he watches, his clothes, and all the little bits of Pop Culture that were such big parts of my own life. Great show.
Doctor Who (BBC America – Sat 9pm)
For a show that's been on since the 60's, it's amazing how much better it's gotten up to the point that it's become a cult classic. Now on the 13th incarnation of the titular character (played by Peter Capaldi), Doctor Who is still out there in his TARDIS roaming the universe and saving the Earth from Cybermen and Daleks. As of now he is joined by Jenna Coleman as Clara, but as most of us fans know, yet another of the Doctor's companion's days are numbered and this is to be her last season. Make sure to get on board now.
American Horror Story: Hotel (FX – Wed 10)
If you've at all followed this series then you know just how completely messed up it can be. Now in its fifth season, the action and downright ghastly oddness has moved to the L.A.-based Hotel Cortez. If you are already just a little freaked out about hotels in general and their absurd spookiness (I kinda am), then The Cortez will trigger some serious shocks. Filmed with some weird lenses and some very kooky angels, this hotel is anything but comforting: people coming out of mattresses, a vampire draining the life blood of children who live in the basement, a rubber-outfitted thing with a dildo drill… yeah, and that's just the tip of this jacked-up iceberg. Anyway, there are a lot of well-known actors in this show, but none stand out as fascinatingly as Lady GaGa. She is simply breathtaking and just as dark. Watch this show.