Ten Underrated Vampire Movies
When it comes to Vampire movies, in recent years they're about a dime a dozen. It's sad really: the once frightening and fanged source of many a nightmare has been reduced to sparkling, bull shit comedic, overtly sexual entertainment sinkholes with about as much in common with the horrific classics as Blake Lively has with Jaws. Luckily for as many downright ridiculous vampire flicks, there are just as many that slip under the viewer's radar and are actually really good. Here are ten such films we think should be the real classics.
Only Lovers Left Alive (2013)
What happens to vampires when they've grown far too long in the tooth (rim shot) and despondent over the uncertain future they face? They've lived forever, seen everything, learned everything, and have taken to the notion that being a vampire no longer holds any joy for them. They acquire blood from other, less messy means, only because the act of taking traditionally it has grown tiresome. Yet Adam and Eve (Tom Hiddleston and Tilda Swinton) find the sudden realization that, now that they are back together, their other world is falling apart. And yes, they must hunt.
Rabid (1977)
Because this vampire movie is directed by David Cronenberg, you could assume right away that something gruesome is going to happen to someone's body. And you'd be right. After getting into a motorcycle accident, Marylin Chambers as Rose is rushed into emergency surgery where morphogenetically neutral grafts to her chest and abdomen are created in hopes of growing back ruined skin cells. It works, but it also gives her a hole under her armpit wherein a very phallic tentacle seeks out and drains the blood of her victims. Soon, as she slowly infects everyone in town… the danger spreads throughout the cities of Canada.
Dracula's Daughter (1936)
In the late 30's, the act of exploiting something relatively newly accepted as lesbianism was not only rare but also shunned. Yet, in this direct sequel to the original Dracula, that's what was done. Dracula's daughter, Marya Zaleska (Gloria Holden) is tired of being a vampire and subsequently linked to her father. In hopes of removing her curse and living as a normal human, she destroys his dead body only to find out it didn't work. Soon she kidnaps the woman her psychiatrist loves and brings her to Transylvania in hopes of linking them both to her. However, her demise is quick at the hands of Von Helsing and she dies of an arrow wound to the heart.
Bordello of Blood (1996)
The second of the Tales From The Crypt movies based on the HBO series, Bordello of Blood focuses on the reanimation of long-dead queen of the vampires, Lilith. Angie Everhart plays the titular Bordello-owning blood sucker and has turned a whole slew of women into her subservient succubi. When two misguided youths stumble on their location (one of them being Corey Feldman) and turn up missing, his sister (Erika Eleniak) hires PI, Dennis Miller to track him down. Well, as you can imagine, nothing goes as planned and one big, bloody fight ensues. It's really gory and a really fun flick.
Abraham Lincoln Vampire Hunter (2010)
Imagine if you discovered that the entire point of slavery in the U.S. was as more of a means of survival rather than the terrible act we know it as today. Well, in this kick ass film, that's the gist. Slave owners are vampires and their slaves are the only reason the blood suckers don't just turn the entire nation. Abraham Lincoln is raised understanding that vampires not only exist but seem to be everywhere even outside of slavery and he makes it his mission to destroy them by any means, specifically through years of training and a lot of silver. This entirely new take on the genre is a fantastic look at a piece of history through the eyes of, What If?
Stake Land (2010)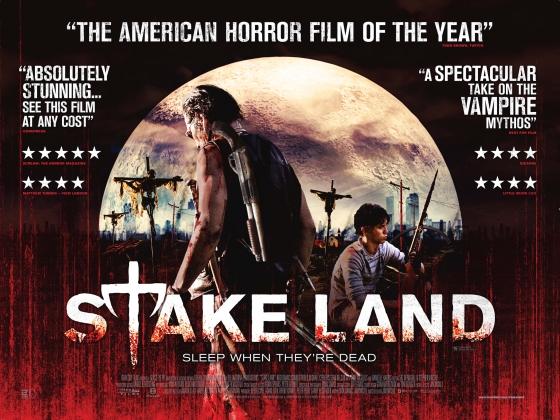 What if Cormac McCarthy and Zack Snyder got together and wrote a road-style Vampire film where everywhere is a dystopian nightmare, every city is in ruins and the undead neck-biters are fast and feral, would that interest you? If so, Stake Land is right up your alley. Mister is the only name we're given of the heroic yet stoic vampire hunter as he takes Martin -a boy whose entire family was slaughtered in front of him by vampires- on a journey through the wastelands of what once was America. Their hope is to find New Eden, but peril lies along the way.
From Dusk Till Dawn (1996)
Perhaps not as lesser known as some of these, From Dusk Till Dawn is still a sadly underrated vampire movie. It could be because the first half features no hints as to the mayhem that's soon to come. In fact, what it does feature is George Clooney and Quentin Tarantino (the film's writer) as the Gecko brothers who are on the lam from a bank robbery. Soon they run into Harvey Keitel, Juliette Lewis and, eventually, Danny Trejo, Tom Savini and Fred Williamson. Yeah, it's chock full of familiar faces, one of which turns out to be the queen of the vampires, Salma Hayek. We really don't want to spoil it because we all know how fun it is to put Tarantino and Robert Rodriguez on a project together. Check it out if you haven't.
What We Do in the Shadows (2014)
One of the most cleverly conceived vampire films to come around in a long time, What We Do in the Shadows follows a group of four of the fanged ones (Viago, Vladislav, Deacon, and Petyr) living together in a flat in the Wellington area of Te Aro. Shot entirely as a 'mockumentary", it follows the long-lived vampires as they go about day-to-day life in modern times, though none of them as really any clue as to how to adapt to it. Darkly humorous, violently gory, and absolutely hysterical, this movie shows just how the creatures might live were they your next door neighbors. Eventually, the group gets mixed up with a batch of werewolves and nothing but hilarity ensues. Fantastic flick.
Subspecies (1991-98)
This series from Full Moon pictures features a deadly, if not slightly ridiculous looking and sounding vampire named Radu. Long fingers, longer fangs, and a penchant for the dramatic, Radu is the textbook version of what a vampire is. His tale progresses four films and a fifth wedged in between that doesn't focus as much on him. In each, he seduces women, battles those who seek to kill him, and pretty much dies each and every time. As cheesy as it sounds, they are quite well done (they are Full Moon films, after all) and are a lot of fun.
John Carpenter's Vampires (1998)
It really helps a lot going into this movie to love James Woods. Because he is the James Woods-iest he has ever been. And trust me, that's a good thing. He plays a character named Jack Crow who heads a gang of Vatican-sanctioned vampire hunters who travel the country seeking out and destroying nests of the blood suckers. His partner is the least of the Baldwin brothers, Daniel, named Tony Montoya. After a successful cleansing, the group has a party in the local hotel only to be attacked by the big boss vampire named Valek (Thomas Ian Griffith) who wipes all but three of them out. Jack is obviously pissed, and in the most James Woods-iest turn, he takes on Valek and his new gang. It's John Carpenter, so you know it's cool. And it is.