Ten Woody Allen Films Re-Imagined As Porn
Writer/director Woody Allen has often been accused of making intellectual porn. To wit, beneath all the psycho babble and cerebral sparring lies nothing but sex and more sex. This should come as no surprise considering Woody's predilection for nubile women on and off-screen. Read any of the plot summaries from his vast catalog of films and it's not hard to re-imagine them as adult entertainment. And being a huge fan of the bespectacled Jew, I'm the perfect man for the job. Here are ten Allen movies that could easily be repackaged as porn.
A nebbish nobody named Studling joins an all-female Latin American revolution in hopes of getting laid. Using his superior intellect and surprisingly large member, Studling fornicates his way to the top of the leadership ranks to become President of the country. Porn title: Banana Repubic. (Get it?)
Jazz musician Miles Hunglow is cryogenically frozen and awakened 200 years in the future. With male sterility reaching catastrophic numbers, Miles is tasked to infiltrate a secret society of women and impregnate as many as possible. After spreading his seed, Miles and his sexual prowess become wanted by the government. Porn title: Could keep the original or go with the much less subtle, Boner.

Alvy, a successful New York City comedian, has his life turned upside down when he falls for an eccentric young "woman" who enjoys dressing in men's clothing. Will they survive the trials and tribulations of an alternative relationship, or will fundamental differences derail their man on man-woman love? Porn title: Tranny Hall.
While vacationing in Paris, an engaged writer begins to have reservations about marrying his sexy but shrewish fiancée. Through unusual circumstances, he finds himself time-traveling to the roaring 1920s where he befriends famous artists and bangs beautiful French flappers. Porn title: The Whoring 20s.

In order to finance his life's work, a struggling playwright named David agrees to cast a mobster's dimwitted yet buxom girlfriend in a lead role. As opening night draws closer, David must satisfy his actresses demands by using the pen in his hand as well as the one in his trousers. Porn title: Balls & Tits Over Broadway.
A hard-partying guitarist uses his impressive instrument to lure naive ladies into the sack. His skills are put to the test when he meets a curvaceous mute named Muffy. Will he set aside his philandering ways for this silent slut, or move on to his next conquest? Porn title: Greet and Go Down.
A sportswriter named Lenny Weiner discovers the biological mother of his adopted son is a prostitute. He tries to resist her feminine wiles but eventually ends up becoming her boy toy. Will Weiner use his newfound bedroom repertoire to win back his estranged wife or keep banging dirty whores? Porn title: Mighty Assrodite. 

3
Vicky Cristina Barcelona
Spanish Lothario Juan Dongtonio loves to nail impressionable young American women. After successfully bedding best friends Vicky and Cristina, Juan convinces Cristina to participate in a threesome with his ex-wife Maria. As the trio thoroughly explore each other's bodies, a jealous Vicky secretly pines for Juan's dong. Porn title: Barcelona Bad Girls. (They can't all be gems.)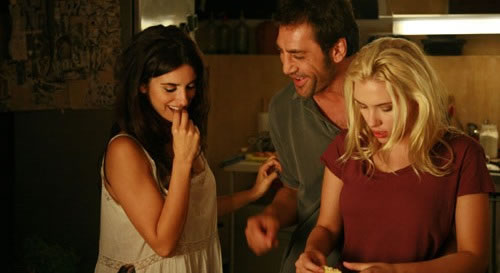 There's two different sides to Melinda: good Melinda and bad Melinda. By day, she is a prim and proper teacher enjoying a quiet existence. By night, she is a horny temptress craving illicit sexual encounters. What happens when her nice world collides with her naughty world? Porn title: Melinda Behaving Badly.
Elliot is married to Hannah but can't help being attracted to her two sisters, Lee and Holly. His ultimate fantasy is to coax the tasty trio into an orgy of epic proportions. Watch as Elliot goes to hilarious extremes to make his demented dreams come true in this slapstick sexcapade. Porn title: Sisterhood of the Bulging Pants.