Beer on the Thanksgiving Table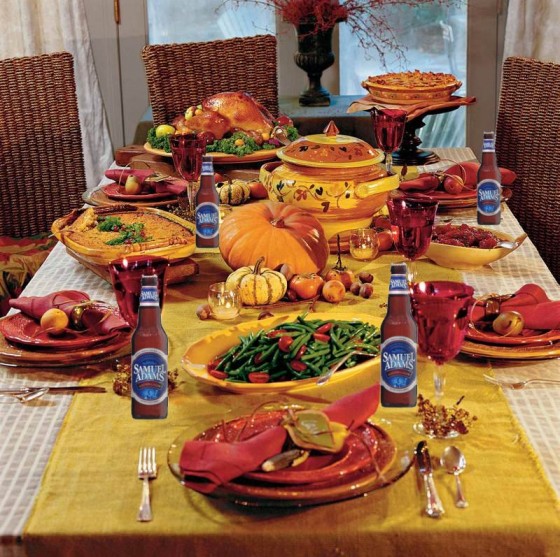 As you prepare for your Thanksgiving feast this week, we wanted to make sure you had plenty of time to pick up an essential, BEER. What, not wine you say? Yes, while wine is typically served at Thanksgiving dinner, there is definitely room for beer on the table too, despite what your wife (girlfriend, mom, gay lover, etc.) will tell you. So in order to help you make the case, we have put together a collection of reference material that you can use to win the battle for beer on Thanksgiving.
We start with a classic article from the Washington Post that appeared in 1983. Surely this historical and well educated argument will win your fight for beer on the Thanksgiving table:
Wine should be more than acceptable at this feast, for even the most ordinary meal without the grape is, proverbially, like a day denied sunshine. Unless, of course, you prefer beer. On this choice between wine and beer, there is a snobbism which is particularly American. In Europe, whether you drink wine or beer with your meal may depend simply upon where you live. Wine is the natural drink in the hedonistic, warm, grape-growing countries of the South, like France, Spain and Italy. The diligent folk of the Protestant North, whence the Pilgrims came – from The Netherlands and England – grow grain and make beer.
The article, "Without Beer… Would we be celebrating Thanksgiving?" makes the case for beer being the precursor to Thanksgiving in the first place. If that is the case, I don't think any woman has a leg to stand on:
We all know the story of the Pilgrims; a group of about 100 folks who decided to depart from England to search out and colonize a new world about 2,750 miles away from home. Their ship, the Mayflower, landed at Plymouth Rock instead of the original destination of Northern Virginia due to inclement weather, poor navigation and a need for supplies. The real scoop? Supposedly, according to many historians and accounts of the momentous occasion, the real necessity that was lacking was…beer.

"We could not now take time for further search or consideration, our victuals being much spent, especially our beer" – one diary recalls. Now, numerous stories from various sources are available, both supporting and debunking the long lived myth, including articles from well-known beer writers Cecil Adams, Stephen Beaumont, and Bob Skilnik to name a few. Now, whether or not the claim is true, it's fun to imagine that without the shortage of "victuals" the Mayflower perhaps would not have landed in Plymouth Rock and the sequence of events that transpired thereafter would not be history as we now know it. Leading to the question…without beer, would we be celebrating Thanksgiving?
Finally we have this argument from Lisa Morrison. Crappy site, but she furthers the argument on the same Pilgrim premise:
If I see one more write-up about how chardonnays go with cranberries, or how merlot will make the meal, I think I am going to make like the turkeys and run for cover. Que syrah, syrah! I am bucking the trend and going traditional this year. I am serving beer.

After all, when the pilgrims sought a spot for their permanent landing in America, they did so, according to their diaries, because they ran out of beer on the Mayflower: "Our victuals being much spent, especially our beer," one diary read.

Apparently, in addition to finding shelter and food, some enterprising pilgrims set out to refurbish the beer supplies when the group first landed at Plymouth Rock. Perhaps these inventive immigrants used roots or tree bark for this inaugural ale, since the pilgrims obviously hadn't yet started growing grain. How much more traditional can you get than that?
So there you go, some light reading to help you prepare for the impending battle of what beverage to serve on Thanksgiving. Study up on those, make your argument, and then check our collection of beer selections to accompany your Thanksgiving feast. For those of you that fail in your quest, at the very least, you better secure beer rights during the Football games. If you lose that fight, I am not sure if we can even still call you a man.