The 13 Greatest Game Show Hosts
A few years ago, the Game Show made a huge come back in the misguided forms of such flashes-in-the-pan as, "Who Wants to Be a Millionaire", "The Weakest Link" and even "Dog Eat Dog". But let's face it, no Game Shows now-a-days (see: "The Power of Ten" or "Are You Smarter Than a Fifth Grader") can even hold a candle to the programs of yore… *SIGH*. You can catch many of these that no longer air on the Game Show Network, or, you can obviously watch "Wheel of Fortune" and "Jeopardy" every single night on CBS (in many markets). But still, the heyday of the Game Show that really got the crowd and the contestants into its overpowering half-hour life cycle just no longer truly exist. Yes, "The Price is Right" is still on, but ever since the Lord of the Microphone, He Who Shall Be Named Barker, retired, it's just not even remotely the same. Drew Carey can pretty much kiss my ass. So, all that being said, here is a baker's dozen of the finest emcees ever to grace the air-waves! Survey says: Enjoy!
13
Jim Lange
The Dating Game
From 1965 through 1980, this striking lad hosted the precursor to so many of today's related 'love' interest shows called "The Dating Game". Basically, three guys or girls would place their very lives on the line for a chance to date the person behind the curtain… hopefully a member of the opposite sex. Jim here kept the pace flowing and prevented anyone in suitor's row from becoming touchy-feely.
12
Peter Tomarken
Press Your Luck
"NO WHAMMIES! NO WHAMMIES!" Who could possibly forget the catch phrase of "Press Your Luck"? From 1983 through its transformation and subsequent conclusion in 1986, Peter Tomarken hosted this masterpiece and, if we were lucky, read to the viewers a Whammy Poem at the end of the show. What a guy… oh, he also sadly perished in the ever-popular plane crash.
11
Bud Collyer
To Tell the Truth
According to our fine pals at Wikipedia: "In 1956, Collyer became equally, if not more, familiar as the host of a new Goodson-Todman production, "To Tell The Truth" on CBS. This panel show featured four celebrities questioning three challengers all claiming to be the same person, in a bid to determine which of the three was the person in question, until Collyer intoned the famous phrase, "Will the real Such-and-So—please…stand up," always with the pauses — and the actual person would do precisely that." Oh, and within the same article we get the birth name of this iconic emcee as: Clayton Johnson Heermance, Jr. Holy stinking shit.
10
Bert Convy
Win, Lose or Draw
Well remembered for his stint hosting "Win, Lose, or Draw", Convy had done many more shows previously, including: "What's My Line", "Password", and "Tattletales". But, as most of us, I will always remember him sitting with those classic TV stars on those plush couches scribbling nonsensical gibberish on the giant drawing board attempting, frequently in vein, to make sense of the ramblings. Yeah, and he was good on "Win, Lose, or Draw", too. HA!
Yeah, yeah, I could have found a more recent picture of the "Jeopardy" host here, but my heart will always belong to the man and his mustache. The quiz-master has been in charge of the trivial trios since 1984 and, as it appears right now, will go on emceeing the A. and Q. show until the end of time. Oh, and this cat's real name is this thing right here: Giorgi Suka-Alex Trebek. That… is something.
8
Richard Dawson
Family Feud
This guy right here was quite the huggy fellow and often enfolded the contestants of the "Family Feud" in his groping arms. Yeah, but no one gave a shit since he was the MAN. From 1976 till 1985 he maintained his stature as "The Kissing Bandit" well enough to return for a year's stint from 1994-1995 after Ray Comb's untimely demise. Dawson was also in "Hogan's Heroes" and even that Schwartzenegger vehicle, "The Running Man". He kicks ass.
7
Chuck Barris
The Gong Show
Oh Chuck Barris, is there anyone who doesn't want to just kiss you square on your glistening lips? Well, I do. The "Gong Show" was a masterful piece of work and ran from 1976 through 1978 and then in syndication for a few years there after. Despite his minor stage appearances mostly confined to "Gong", Barris is equally well known for his creation and production of many of the best-loved Game Shows of all time. I'm too lazy to post a link, but you can check out Wiki for all your Barris needs.
6
Gene Rayburn
The Match Game
More from Wiki: "In 1962, Rayburn first hosted "The Match Game". The original version, which aired on NBC, lasted until 1969. The show returned to CBS in 1973 with a new format in which contestants had to match celebrity answers to humorous "fill-in-the-blank" questions. Millions tuned in and it soon became the highest-rated show in daytime television history. From 1973 to 1977, it was #1 among all daytime network game shows — three of those years the highest rated in all of daytime — fueled by the zany questions and Rayburn's witty style. His interaction with the panel and contestants and his antics, including breaking through the entrance doors, roller-skating on stage and climbing the audience, made the show a classic." And now continuing with our odd name fellows herein, I give you: Eugene Rubessa (pronounced[ruˈbeʃɑ]). Sweet Marie, what next?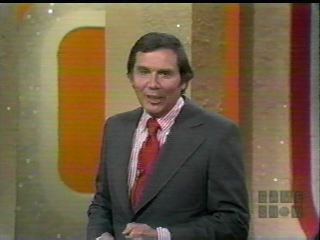 Had I not married my stunningly gorgeous wife, I was full-on intending to shack up with Chuck Woolery. I mean just look at this guy? He just perspires svelte and weeps machismo. *SIGH*. So, Chucky here hosted a pretty wide variety of shows as well including: "Wheel" (1975-1981),"Love Connection" (1983-1995), "Scrabble" (1984-1990, 1993), "The Home and Family Show" (1996-97, co-host), "The Dating Game" (1997-99 update), "Greed" (1999-2000) and "Lingo" (2002-present). Whew, he does get around. Oh, and I have my bridal gown already picked out. I mean the dude's been married 4 times, I still have a chance, right?
4
Pat Sajak
Wheel of Fortune
Though not the original host of "Wheel of Fortune", Pat has been doing it since 1981 along with his somewhat gracefully-aging letter turner and all-round vegetable, Vanna White. Pat is a genuinely cool guy who regularly gags with the contestants and honestly seems to care whether or not someone wins the big dollar amount or lands on Bankrupt. Pat should, in all sincerity, run for president. Who cares if he isn't political, I'd vote for him in a heart beat.
3
Wink Martindale
Tic Tac Dough
"Tic-Tac-Dough". Need I say more? OK, how about "High Rollers" and "Trivial Pursuit". Yeah, that did it, didn't it? Great voice, awesome personality, and creator of one of my favorite short-lived Game Shows, "Bumper Stumpers", where the contestants had to decipher license plates. Oh, and as you might imagine, his name isn't Wink. It's Winston Conrad Martindale. I need to change my name, too, now. Maybe Glee Speakerman. Cool.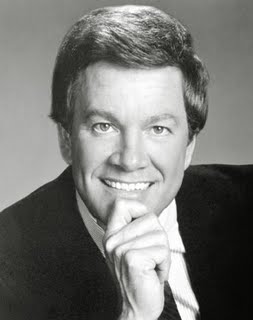 2
Bob Eubanks
The Newlywed Game
On and off from 1966 until 2000, Bob Eubanks hosted the pinnacle of pairs Game Shows, "The Newlywed Game" He was, is, and for ever shall be a Game GOD. In fact, as I understand, when Mr. Eubanks shuffles this mortal coil, God Almighty Himself will hire him on as the Emcee to Heaven. Lucky for Bob, he's not known for cursing or using foul language of any kind and his catch phrase "Making Whoopee" has already sealed the Heavenly deal for him. God going, man!
1
Bob Barker
The Price is Right
Never before has one Game Show Host put up with so much from one single show. Hosting "The Price is Right" from 12 BC until his unfortunate and horrendously uncalled for retirement in 2007, Bob barker has had to endure incredibly fat and large-breasted women attempting to hug him into oblivion, the misguided and outrageously senile elderly meandering on stage before making it clear of Contestant's Row, wigged-out college kids making ridiculous bids on automobiles, and all-round idiots making complete asses of themselves as they fail miserably at some of the simplest games in television history. But all of this is what makes Bob Barker an ageless and timeless hero in the Pantheon of Emcees. Bob Barker is, quite possibly, the coolest human being alive.